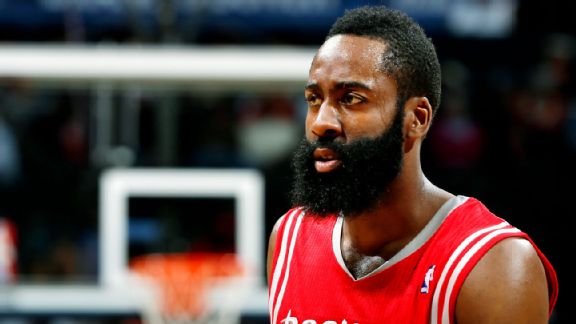 Kevin C. Cox/Getty Images Sport
"I'm still new to this whole 'star player' thing" says the Rockets' leading scorer, James Harden.The most famous beard in the NBA was getting a touch-up, and it needed it: In minutes, it would be starring in a major ad campaign.
"I'm super selective," said James Harden from the stylist's chair on the Houston set of the ad shoot, "about who trims my beard."
It was an off day in mid-January, and Harden was in full NBA-leading-man mode. It's not just that the iconic global brand on his chin was being groomed. It's routine offseason trips to Asia on behalf of sneaker companies, his status as a shoo-in All-Star, his highlight-ready score-from-anywhere game, his flirting with the unofficial "NBA's best shooting guard" title. On top of all that, Harden had a reporter on speakerphone and an assortment of "people" hovering at the ready -- from Foot Locker, from various agencies -- to fetch things or chime in to protect Harden, the beard or the brand, as necessary.
Although Harden has a disarmingly low-key way of talking -- part of his appeal is everyday nonchalance -- his message can veer into star territory. At one point, he circled back to add "you know, me and Dwight," after, accidentally or not, calling the Rockets "basically my own team."
And the commercial he's in the middle of making pivots, with a wink, on the notion that Harden is incredibly famous.
Of course, there's nothing wrong with one of the best basketball players in the world acting and talking like one of the best basketball players in the world. Harden is a business worth many millions. He is the centerpiece of a team that's hanging tough in a stacked Western Conference. He is one of the most skilled scorers in the game. He is all that.
The surprising part of Harden's place in the spotlight is that Harden was known, not long ago, for the opposite.
Less than two years ago, Harden was a delightful young surprise off the Thunder's bench, and his GM in Oklahoma City, Sam Presti, was telling The New York Times that what made Harden special was that fitting into a team was "really more appealing to him than being a focal-point player."
If that was wishful thinking from a GM hoping to hold his contending squad together, it didn't sound like it. Everyone in the organization, including Harden, talked like that. It was believable, and, to those fans who prefer players who don't act like millionaires, delightful. Here was a player you could love for his jaw-dropping highlights, his blue-collar attitude or both.
Then, in the summer of 2012, coming off an NBA Finals loss to the Miami Heat, the Thunder faced a dilemma. Assorted hard realities -- no team has ever had three maximum-contract wing players, the owners were feeling a financial pinch, the team was destined for heinous salary-cap and luxury-tax issues -- drove Presti to offer Harden less than a max deal to remain with the team.
When Harden declined, he was promptly traded to the Rockets, causing an uproar that still simmers. "If the Thunder could have kept Harden" is one of the league's enduring memes.
In Houston, famously analytical general manager Daryl Morey was ready to pounce. He had examined Harden's production every which way and saw the elite double-team-drawing scorer his team sorely lacked. The Rockets were only too happy to give Harden all the dollars, minutes and touches any All-Star could dream of. And, more than any other move, nabbing Harden made Morey's early career. Although there will always be grousing about Harden's defense (it's not great) and his high usage rate (he shoots a lot) -- not to mention the coming barrage of "What has he won?" critiques that are standard for ringless All-Stars -- there's no disputing that Harden is a top-tier NBA scoring talent, and now he's a Rocket.
Yet Harden remains a source of anguish. The Thunder had the closest thing the NBA has to a fairy tale -- all those supertalented young Durants, Westbrooks, Hardens and Ibakas putting the team first. A lot of NBA watchers and Thunder fans liked the idea of Harden sticking around for the long haul as an icon of good-natured ego management. A lot of people wanted the dream of that Thunder team to last forever. Even Harden sounds wistful at times, saying, for instance, that he wishes the team could replay Game 2 of the Finals the Thunder lost to the Heat.
But it's over. And, in part, Harden plays the hero in that story -- as the player everyone wanted. At the same time, he's part villain. His insistence on more dollars helped bring it all to an end. At times, Harden has been reluctant to discuss his transition from Oklahoma City backup to Rockets leading man, but, from the beard stylist's chair on the set of a commercial shoot in Houston, he was gracious enough to address it in some detail. The conversation has been edited for length.
---
Can you talk? Are you allowed to move your jaw while you're getting a beard trim?
Yeah. Little movements. But I can do it.
Challenging environment.
Right.
Do you have a beard-care strategy?
No strategy. I just let it grow. It's got a mind of its own. If it needs trimming, it gets trimmed. I'm super selective about who trims my beard. My barber usually does it to make sure it's fresh. But if he's not around, then I usually comb it a lot and occasionally trim it myself.
Take me back to June 12, 2012. You were up 1-0 over the Miami Heat in the NBA Finals, and I think, if you asked Vegas, people would have bet that the Thunder were about to reel off multiple championships. What were you feeling like that day?
Oh. Three more. Three more, and our next game is at home. We're going to win that game, and try to take care of business in Miami. Three games away from a championship is closer than ever. Seems like everything slipped away from there.
I guess the vast majority of NBA players never get to that point.
Right. It's so tough in this league. You're talking about championships, and some players go 10, 15 years without even making the playoffs. So it's difficult. You have to cherish it every single time that you're there.
Did you picture it? Did you picture winning it all?
Of course! Of course we pictured it. Like I said, we were there. We needed three more games. Our Game 2 was at our home court, and it was tough to beat us there. We would have to steal two in Miami. And if we didn't, we would come back home. Like I said, it seemed like it just slipped away from there, and we lost four straight.
Miami did a pretty good job in just doing what they did. They were in that situation the previous year, and so they kind of knew, you know, how to play and especially on the road in the Finals. They stole one! And then they came home and took care of business at home.
If you had won that year, would you be in Oklahoma right now?
I have no idea. It's a great question. I wish we could go back and play Game 2 again.
Then you had that crazy summer of contract uncertainty. I know you played it cool, but it must have turned your stomach a little not knowing what was going to happen.
No, not really. That summer was pretty busy for me. I didn't really have time to think about it. Right after the Finals, it was off to USA Basketball for the entire summer, so I really didn't have much time to think about it.
We started discussing it right after the Olympics. That's when the discussions really started to begin.
It ended up they had some salary cap and money concerns and didn't offer you as much as you could make elsewhere. If the money had been equal and you could choose OKC or Houston, where would you have chosen?
Um. It's a tough question. It's a tough question.
I don't know.
Like I said, I grew in Oklahoma City. They taught me a lot. Now I'm in Houston, I've got my own, basically, my own team. You know, me and Dwight. It's kind of different situations. Oklahoma City: came off the bench. Now, I'm starting. There's a larger role. Both are great situations.
I found this old Sam Presti quote: "James really wanted to be a part of something … [being part of something bigger] was really more appealing to him than being a focal-point player. We loved that mentality. We thought it was a really mature outlook." Was that a phase? Was it never really the case?
Definitely that was the case. Winning is the most important thing. Winning is how anybody gets recognition. We already had our groove. We had me coming off the bench, the starters did what they did. Everybody felt comfortable in their role. That's how it worked.
I fit in, and I bought in. And it was good for us.
Could it have ever lasted? One thing someone explained to me, that makes sense to me, is that no team has three max wings. It has never happened. If you had gotten there first, and Kevin Durant had arrived later, it would have been a no-brainer that he would have looked for his own team because he's Kevin Durant. That you happened, by random chance, to get there later, doesn't make it weird that you'd like to run your own team, because you're James Harden.
I didn't look at it that way. Like I said, those were my brothers; we were focused on one thing, and that was winning. If I had to take a backseat, I was comfortable with it. Just 'cause, you know, the most important thing was winning.
You have this incredible array of ways you score. Jabs, step-backs, Euro-steps, floaters, hesitations ... how does that evolve? Does it come from the offseason? Does it come from watching film? Do you steal from other players? Do you have a personal coach who helps you with that? Is it Rockets staff, do they help you develop it?
All of the above. I do a lot of work in the summertime. I have coaches helping me out with the Rockets. I watch a lot of film and see how defenders are guarding me. Even during the season, every single day I'm constantly working on something in my game. I'm still new to this whole "star player" thing, so I have to be on point at all times. Just me working every single day is going to help me out.
If you work on something alone, how do you know it's going to work with defense there? What are the signs of a good maneuver?
Just by watching film. Like I said, by watching film and seeing how different defenders are guarding me and different counters to how they're guarding me. Obviously, it's a lot different when they're there, but if you focus on the move and you go hard enough, it doesn't matter if the defender's there or not.
How deep is your shooting range? If they had 4-pointers that were 35 feet or whatever, would you take 'em?
I would probably take 'em. But not often. Not often. I'd leave that to other guys in the league.
People can do it though, right? In practice, people can hit very long shots.
Oh yeah, definitely. I see it all the time. I see it all the time. But I wouldn't be one of those guys to take a lot of 4-pointers.
Does your left hand, still, at this level, get you buckets from the fact that people are used to guarding righties?
Yes.
Us lefties are very rare. So, um, I don't know if people forget sometimes that I'm left-handed or whatever, but it's difficult to guard.
What was your role in recruiting Dwight?
Very small. I guess Dwight knew his choices and options and what he wanted to do and where he wanted to spend his career, and he chose Houston for the reasons that, you know, he did. As far as that we have a lot of options and a lot of growth. I guess he felt this was the right fit for him.
I saw that, when teams were pitching Dwight, some people told him that James Harden uses the ball just as much as Kobe does, so he shouldn't go play with the Rockets because he won't get the ball. How does that make you feel?
Uhh ... I mean, I never heard that. But I handle the ball a lot. A lot. As far as bringing the basketball up. But I'm definitely a willing passer. I would rather average 18 points and 10 assists than 28 points.
So, whatever it takes to win, that's the kind of team player that I am. You know, my job is to make my teammates happy, and Dwight happy.