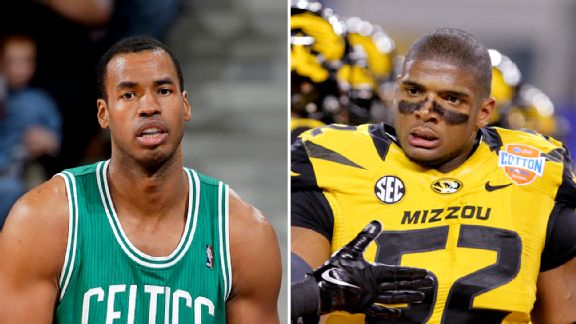 Getty Images
Jason Collins and Michael Sam have taught us that, on gay issues, education matters.
If an NFL team drafts defensive end Michael Sam of the Missouri Tigers, the SEC Defensive Player of the Year, he will settle a longstanding gay sports bar debate: Will the first openly gay player in one of the "Big 4" North American professional team sports be an active player who came out, or a draftee who made his identity as a gay man public before entering the league? Sam came out Sunday on "Outside the Lines" and in The New York Times, and most gurus have the first-team All-American projected to go in approximately the fourth round of May's NFL draft.
Without any degree of certainty, I've leaned toward "draftee" based on my experiences covering the NBA. An email correspondence last season with a closeted gay NBA player, who remains in the closet, sent me in that direction. Pro sports is a brutally competitive industry where obsession over job security is just another occupational hazard. Once most athletes get a taste of the bigs, they're not inclined to do something voluntary to put that job in jeopardy.
There's still a chance that Jason Collins gets a call from a team looking for some frontcourt defense headed into the stretch run and postseason, but with each passing day the probabilities become less favorable. Whether Collins ever suits up for another NBA game doesn't diminish what he did for the conversation. Teams sat in training rooms and on team planes and talked out the issue of homosexuality. Collins gave NBA players who could grapple with the idea of a professional gay basketball player abstractly a reference point. Collins blazed a trail across all sports.
There are compelling details in the New York Times piece of Sam's coming out to his teammates last August. Take a look at the Missouri football roster: small-town Texas, the Ozarks, the southern Plains. Though some players on the team needed time to process, Sam and his closest friends on the team say that the process was virtually seamless. He was still Sam, a first-team All-American talent and a vocal leader with a loud voice. And a gay dude.
The younger the person, the less likely he or she is to consider a person's sexual identity relevant, or to consider it at all, really. When Collins came out, NBA players I've spoken to say that age was a reliable predictor of sentiment.
Sam told The New York Times: "Some people actually just couldn't believe I was actually gay. But I never had a problem with my teammates. Some of my coaches were worried, but there was never an issue."
With the possibility of a few outlying opinions, the kids were fine despite any apprehension from the elders: 131 players and more than two dozen coaches and administrators managed not to leak the story for nearly six months. That's not a minor miracle -- it's proof that Sam's sexual identity was entirely incidental to the team's larger ambitions.
This didn't happen by accident -- education matters. Last spring, the You Can Play Project, which educates amateur programs and professional franchises on how to create an environment where gay athletes are accepted and can flourish, led seminars for teams at Mizzou.
"Mizzou used our model to put together their own diversity discussions, as we frequently encourage schools to do," said Patrick Burke, co-founder of You Can Play. "They talked to all their athletes about how performance is what matters, and how homophobic language and a negative culture can hinder an athlete's performance. Obviously, Michael took that discussion to heart, and I imagine it helped inspire three of his teammates to appear in the Mizzou 'You Can Play' video. Michael's experience at Mizzou simply emphasizes the effectiveness of starting open conversations, which is our only goal at You Can Play. Ignorance and confusion can be fixed with education, and education is what we do best."
Progress in this area has been exponential, but not every kid who plays football is going to arrive on a college campus with a fully formed understanding of who gay people are and what they're about. That's what college is for, and credit the University of Missouri and Pat Ivey, the school's associate athletic director for athletic performance, for embracing its mission as an institution of higher learning -- and credit You Can Play for providing the curriculum.
When NBA coaches, executives and agents are asked why Collins didn't receive a training camp invite last fall or hasn't caught on with a team midseason, they cite the anticipated "distraction," both in the media and the locker room, coupled with Collins' age. A few execs said that the risk of rankling a superstar or futzing with chemistry wasn't worth the trouble.
How did Missouri respond to Sam's announcement to the team that he was gay? By ripping off a 12-2 season, winning the Cotton Bowl and finishing No. 5 in the final Associated Press poll -- one of their two best seasons since 1960. One can safely assume that whatever disruption Sam's announcement generated in-house, it never made its way onto the field. Those who might have initially been uncomfortable showering next to a gay man or felt that he violated certain religious tenets either got over it, or deferred to the collective goodwill of the team.
"It's a workplace. If you've ever been in a Division I or pro locker room, it's a business place," Sam told ESPN. "You want to act professional."
Coming out occupies a central place in the life of gay people, which is why it's ironic that so many of us are striving to drive it into extinction as a major life event. For his part, Sam will never come out to an NFL locker room, front office or fan base because he's already done the work. He'll show up as a complete person to training camp this summer. The media will flock to the story at first, and there will undoubtedly be some initial reservations in the locker room and the stands. But by virtue of arriving at camp as an "openly proud gay man," as Sam identified himself on "Outside the Lines" on Sunday, there's nothing to process, certainly not for Sam. He'll have to wait for a few stragglers to catch up, but other than presiding over the teaching moments -- and there will be plenty of those because 20-something men traffic in all kinds of Category 1 and 2 homophobia -- the entirety of Sam's work will be work. He'll either anchor a defensive line or he won't.
It's impossible to know how much Michael Sam's status as an elite player factored into his team's overwhelming acceptance. An NBA head coach recently told me that the nine months since Jason Collins' announcement in Sports Illustrated have taught us that the first openly gay active NBA player would need to be an All-Star. To his point, would a backup kicker have found the process of coming out at an SEC football program as painless as Sam did? Doubtful, which means there's still work to do.
But as much as Sam's credentials and standing as a team leader greased the wheels, they also meant Sam had something to lose. One can imagine a cynical adviser pleading with Sam to wait until after the NFL draft to avoid any risk. If Sam received such counsel, he clearly ignored it. As a result, he's guaranteed to be drafted by an organization that will welcome a gay player.
Fortitude will find reward, which is the very mission of sports.