Leon Powe's outsized heart moves to Cleveland. Kurt Rambis brings his pedigree and eyewear to the Twin Cities. And Mike Miller stretches the boundaries of social media.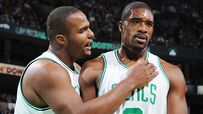 John Krolik of Cavs the Blog: "Leon Powe is about as good as an undersized, unathletic player with no range or ball skills to speak of can be. Yes, there's a definite ceiling in terms of how many ways he can impact a game. But as a pure banger, Leon Powe is just about as good as they come. Powe had the best offensive rebound rate of any power forward for the second consecutive year last season, and 9th in rebound rate overall. And offensively, Powe might not have any real jump shot whatsoever, but he knows his limitations and spends what time he has with the ball in the paint, shoving bodies around and trying to get the ball in the basket any way he can. 80% of Powe's shots came in the immediate basket area last year, and despite his dip in proficiency on layup-type shots from 07-08 to 08-09, his love of the dunk gave him a very respectable 60% mark on 'inside' shots ... For all Powe's strengths skill-wise, he still has major disadvantages athletically: He is much smaller than most centers and much slower than most power forwards. And he can't stretch the floor ... But overall, this is a great player and a great guy coming to the Cavaliers with very, very little financial risk involved, so my final position is that I congratulate the front office for getting yet another deal done, congratulate Mr. Powe for finding a team, and hope to see him on the floor reasonably soon."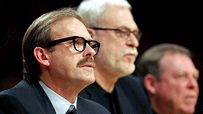 Patrick Hodgdon of Howlin' T-Wolf: "What I like about [Kurt] Rambis right off the bat is that he has always been surrounded by success in the NBA and owns seven championship rings, 4 as a player and 3 as a coach. He has played for Pat Riley alongside Magic and Kareem and has been an assistant under arguably the best coach in the NBA in Phil Jackson with whom he's coached Kobe and Shaq. The fact that success breeds success in the NBA is something I think that goes underrated. Sam Presti is doing a bang-up job in Oklahoma City because he learned it first in San Antonio. So is Kevin Pritchard in Portland. When you are around successful teams you learn how to emulate them and bring with you a blue-print for success. Rambis also brings actual coaching experience as an assistant for the Lakers for 10 years as well as experience from a short stint as head coach of the Lakers in 1999 during the lockout shortened season where he went 24-13 before being swept by the NBA champions Spurs in the second round that year. Something I also really like on his resume: he's been a coach with Kobe and Shaq on the team where he has seen the best at their best but more importantly at their worst, which is invaluable experience in the league ... "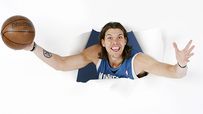 Kyle Weidie of Truth About It: "Mike Miller is for serious about his social networking. How serious? Damn serious enough to debut his new website with an inspirational Eminem 'song' that came out seven years ago. Miller also has a new blog entry, introduced by the 'frightening/sad/tough/crying on the inside/I'm from South Dakota/my fav rapper is Killer Mike/I'd eat a man's heart if it were legal and tasted like cheese wiz & beer' face you see above. Damn. That's serious enough to remove the 'r' from 'for' and make it a fo'. Mike Miller is fo' serious. Personally, I think Mike Miller is serious enough to drain more than 150 threes, drop more than 250 dimes, snag more than 350 boards, and shoot more than 42% from long distance this year. So if you're around, become a fan of Miller on FaceBook, follow his Twitter, or become a member at his website. Go give the guy they call 'White Mike' some support so that he and the Wizards can be working their hardest up to and through the 2009-10 season. After all, Brendan Haywood isn't the only guy playing for a contract this year."
THE FINAL WORD
Hoopinion: A comprehensive Rookie Guard Study from Bret LaGree.
Valley of the Suns: Dabbling in free agency counterfactuals from the Summer of '04.
Roundball Mining Company: The upside of losing Linas Kleiza.
(Photos by Steve Babineau, Lisa Blumenfeld, Joe Murphy/NBAE via Getty Images)