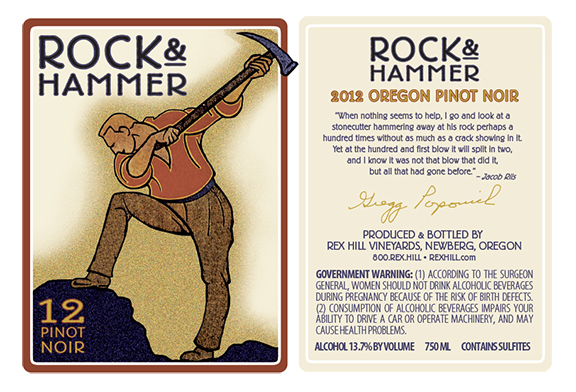 Courtesy Rex Hill Vineyards
Gregg Popovich's private-label wine features a favorite Jacob Riis quote about hard work.
For someone who has been in the public eye for so long, little is known about Gregg Popovich. Here's some insight.
POPOVICH AS BUSINESS PARTNER
That Popovich likes wine is one of the few things revealed about his private life. And it is often reported that he owns a winery, or similar.
His involvement in the wine business began with a visit to Bill and Deb Hatcher, in McMinnville, Oregon, many years ago. At the time, Bill managed Domaine Drouhin vineyard, where Deb, a former high school women's basketball coach, had installed a full-sized basketball hoop in Bill's office. "A Kansas friend of Pop's from the Air Force Academy," Deb says, "had visited with his wife and remembered the basketball hoop so when he met up with Pop in Oregon, it seemed the choice destination to show off Oregon wines. Bill received them and after an hour or so of tasting wine and chatting, Pop went to the restroom. Bill commented to the friend that Gregg sure was a nice guy. What did he do?"
They hit it off. Later, as the Hatchers started their own wine businesses -- Hatcher, Rex Hill and A to Z -- Popovich became an outside investor with his own private-label wine, called Rock & Hammer.
Deb raves about Popovich away from the court, saying:
Gregg is famously private, gracious and humble.

He is also whip-smart, funny and focused. He doesn't seem to care at all about superficial things, insignificant things, things people do for show. He told me that he wouldn't want a player on his team whom he wouldn't want to invite home to dinner with his family. When I pointed out that Rodman had played for him, he was thoughtful, and remarked that he wasn't on the team for long, but that while he was, he hadn't gotten into any trouble.

When I asked him what he would like to name the wine we offered to make for him for his personal, mostly charitable, use, he immediately answered, "Rock & Hammer," and gave me the Jacob Riis quote, which we put on the back label and is the only "inspirational" quote in the entire Spurs training facility. There, it is in a glass case in the vestibule outside the players' quarters with a large rock and sledgehammer.

Gregg teaches and practices a similar, steady, disciplined approach in life and sport. We have a Vince Lombardi quote on the wall in our offices: "We are going to relentlessly chase perfection, knowing full well we will not catch it, because nothing is perfect. But we are going to relentlessly chase it because, in the process, we will catch excellence. We are not the least bit interested in being just good."

I asked Gregg on one of his very rare visits if he knew who said it.

He shrugged and said: "Me?"

That visit happened to be during harvest and Gregg brought a few coaches with him. Although we have a former Cordon Bleu instructor on staff, they preferred to join the harvest crew for pizza in the tunnels rather than enjoy a fancy lunch in front of the fireplace.

His intensity while coaching, which is mostly the only way people know him, belies his caring, modest ways. He deflects questions about himself and asks about others, their kids, business, health, anything except talking about himself. He knows a lot about wine, is serious about it, collects it, approaches it thoughtfully, has a good palate.

A wine buyer in Philadelphia recently told me that he had encountered Pop in Texas and that he seemed like a really decent guy.

He asked me if he is for real.

The answer? Hell, yes.
---
WHAT THE SPURS LIKE IN PLAYERS
As the story of the Spurs' championships is told, a key aspect that comes up again and again is the front office's near-magical abilities to deploy low draft picks, and small free-agent salaries, to find one player after another who can contribute mightily. Twenty-nine front offices would love to know what it is that the Spurs look for when they find one great role player after another.
A longtime insider in the Spurs' brain trust, who was present for all four Spurs championships of the Tim Duncan era, was current 76ers coach Brett Brown. In a TrueHoop TV interview earlier this season, Brown was enlightening, explaining how the Spurs found the right players to star alongside Duncan, Tony Parker and Manu Ginobili:
The common denominator were you had Mario Elie, and Sean Elliotts and Steve Kerrs, and then you had Danny Greens and Hedo Turkoglus and shooters were always a constant.

Role-playing shooters. ...

When you sit in draft rooms or you looked at free agents, you're always wondering: Who could compete? Who had a level of toughness, that really enjoyed competing, and then who could shoot?

And if you could find tough shooters, you were rolling.

People that wanted to play defense. People that had a competitive side. That they could find a substance. That they had enough character, they had enough pride, to go through a season and find a way to play in May and June. Those guys are rare. But toughness always trumps.
Popovich echoed some of those ideas when asked about the same topic at the 2013 All-Star Game. He added one more wrinkle: a sense of humor.
Between our management staff and our coaching staff, we do spend a lot of time together trying to figure out who we're bringing in before we do it.

It's not just basketball.

We want to know about, uh, what kind of sense of humor people might have, silly as that might sound to some. But I think humor's really important in any job. We want to find out an intelligence level, commitment level, if a player might understand a role or be willing to accept a role. And let him know ahead of time a lot of things about what's expected, so that if he's not going to buy it, we don't have to waste time bringing him in and getting rid of him.
(There's some evidence Popovich has found such players.)
---
NO EXCUSES
Gregg Popovich and Phil Jackson are the only two candidates for the title of coach of this generation.
And stylistically, they could scarcely be more different.
A key distinction is how they handle the media. Jackson uses it constantly and creatively, using public quotes to needle friends and foes alike. Popovich, meanwhile, keeps all such things in-house, and has reacted strongly on the rare occasions Jackson has needled him. For instance, in 2000, Jackson told reporters that the Spurs' title in the prior lockout-shortened season came with an "asterisk."
Popovich's response to reporters: "He's a great coach who's won a lot of championships. It's just hard to figure what his motivation would be for the comments he's made. I'm chalking it up to being childish."
Jackson has very seldom discussed Popovich since, and tends to be respectful when he does. For instance, in Jackson's book "Eleven Rings," Jackson marvels at Popovich's unwillingness to say anything that might remotely resemble making excuses.
A strange turn of events tipped the odds in our favor. The defending-champion Spurs won a hard-fought Game 7 in New Orleans, only to be held up at the airport after the game. The team was forced to sleep on one plane while they waited for another to arrive. As a result, their plane didn't arrive until 6:30 a.m. Pacific time. Coach Gregg Popovich refused to blame this nightmare trip for his team's lackluster performance in the next two games, but I'm certain it played a role.
---
'WHAT IS AN ILLEGAL DEFENSE?'
On Dec. 1, 1987, Gregg Popovich's Pomona-Pitzer team played at mighty Kansas. They were humbled 94-38. On the other side was one of Popovich's most influential mentors, Larry Brown. Popovich would be the best man at Brown's wedding. And even on that day, both tried to bring some humanity to the proceedings. Bill Plaschke wrote an insightful tale about Popovich and that day for the L.A. Times in 2005:
During the game, Kansas coach Larry Brown grabbed the public address microphone and implored fans to stop chanting "air ball."

Popovich told his Division III players to just look around historic Allen Fieldhouse and enjoy. "Is this great or what?" he said he told his players. "We're going to get our butts kicked. I don't care. You don't care. We're going to enjoy the heck out of this."

This was the Popovich who would drive players to the hospital, house them in his apartment, invite everyone over for something called Serbian tacos.

By the end of his tenure there, Popovich had become such a part of student life, serving on various faculty committees and recognized as an assistant professor, that he initially balked when called to the Spurs by his mentor, Brown.

"He asked me two questions," recalled [former Sagehen Tim] Dignan. "He said, 'Who is on the team besides David Robinson? And, what is an illegal defense?' "
---
PASSION FOR THE GAME, NOT THE BUSINESS, OF BASKETBALL
In 2001, Michael King profiled Gregg Popovich for Texas Monthly. These days Popovich typically declines such interviews curtly, but in 2001 he declined at some length, and colorfully:
On not bragging: "I'm not trying to be Mr. Humble, but I just can't take that crap. I think it's about the guys -- I really do. ... Lady Bird Johnson could have coached that team to the championship."

On loving the game: "If you grew up in East Chicago and if you thought sports, you thought basketball. All I cared about, through about age eleven, was if I was going to be an East Chicago Washington Senator. I wanted to play for [legendary Washington coach] Johnny Baratto."

On not being able to play on that team because his family moved: "I remember that. I was out in the garage one night, and she came running out with a broom, just beat me over the head, kicking my butt out into the street because I would not leave, because I just wanted to go back and play ball."

On basketball as a business: "Well, I think a lot of the innocence is gone, in the sense that it has become a lot more 'entertainment-involved.' So I think you have to work a little harder as you get older to make sure that you remember we're still playing basketball. I think the people who are playing it are still learning it out on the street, the way we did, and enjoying it growing up, and getting that pure joy out of it."