LeBron James announced Sunday that after four seasons of wearing No. 6 with the Miami Heat, he'll go back to his original No. 23 when he rejoins the Cleveland Cavaliers this season. When James originally announced his decision to change to No. 6, he did so out of respect for Michael Jordan -- who, coincidentally has his jersey hanging on the wall in Miami, despite never having played for the Heat.
However, James is far from the first superstar to change his number, then have a change of heart and change back.
Ray Allen (34 to 20 to 34)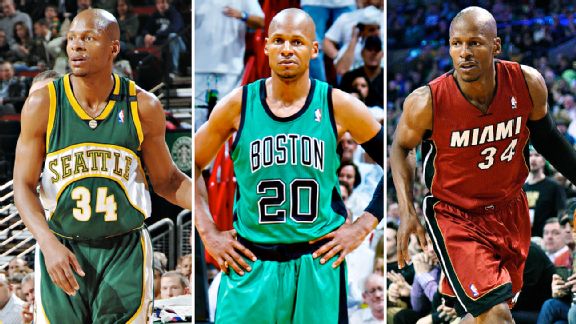 James' old Miami teammate Ray Allen has some experience with this type of jersey switch. Allen came into the league wearing No. 34 -- his college number -- for the Milwaukee Bucks, then held on to it with the Seattle SuperSonics. However, when Allen was traded to the Boston Celtics, 34 was taken by Paul Pierce, so Allen switched to 20. Upon signing with the Heat, Allen had his choice of 20 or 34, and went back to his original number.
Dominique Wilkins (21 to 12 to 21)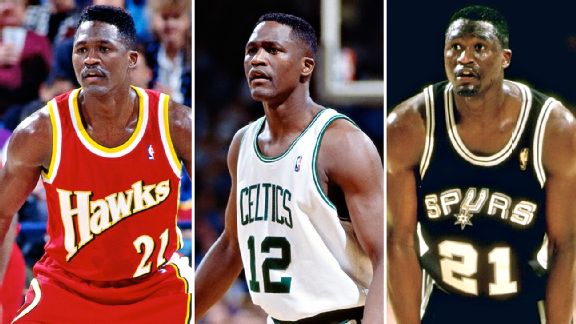 Dominique Wilkins most famously wore No. 21 for the Atlanta Hawks, where his number hangs in the rafters. He kept the number when he was traded to the Los Angeles Clippers late in the 1993-94 season, but when he signed with the Celtics, 21 wasn't available (it's retired for Bill Sharman). Wilkins played one season in Boston wearing the unfamiliar No. 12, before bolting for Europe. When he returned to the NBA in 1996-97 with the San Antonio Spurs, he was back in his trademark No. 21 -- becoming the last Spur to wear it before Tim Duncan.
Charles Barkley (34 to 32 to 34)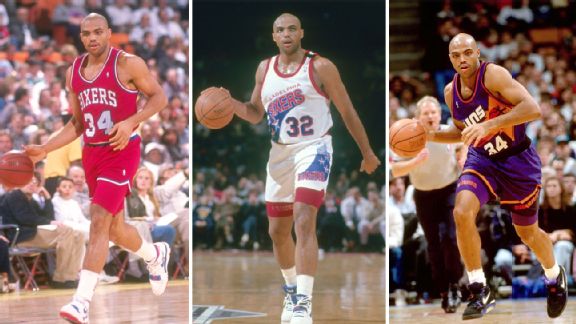 After Magic Johnson announced his sudden retirement due to HIV, Charles Barkley chose to change his jersey number from his original 34 to 32 to honor Johnson -- getting permission from Philadelphia 76ers legend Billy Cunningham to have the number temporarily unretired. However when Barkley was traded to the Phoenix Suns in the offseason, No. 32 was already being worn by Negele Knight, so Barkley switched back to 34, before finishing his career in Houston wearing No. 4.
Shaquille O'Neal (32 to 34 to 32)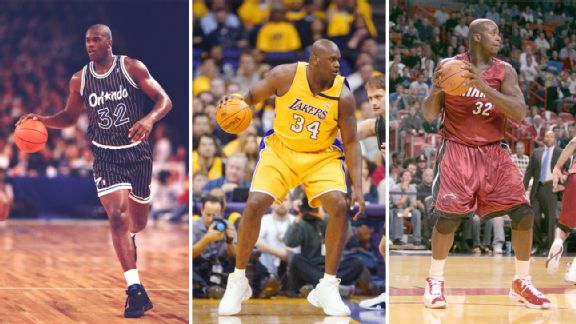 In the exact reverse of Barkley, Shaquille O'Neal started his career wearing 32, switched to 34, then went back to 32 (before moving on to 33 and 36 in his twilight years). O'Neal actually wanted 33 -- his college number -- when he was drafted by the Orlando Magic, but that was taken by Terry Catledge, so O'Neal settled for 32. When he signed with the Los Angeles Lakers, both 32 (Magic Johnson) and 33 (Kareem Abdul-Jabbar) were retired, so he took No. 34, which was available after George Lynch was traded to the Vancouver Grizzlies. When O'Neal was traded to the Heat, he had his choice between 34 and 32, and decided to go back to his original number.
Michael Jordan (23 to 45 to 23)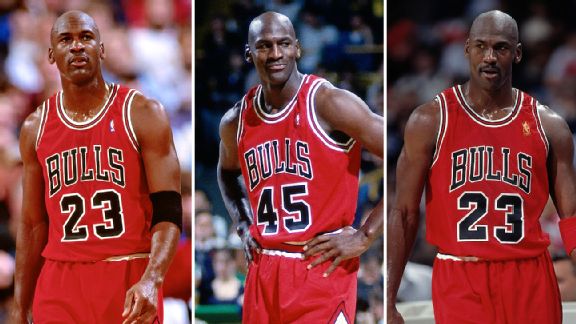 Perhaps the most famous jersey number reversal, Michael Jordan wore No. 23 during his original stint with the Chicago Bulls, up until his retirement in 1993. When he returned to basketball in 1995, he chose to wear No. 45 -- the number he'd worn during his brief professional baseball career -- and leave No. 23 in the rafters. However, during the Bulls' Eastern Conference semifinal loss to the Magic, Jordan switched back to his customary No. 23, a move he said made him more comfortable, but cost his team a $25,000 fine. Jordan remained in 23 for the rest of his time with the Bulls, and kept the number during his brief comeback with the Washington Wizards.