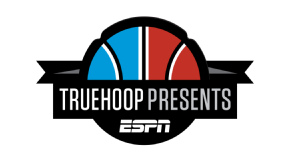 THERE'S A GIANT BLUE BEAR HEAD -- the Memphis Grizzlies' logo -- painted around the midcourt circle on the floor of the FedEx Forum. In a game in December, 7-foot-1 center Marc Gasol catches a pass about one step from the bear's chin, in the no-man's land between the 3-point line and half-court. Amusingly, he raises the ball up, wrist cocked, as if to shoot.
Gasol is in his ninth NBA season. In his first eight combined, he made a dozen 3-pointers. His bread was buttered oh so far away, in and around the paint under the rim. There's a saying in basketball, "mouse in the house," for when a tiny player is under the hoop. This is the opposite (whale in space?). Understandably, his defender, Trail Blazers center Meyers Leonard, splits the difference between where Gasol has the ball and reality: He's standing back inside the 3-point line, hands by his sides, saving his defense for when his man reaches normal scoring position.
Gasol stops, brings the ball back down to his waist. Then (was there almost a shrug?) he brings it back up, wrist cocked, ball passing in front of his face, bent knees straightening, eyes locked on rim ... every sign of an actual launch sequence. Oh, yes. We're doing this. Leonard wrestles to believe and lazily shuffles into a half-hearted closeout as the ball swishes perfectly through the net. A 7-footer not known for shooting from distance will be credited with a 28-footer.
There is every reason to crack up. But Grizzlies first-year coach David Fizdale stands stoic, hands on hips throughout. What he's watching is not any kind of joke. It was the skeleton key of Fizdale's offensive strategy, a focal point of the job interview that got him hired, a permanent transformation to Gasol's game, "the evolution of basketball" in the words of one of his assistants and a reason for a sliver of hope for Memphis in the first round against the heavily-favored Spurs.
"Marc's light," says Fizdale with maximum seriousness, "is very green."