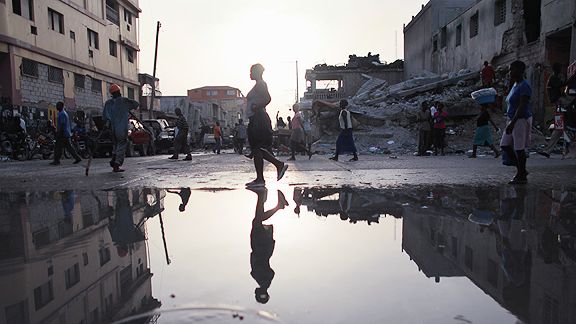 Joe Raedle/Getty Images News
Dalembert visited Haiti four times this summer and says "there is no vacation to be taken here."
On January 12, a 7.0 magnitude earthquake shook southern Haiti, including the capital of Port-au-Prince. Official estimates suggest close to a quarter million were killed, with another 300,000 injured and more than a million displaced. No nation could have been prepared for such a thing, but Haiti was less prepared than most, and the call for international aid was immediate and profound.
Within a week one of the nation's endless new problems was accommodating the many planes attempting to land with donated supplies, aid workers and doctors. One passenger was then-Sixer Samuel Dalembert, the 7-1 center who lived in Port-au-Prince from birth until the age of 13, when he moved to Canada. Having left his team late at night after an overtime loss in Minnesota, Dalembert rushed from hospitals and refugee camps to a meeting with the president. Two nights later he had to sprint through the airport to make it into the arena twenty minutes before tipoff of the Sixers' next game.
After the game -- a loss -- cameras engulfed Dalembert as he told of his first visit to his broken homeland. There had been an amputation, he said, on a kitchen table. "I'm talking," he clarified, "about a folding kitchen table." The doctors didn't even have enough isopropyl alcohol to properly disinfect the many wounds they had to treat. He spoke of mosquitoes and disease and people sleeping outside in the mud and pouring rain. He spoke of patients in the hospital begging for the little bottle of water Dalembert had in his bag. Then he spoke of the homeless children, too numerous to count. There was one in particular who befriended Dalembert and others in the overcrowded hospital he visited. There were orphans with willing adoptive families overseas, stuck in the muck of a malfunctioning and overwhelmed bureaucracy.
That's when the tears started rolling down his face.
On the 11 o'clock news that night, several sports producers spared Dalembert the indignity of broadcasting his tear-stained face, but that reflected their priorities, not his. The tidy image of an NBA player -- smiling in uniform under the bright lights -- is a misrepresentation of this man. From January 12 until now, and probably forever, Dalembert is bundle of raw emotion, consumed with providing grand scale relief to his country. Things like his recent trade from the Sixers to the Kings are rounding errors in his newly desperate and re-prioritized life.
There was no limit to the role he assigned himself in helping Haiti that night in January. Among his goals were getting hundreds of children adopted, getting "a ton" of tents, addressing the need for drinking water, beefing up the country's medical and clothing supplies and -- with the help of the Haitian president he met with on his trip -- getting all the aid agencies to work together.
It was no wonder he said he had hardly slept in a week and was living on energy drinks. Although he has been in Sacramento for the last weeks practicing with his new Kings teammates, Dalambert has been working for Haiti around the clock ever since.
"If I'm home, so much needs to be done," he says. "When you see so much potential, but nothing is working ... You feel 'OK, I can not come here and take a vacation.' You know that I'm saying? Because there is no vacation to be taken here. A vacation for me would be working with kids in basketball. Or having summer school for them. Or to talk to them."
Nine months and one offseason later, Dalembert has visited Haiti four more times and assembled his own team of aid professionals -- a mix of volunteers and people Dalembert pays out of his own pocket. He still pines for meaningful solutions to all of Haiti's entrenched problems (he points out that for the $100 million it costs to run a hospital ship off Haiti's coast, three permanent hospitals could be built and staffed in Haiti itself, providing medical help, jobs and needed infrastructure), but the direction of his own relief efforts have coalesced around one big idea: A 150-acre academy, with dormitories, advanced classrooms, healthy meals, a library with 10,000 books, tennis courts, soccer fields, a track, on-site agricultural efforts to supply food and jobs, and more.
He will dip into his own pocket for up to two million dollars of the cost, and is in the process of raising more. By the end of November he expects to hear if he can have government permission to develop a plot he identified outside Port-au-Prince. He'll break ground in February, even if it means making his first school a smaller one, for smaller children, on a 20-acre parcel of land he has already secured. Either way, he wants to have kids enrolled in an early form of his academy by the end of next summer.
Driving his efforts is the conviction that the people of his country are desperate for real opportunity. Haiti, he says, does not lack for skill or work ethic. Instead it suffers from corruption, old-fashioned bad planning and a shortage of institutions and systems thinking long-term. (Talking about overseas families eager to adopt Haitian children, he says someone feels compassionate, and we give them the hardest time ever. ... In 2010, it's very difficult for me to understand how there is not a database of children who need homes. And to they hang around for years without parents, and end up in the street.")
Dalembert insists, for example, that there are plenty of good teachers in Port-au-Prince -- and yet there is not very much good educating going on. That's because most schools can't afford to pay them for a whole day. So they work partial days at one school, and then waste their precious skills sitting on crosstown buses, shuttling to the next overcrowded school. They teach perfectly well, he says, but seldom able to do their best work.
It is tough to make the case to young Haitians that education is all that important. Those with degrees can't find work, while dropouts can make money by crossing the island to the Dominican Republic, or by breaking the law in various ways.
One of the basic challenges Dalembert faces is how to convince children to even show up for classes at his school. His plan is to be selective. He can't afford to educate every Haitian. He will focus on those who are ready to learn.
But he has a backup plan, rooted in his own experience, in case that is not enough.
When Dalembert was a child, he spent Saturdays following his grandmother Hypromene from house to house as she prayed with families as part of church outreach. Dalembert was amazed at how much she would pray. "She'd pray on her knees for 40 minutes!" he remembers. "I'd fall asleep in the chair."
"You're telling God everything, man!" he remembers telling her. "He already knows everything!"
She often asked him to say a few words before they ate, and he would.
"You have to mean it," she'd implore.
"I mean it!" he'd insist.
To this say, he's careful about saying grace the right way.
Some Saturdays, while following his grandmother around, he'd sneak out and play games. The kids would fill a plastic bag with paper (for bulk) and sand (for weight) and kick it around like a soccer ball. Or -- even better -- a plastic gallon milk jug.
"I saw kids doing that this summer," he says, "and I was like damn, I used to do that. For hours. I must have been really bored."
"Imagine if you can get one true soccer ball," he says, switching into school administrator mode, "with a nice flat field with green grass -- no rocks. And you say hey, you can come and play here as long as you do your homework. And we'll give you food every day. It's not going to work for every kid, but it's going to work for 80 percent of them."
There is also the reality that Dalembert is in a good position to recruit some famous guests.
When he was a kid, he and friends would spend long hours thinking how great it would be if Pele visited Haiti.
"Whatever," he'd conclude. "You think Pele's going to come to Haiti?"
Pele has not been to Haiti, to Dalembert's knowledge, but Dwight Howard was just there. Dalembert thinks he could recruit plenty more like him. "But even that," he says, "will require something adequate -- a place players could take a shower. If they could come and stay with us, and feel like they're making a difference. Kids over there, they might say that they love so-and-so, this or that player. If you can get that player for them, you touch those kids!"
Some parts of the project are fairly easy. For instance, Dalembert already has 4,000 books for the library in storage, along with all kinds of new clothes. He has been considering buying a warehouse for all the supplies that are being donated.
But his most formidable obstacles come in getting all the proper government permissions to build and operate the school. Water supply is a major concern, and creates a political and economic issues. Once ground is broken, he says, "every day we'll have to see which official wakes up on the wrong side of the bed and says 'let me be an asshole today.'" Dalembert is prepared to confront those obstacles, but despairs at the many ways his country stifles its own progress.
Every hassle costs more money, and more time. Dalembert heard someone say it would take a decade to get this project done. "I don't have a decade," he reacts. "Thank god I have got a good job. But I'm not going to play in the NBA forever, and we need to develop ways for these things to pay for themselves."