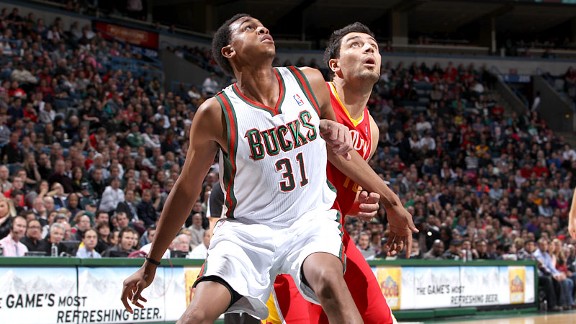 Gary Dineen/Getty Images
Henson doesn't yet have the heft to deal with Dwight Howard inside.
At 6-11 and just 220 pounds, John Henson may not be cut out to bang with all 265 muscular pounds of Dwight Howard in the paint. On Tuesday night the same could be said for the rest of the Bucks big men, too, as Howard scored all 14 of his buckets within seven feet of the rim.
Henson certainly couldn't handle Howard's power, so he evidently came up with another plan: Flop!
Watch for the last angle on this video as Henson hits the deck when Howard rumbles to the basket -- his head whips back his arms flail, but Henson actually braces against Howard with both hands before propelling himself backward.
This flop would appear to meet the league's requirements for a gross exaggeration of contact intended to fool an official, so Henson may soon be hearing from the NBA league office.
If he does, it will be the first such warning issued in more than two weeks -- since December 29th, when the league issued warnings to Gustavo Ayon, Tony Parker and Royal Ivey.
Has the league gone soft on floppers in 2013? Could be. But that lull is surely also at least in part because the rule is making a difference. Last year, it was a cinch to spot egregious flops nightly. This year, to the naked eye anyway, they're much harder to find.