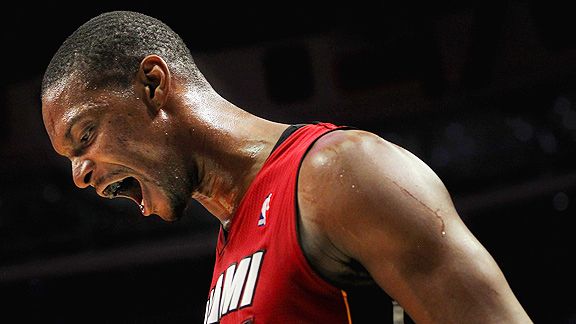 Doug Pensinger/NBAE/Getty Images
Chris Bosh might not be the best of the Big Three, but is he the most indispensable?
MIAMI -- If Tuesday's loss to the Atlanta Hawks revealed nothing else about the ailing Miami Heat, it showed that Chris Bosh might be the most irreplaceable player on the roster.
Not the best overall.
That would be LeBron James, who returned from a two-game injury absence with a performance that was equal parts rusty and resilient in shooting the Heat out of, then back into and ultimately back out of the game in Tuesday's 93-89 overtime loss to the Hawks.
And Bosh is far from the most explosive member of the Heat's Big Three.
That would be Dwyane Wade, who can take over at any moment and string together 15-point quarters, 20-point halves and 40-point games as fast as LeBron can create a Twitter controversy. That, in itself, makes Wade's disappearing act in the extra period a bit baffling, considering he didn't attempt a shot.
But Bosh, for all of his far-too-frequent settling for perimeter jumpers and occasional reluctance to get his hands and game dirty in the post, is simply the one player the Heat can least afford to lose to injury for any sustained period of time.
Bosh missed his first game of the season on Tuesday after sitting out with a high left ankle sprain he sustained late in Saturday's loss at Chicago. That means the Heat have now lost when they had Bosh and James but not Wade (97-95 at Memphis, Nov. 20); when they had Wade and Bosh but not James (99-96 at Chicago, Saturday); and with Wade and James but no Bosh.
What made Tuesday's loss different was that the Heat had no semblance of an inside presence, not even the remote threat of a post game, with Bosh out of the mix. As a result, it threw off everything for the Heat -- from the their playing rotation to their late-game execution.
"These were lineups we envisioned we would go to eventually," Heat coach Erik Spoelstra said of trying to cover up his team's lack of post depth and balance. "Earlier on, every time we tried to play conventional, it was haphazard. It really created some chaos. Now, with [Udonis Haslem] out and Chris, we had to tweak our rotation. Part of the last two games was searching for lineups that looked comfortable out there."
It was never a good look for the Heat (30-13), who have lost four consecutive games for the first time this season and are at the mercy of Mother Nature when it comes to the healing process. There is a power outage at the power forward position.
Haslem, who had foot surgery in November, will be out for at least another couple of months. And for now, there is no clear indication when Bosh might return, although he's listed as day-to-day. Beyond Bosh, there is no other player on the roster capable of -- or comfortable with -- taking his game into the post and scoring on a consistent basis. That includes Miami's centers.
Joel Anthony, who pulled down a career-high 16 rebounds and blocked three shots Tuesday, lacks the offensive game to even think about scoring the basketball. Zydrunas Ilgauskas can still face up and shoot. But that's what James Jones, Eddie House, Mike Miller, Wade and James are there to do. And Erick Dampier has hit all of six shots since Christmas.
What makes Bosh invaluable despite his relatively modest averages of 18.6 points and 8.2 rebounds is that he gives the Heat something they can't get from anyone else. That forced several players into roles and positions they weren't necessarily comfortable with Tuesday.
"Chris is our relief in a way," Wade said. "We go to Chris whether it is at the elbow or on the block, to run some offense that gives the defense a different look. LeBron and I are mostly on the perimeter, so we have to do a better job of mixing it up. It's our first game playing without C.B., so we'll make the adjustment going into the next one, if he's not available."
When Wade missed that Nov. 20 game against Memphis with a sprained wrist, James easily moved into the dominant scoring role on the perimeter. It was a comfortable transition because their games are similar. The same was the case when Wade picked up the slack in Saturday's game against the Bulls.
After Tuesday's loss, Wade suggested that he and James might have to embrace playing more out of the post to create at least a temporary dynamic down low should Bosh miss more time. James spent considerable time against the Hawks at power forward, but it was mostly in defensive matchups. There weren't many times, if any, when he posted up in the paint. But that's gotta change if Bosh is out beyond Saturday's game against the Toronto Raptors.
For now, James dismisses the latest losses and the injury issues as just inevitable bumps in the proverbial regular-season road. The Dallas Mavericks, Los Angeles Lakers, Chicago Bulls and Boston Celtics have all had key guys bitten by the same bug.
"It takes the chemistry out and it takes the rhythm out of the team," James said. "You can say the same for Dallas, when Dirk (Nowitizki) and Caron (Butler) went down. They didn't have the same chemistry. The same goes for Chicago. It happens. Sometimes it happens at the wrong time, when you're playing your best basketball."
Injuries aren't just happening at the wrong time for the Heat.
The latest setback just happened to the wrong guy.