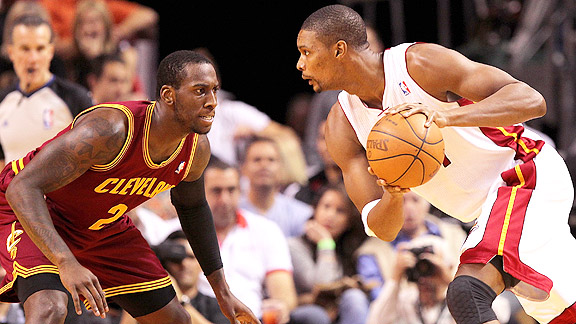 Mike Ehrmann/Getty Images
If you've noticed that Chris Bosh has been setting up more on the right side, there's a reason.
MIAMI -- After a recent practice, Chris Bosh explained why you're seeing him set up on the right side of the offense more this season.
"They took my numbers from last year and [they said] I sucked on the left side," Bosh said with a smile.
"So they said, 'Stay over there.'"
Welcome to the NBA in the 21st century, Chris.
When the Big Three joined forces this summer, Heat coach Erik Spoelstra got up to speed by spending hours upon hours studying film on his new star players just like any other coach would. But in Spoelstra's world, scouting is just one valuable piece of the information puzzle. The 40-year-old gets his edge by blending analytics with his sharp scouting eye.
While doing his homework on Bosh, his new $110 million power forward, Spoelstra noticed something in the data: Bosh was more effective on the right side than on the left. It was a simple observation but one that would eventually send ripple effects through the team. Spoelstra knew Bosh could play on the left block, but the third-year coach also understood the value of Bosh's anchoring the Heat's offensive sets on the right side, where he could play to his strengths.
But how would Spoelstra persuade his five-time All-Star to essentially give up one side of the court?
He set a meeting and showed him the hard evidence.
"Stats are stats, man," Bosh laughed. "I couldn't say anything. I was like, 'I can post up over there [on the left side].' They said, 'Well, this says you can, but it's not the same [as the right side].'"
Bosh obliged.
"I didn't fight it. I like getting the ball in the post, so to keep that going, I just said 'Coach, that's fine.'"
Spoelstra says this isn't the first time he's used advanced stats to organize his offense. He did it last season with Jermaine O'Neal, sending the big man to the left side of the floor after seeing the numbers.
What numbers does Spoelstra use?
"We use a little bit of Synergy and then we charted it out on our own," Spoelstra said. "I have these moles in the dungeon -- video guys -- all they do is chart."
Synergy -- or Synergy Sports Technology, if you prefer to call it by its full name -- is a company that supplies a mammoth analytics warehouse containing video and advanced stats to those who can afford the six-figure price tag. And not just elementary highlights and box score stats, mind you. You can find every video clip of every play in the NBA dating to as far as 2005 -- preseason, regular season and playoffs. Each video is clipped and charted as a play type and then entered into the database. Recently, Synergy has ventured into men's and women's college basketball as well as international ball.
Curious how many points the Heat have allowed on pick-and-rolls from the left side this season? Synergy has numbers -- and the film. Say you want to find out how efficient the Heat are out of timeouts. Synergy has that, too. It's a treasure chest of basketball.
Data from Synergy tells us that Bosh did, in fact, perform better on the right side of the court last season with Toronto, especially in isolation situations. When Bosh attacked from the left in isolation, he scored 59 points on his 80 tries -- and that includes free throws, not just field goal attempts. Synergy calculates his efficiency on left-side isolations to be .738 points per play, which ranked 43rd among 48 qualifiers last season. Not so good.
But on the right side, he was much more effective. He scored 86 points on 86 right-side isolations, nearly 25 percent better than on the left side. And on post-ups? Bosh was better from the right side as well, though the contrast is not quite as dramatic as it is for isolations.
"If you look at the numbers, he's pretty consistent, he's a little better on the right side, but not by a glaring amount," Spoelstra said. "It just allowed us to be a little bit more consistent for everybody else to know where we are starting the offense."
Watch the Heat run their sets and you'll notice that Bosh typically positions himself on the right elbow. The Heat initiate their offense by dumping the ball into Bosh and running LeBron James and Dwyane Wade in opposite directions off the ball. As an able passer, nearly automatic midrange shooter and dribble attacker, Bosh is a lethal triple-threat from the elbow. What transpires thereafter usually ends up as a pick-your-poison dilemma for the defense -- a jumper from Bosh, a James pick-and-roll with Bosh on the wing, or a cut from Wade. But everything begins with Bosh on the right side.
And the numbers bear this out. When we look at the Synergy data, we find that Bosh has tallied twice as many post-ups from the right block (138 plays) as the left block (66 plays). And in isolations, Bosh has registered 65 percent more plays on the right side of the floor than on the left.
Spoelstra saw something on a spreadsheet and managed to successfully apply it to the hardwood.
Getting players to respond to analytically-driven strategies is no easy task. Teams all across the league have been trying to find the most effective way of deploying the digits.
Since 2004, Houston Rockets general manager Daryl Morey has helped to organize the annual MIT Sloan Sports Analytics Conference, a get-together of some of the brightest minds to discuss, among other things, the convergence of numbers and sports. Attended by hundreds of brainiacs, the conference was affectionately dubbed "Dorkapalooza" by ESPN.com's Bill Simmons -- and with good reason.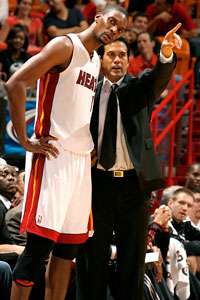 Issac Baldizon/NBAE/Getty
Erik Spoelstra has been able to sell advanced stats to Bosh.
Last year's panel of basketball analytics was manned by some of the rock stars of the basketball stat-head community, including Dallas Mavericks owner Mark Cuban, Boston Celtics assistant general manager Mike Zarren, former director of quantitative analysis for the Denver Nuggets (now employed by ESPN) Dean Oliver, ESPN.com's John Hollinger and former Portland Trail Blazers general manager Kevin Pritchard. It was a fascinating discussion that centered on the power of data analysis in basketball.
But the panelists also paid considerable lip service to the limitations of data analysis.
More specifically, the front office members voiced their difficulties in application. As they pointed out, it's one thing to crunch the data on a computer, but another to actually implement it on the court. How do you tell an NBA player about his points per possession from the various locations inside the arc?
Spoelstra says he occasionally talks about stats with his players, but he's careful not to overwhelm them.
"I don't beat them over the head with it," Spoelstra said. "You can't make it a math class. I have mountains of data and you try to digest it all into an amount that they can handle. When it can make a point, yeah, I bring it up."
Some players are receptive to the concepts of advanced statistics. In casual conversation a couple weeks ago, Heat forward James Jones mentioned his adjusted field goal percentage, which is a fairly new metric that weights 3-point shots heavier than the standard field goal percentage. For sharpshooters like Jones, adjusted field goal percentage offers a truer measure of their talents. Others check the numbers to confirm their own beliefs or learn more about their game.
"With Dwyane, certain numbers will strike his interest," Spoelstra said. "Other times it will be too much. He'll let you know. You get to know players after a period of time."
A lot of time has passed since Spoelstra became part of the Heat organization. Fifteen years ago, Spoelstra joined the coaching staff as a video coordinator. Since then, he has climbed every step of the ladder and created some new ones too.
Before being promoted to head coach ahead of the 2008-09 season, Spoelstra was an assistant coach and director of scouting for the team but also helped to build an internal advanced statistics database for then-coach Pat Riley.
"As an assistant, I used numbers quite a bit for my reports for Pat," Spoelstra said. "With Pat, you could never give him too many numbers. He could always digest it. And then when you start working with players, you tell them, 'Hey, you happen to be really good here, struggling a bit here. Let's work on this.' And then you give them a number and they're surprised."
Spoelstra is not just a stat-head, even though he'll routinely drop references to his team's efficiency numbers. He's not just a gym rat, although he has been credited with revamping Wade's shooting stroke. He's not just a savvy communicator, despite convincing three alpha-dogs to play as one. He's all of the above.
Spoelstra has worn nearly a dozen hats in the Heat organization, and his treatment of Bosh provides a crystal-clear window into his comprehensive preparation as a coach. He consulted the analytics, watched endless film and then used the acquired information to build the X's and O's infrastructure of the team. Not many coaches can do that.
But that numbers-and-nuance approach may be what it takes for a 40-year-old to lead an unprecedented combination of talent and ego to greatness.