DETROIT -- The fact is, LeBron James thought about walking away. He tried. But he couldn't. In his mind, a line was crossed. And there was no turning back.
It doesn't matter if you're 12 years old and playing the game for free on the schoolyard blacktop, or 26 and playing for millions of dollars in an NBA arena. It's almost impossible to keep your cool when the "Your mamma" wisecracks start to fly.
That's why it's hard to fault James for putting that heckling fan in his place Friday night at the Palace of Auburn Hills during the Heat's 106-92 victory against the Detroit Pistons.
Wherever you stand on James' exchange with that heckler, you have to acknowledge this unwritten rule in Trash Talk 101: Say what you want, but leave a man's mother and his kids out of it. It should apply to heckling, too.
And if you're honest with yourself, you've probably got his back on this one. There should be an emphasis here on the words "honest" and "probably." Because with the way folks feel about James these days, you can't take anything for granted with the most polarizing figure in all of sports.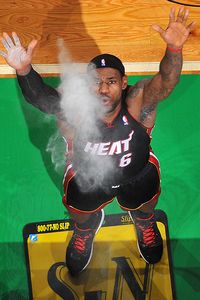 Steve Babineau/NBAE/Getty
LeBron James figures to hear more barbs on Sunday in Boston.
But if James thought what he heard in Detroit was harsh, imagine what might be waiting in Boston when the Heat face the Celtics on national television Sunday at TD Garden.
James could have simply ignored the heckler who was seated a few feet behind the Heat's bench when the first verbal barb was launched during a break in play late in the first quarter of the game.
That's when the heckler shouted, "LeBron, is your mom going to Boston for Valentine's Day?"
It serves no purpose to get into the rumors, scuttlebutt and nonsense that serve as background and context for what the man said to James. What I do know, from where I sat essentially sandwiched between the heckler and James, is that LeBron either pretended like he didn't hear it, or he simply chose to ignore it.
It was as if common sense briefly tugged James in one direction as he paced the sideline during that brief break in play. But then pride pulled him back into the fray. He took a step toward the scorer's table and engaged the senselessness.
"What did you say to me?" James said to the fan, who later declined to give his name to ESPN.com.
"I said, 'Is your mom going to Boston for Valentine's Day?'" the heckler repeated, sounding both thrilled that he had an audience with LeBron and intimidated by the moment.
This is the moment when you need to know that what was said isn't as important as why it was said. First, any insulting reference made about anyone's mother is out of line. Secondly, LeBron's kids were seated a few feet away, near the Heat's bench. So LeBron was not only insulted about his mother, he felt his kids were also insulted by the reference made about their grandmother.
I'm not even sure LeBron Jr., 6, and Bryce, 3, heard or understood the heckler. And I'm confident the heckler didn't know LeBron's kids were there, let alone within earshot of his remark. But that's not the point. I've seen, firsthand, how LeBron has ignored much more vile comments in the past.
I sat with security officers near the Heat's bench for the entire fourth quarter of LeBron's Dec. 2 return to Cleveland just to take in all of the heated, insulting and degrading comments that showered him as he sat with teammates Dwyane Wade and Chris Bosh for the duration of that blowout.
Say what you will about LeBron's method of departure from Cleveland. But you have to admire his tolerance level for the type of vitriol he regularly hears on the road. The rage is real. I still debate whether it really rises to the level of hate, because that's such a strong word. Look up the definition, and if it applies to how you feel about any athlete you don't truly know, there's a problem.
LeBron has engaged hecklers before. He shot back at a fan in Oklahoma City for wearing an ugly leather jacket. He's sparred with Spike Lee in New York. At times, the banter is playful. At other times, it borders on pathetic. This time, it was simply too personal. Mothers and/or kids were involved.
"I don't care what you say to me," James told the heckler. "I don't give a [expletive] what you say. But don't be disrespectful."
What happened immediately after LeBron's response was both surprising and moving. The heckler backed down in the notorious Palace, a place where a hecklers' convention is basically held every night the Pistons play a home game against a team with anyone worth rooting against. But just as the heckler sat down, two women sitting a few seats down the row -- two women wearing Pistons jerseys -- stood up and came to James' defense.
"That's right, LeBron. Tell him," they said, simultaneously. "There's a way to be respectful."
Play resumed, and the two women went on ripping the Heat from their first-row seats.
I spent a good portion of the rest of the game talking to the heckler, trying to search for his logic. He said his comments weren't offensive. What was offensive, he said, was the curse word James used. He also said James needs to have thicker skin.
I then talked to the Palace security officer who came over to warn the heckler, who was told the next inappropriate thing he shouted would be the last thing he'd get a chance to say. The man, who claimed to be a Pistons season-ticket holder, was relatively quiet the rest of the game.
At the end of the night, I talked to LeBron a bit after the media circle around him had cleared. I asked him why he hesitated to say something to the man when he first heard the comment. Usually, there's no middle ground when someone goes the "your momma" route.
Either you lash back on instinct. Or you walk away under composure.
"I thought about it, yeah," James said. "I felt I needed to say something. As I said before, you have to draw the line somewhere. Fans can say whatever they want to say. But there are times when it's not right. I had to say something."
James had only one regret, one thing he would have done differently. He would have taken back the curse word, one that was picked up by the television broadcast. Heat sideline reporter Jason Jackson later apologized to viewers during the broadcast.
"My kids were there," James said. "I had to make sure I was careful what I said around them. I don't want them going around saying, 'Daddy said a bad word.'"
Well, "Daddy" did.
This was one of many episodes that makes James such a compelling and complex figure.
He cursed in front of his kids while coming to what he felt was their defense. He protects the same mother he once told to "sit your [expletive] down," during a game when she approached the court after James was fouled hard by the Celtics as a member of the Cleveland Cavaliers.
Whether you cover the guy or curse him as a fan, he often leaves you shaking your head in amazement at his rich talent. Then, the very next moment, you're shaking your head in bewilderment.
But that's LeBron.
And like many of us, he has a breaking point, too. There are some things you just can't say to a man. On Friday, James showed where than line is drawn.
Unfortunately for some, he legitimized the heckler by responding to him. How many more of them might James have inspired with his reaction?
And now, there's no telling what he might hear from the crowd when the Heat face the Boston Celtics on Sunday. Heck, forget the crowd.
LeBron might have a hard enough time trying to tune out Kevin Garnett.