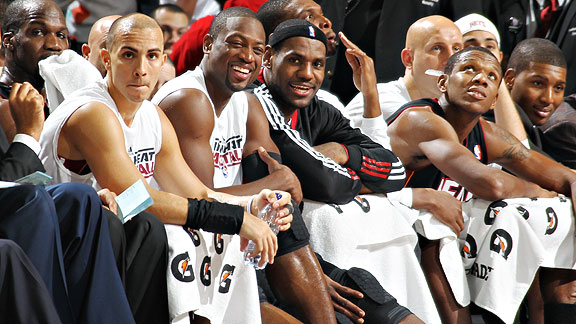 Nathaniel S. Butler/NBAE/Getty Images Sport
Dwyane Wade and LeBron James became spectators after the Heat built an insurmountable lead.
NEWARK – If there was any doubt whether this star-studded, defensively rugged Miami Heat team could simply roll out of bed and beat a team by 20 points, there's evidence to support that notion.
It arrived with a 1 p.m. tipoff on Sunday, when the Heat delivered another efficient performance to move to 3-1 after dismantling the New Jersey Nets 101-78 at the Prudential Center. This Heat team has been a different animal since last Tuesday's season-opening loss at Boston. But even then, the Heat allowed only 88 points in an 8-point setback on the road.
If it appeared at times that LeBron James, Dwyane Wade and Chris Bosh sleepwalked through stages of the game against New Jersey, it might have been a case of boredom.
Even with "boos" cascading from fans each possession -- especially when James touched the ball -- it can be difficult to maintain focus with a 20-point first-half lead, shots falling at a 67 percent clip early and Kim Kardashian and her crew walking around courtside after every break in the action.
"There's never a time when we can't be motivated, going into any arena," James said after he finished with 20 points, seven rebounds and seven assists to lead six Heat players in double figures. "We know we're going to get booed most of the night because everyone wants to dethrone us. It almost seems like we won a championship already and we haven't done anything."
The Heat's record books are already starting to disagree with that sentiment. Defensively, the Heat has held their first four opponents to only 323 points, which is the fewest at this stage in franchise history. Offensively, Miami is already getting the kind of balance from its roster beyond James, Wade and Bosh that the team anticipated would take at least a few more weeks to surface.
The Heat's Big 3 combined for 41 of the team's 57 points in the first half. But at one point in the game, they were supported by a collective 9-for-12 shooting performance from supporting cast members Carlos Arroyo, James Jones and Zydrunas Ilgauskas. Mix that level of defensive dominance with that type of offensive efficiency and it's a chemistry test that provides a lot of headaches for opponents.
Miami has won its last three games by a combined 59 points. The numbers the Heat are producing at this stage of the season even caught Wade by surprise when he arrived for his post-game interview session alongside James. When the two sat down, Wade snatched a stat sheet, shook his head and shouted that someone must have placed a first-half box score on the table in front of him.
"Nine shots? Come on, man," Wade said.
Excuse him. Before James and Bosh arrived this summer, there weren't many games when Wade would be limited to only nine shots and the result was a blowout Heat victory. It takes time to get used to that sort of luxury.
But that's the dynamic that now exists in Miami, where James could tack on another five turnovers to bring his season total to 25 through four games and the Heat still win by 23. It's where Bosh could respond from a 2-for-9 shooting display two nights ago against Orlando by going 8-for-10 from the field Sunday. And it's where the Heat could get dominated early in the paint again -- this time by Brook Lopez -- and bounce back in the third quarter from that first-half adversity as if it never existed.
First-year Nets coach Avery Johnson needed only a four-game sample size from this version of the Heat to surmise that Miami is more of a strategic nightmare for opponents than the 2006 championship team that defeated his Dallas Mavericks in six games.
That's high praise from Johnson, considering one of his fatal flaws with that Mavericks team was that he allowed Wade to average nearly 40 points in the series' final four games and blossom into the Finals MVP because he simply insisted the Mavericks double-team Shaquille O'Neal in the post.
"Shaq makes a lot of coaches lose sleep," Johnson said after Sunday's game when asked to compare to potential of the 2010 Heat to production of the 2006 team. "They were more of a two-man situation. Now, at the two, three and the four is where the bulk of the offense is going to come from. They've got some quality guys to accent your star players. That's a level, where they are, in a couple of years, we hope to be. But we're on the ground floor."
Players and coaches from both teams emerged from Sunday's game trying to convince everyone within earshot that their respective team was a work in progress. It's believable with the Nets. It could be a Poker play by the Heat.
Udonis Haslem, a power forward who started on that 2006 championship team and now backs up Bosh, believes this current squad has entered the season with one key intangible it took the 2005-06 team several months to acquire on its title march: Motivation.
"With the things that have taken place over the summer, with all of the naysayers and boos, different things we've had to face already, we've turned that around," Haslem said. "That team didn't start the season off that well. This team is in a different situation, a different mindset from the jump."
That 2006 team might have needed wake-up call to get through a Sunday matinee during the opening week of the season against a team like the Nets. This version of the Heat, however, is putting teams to bed early.