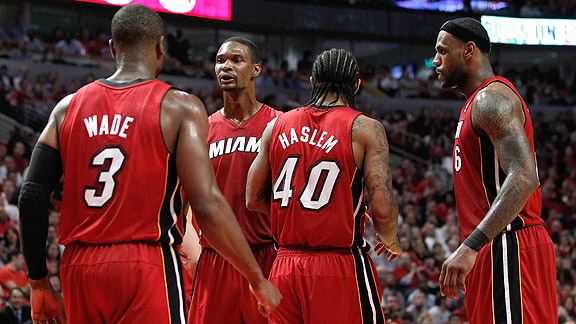 Gregory Shamus/Getty Images
After months of waiting, the Heat are finally able to play their best lineup together in crucial spots.
In today's "Five things to watch," we focus on the Heat's five principal free agent signings from last summer: LeBron James, Dwyane Wade, Chris Bosh, Mike Miller and Udonis Haslem. The Heat envisioned this combination of players carrying the team down the stretch in big games. In Game 2, this unit finally took the floor together. With the exception of a single defensive possession, these five played the final 10 minutes of Game 4, when the Heat outscored the Bulls 28-18 -- their best collective showing to date.
What's the best way to utilize LeBron James?
The Heat had far and away their most efficient offensive outing of the series in Game 3, when James emerged not as a scorer, but the Heat's primary facilitator.
This role for James was the perfect antidote against Tom Thibodeau's strong-side pressure defense. Time and again, the Bulls would load up against James and he'd make them pay with a kickout, a pass to a cutter or a bullet-pass to an open man behind the Bulls' zone. James racked up 10 assists (a few more phantom assists on plays that resulted in free throws) and didn't turn the ball over.
When the offense began to grind in Game 4, the Heat went away from this strategy and James instead became an isolation and pick-and-roll player -- to mixed results. Defensively, he made a series of miscues by gambling or overhelping but redeemed himself late by seizing responsibility for guarding Derrick Rose once Erik Spoelstra inserted the Fab Five unit. Rose didn't record a field goal when James was in front of him (0 for 4 late; 0 for 5 on the night).
James said Wednesday he would derive little satisfaction with an Eastern Conference crown because the Heat's goal is to win a championship. If the Heat win Game 5, James might not scamper from the on-court celebration the way Dirk Nowitzki after Dallas wrapped up the West on Wednesday night, but if we take him at his word, his attention will immediately turn to the Mavericks.
Is everything OK with Dwyane Wade?
How marginal did Wade appear through most of Tuesday's night Game 4? So much so that there was rampant speculation among fans and the media about his health.
Wade looked exhausted and there were a number of possessions when he simply didn't apply any vision in the half court and made head-scratching decisions. On a couple of occasions, Wade rejected screens so he could drive immediately into the teeth of the Bulls' defense, where there were two additional bodies waiting. If you're going to make that choice, D-Wade, then pursue contact instead of launching a contested fadeway!
By the fourth quarter, offensive sets that are normally designed to free up Wade were instead run for Mike Miller. Fortunately for the Heat, Wade's teammates were excelling in their respective roles as Wade stood idly by on the weakside.
About halfway through overtime, Wade woke from his slumber with an off-balanced midrange jumper to put the Heat up three. But his signature on the win was his block of Rose's attempted layup with 23 seconds remaining to seal the game.
Despite those late exploits, there's still concern about Wade's physical well-being -- worries he can put to rest only with the kind of energetic performance he delivered in Game 2.
Can Chris Bosh continue mixing it up?
Bosh just keeps delivering solid performances in the Eastern Conference finals.
Bosh regularly called for the ball after posting up on Joakim Noah, and he rarely shied away from attacking him off the dribble. He provided huge buckets down the stretch -- the up-fake-then-jumper from the left baseline to give Miami the lead with a minute left and the silky jumper off the baseline out-of-bounds play to put the Heat up four in overtime.
After upending Kevin Garnett in the semifinals, Bosh continues to demonstrate he isn't afraid of the moment. With each clutch shot, his lack of experience proves to be a false narrative in the playoffs.
What's most impressive is that he's doing it against Noah, not the defensively-challenged Carlos Boozer. The Bulls are hiding Boozer and putting him on Joel Anthony in the early going and Haslem down the stretch.
Call Bosh soft all you want, but what matters most is that he is effective. The Bulls' defenders continue to bite on Bosh's up-fake because that midrange jumper is as automatic as anyone's not named Nowitzki.
The key for Bosh will be to maintain that healthy balance between perimeter shots and attacks at the rim. The Heat need his floor-spacing on offense, but they also can't let him become too complacent at 20 feet. He has found the happy medium thus far, but Noah won't let him get away with anything less.
Which Mike Miller will we see?
Not a bad time for Miller to have his best game of the season.
Sure, he scored 32 points against Toronto in January, but a banana plant could drop 20 on that defense. Miller posted a mind-boggling plus-36 in Game 4, scored 12 points and pulled down nine rebounds. No, he wasn't solely responsible for that gaudy plus-minus, but he plays the kind of gritty game that doesn't get rewarded in the box score.
But let's put away the numbers for a moment. The biggest takeaway from Game 4 was that Miller was assertive and fluid, a combination that we rarely saw from him this season. That step-back, dribble-behind-the-back, knockdown jumper from the right corner? That was a thing of beauty, but more than anything it showed his renewed confidence and improved health.
Miller no longer exhibited hesitation on the perimeter. He was curling off pindowns and firing off 3-pointers like he was Ray Allen. Some of his 3s didn't go down, but his rhythmic release was a refreshing sight for Heat fans.
The Miller we saw Tuesday was the Miller the Heat envisioned this summer. But will it be the Miller we see going forward? The Heat will be thrilled to get 40 percent shooting from downtown, the playmaking and all the floorburns that come with his hustle plays. If that becomes the norm, that highly-anticipated Big Five lineup that closed out Game 4 could become the norm as well.
How big is it to have Udonis Haslem back in action?
If you could design a glue guy of the big-man variety in a laboratory, what would his attributes look like?
You'd want him to be a multitasker with razor sharp instincts. He would be nimble defensively, a guy who can jump out on a pick-and-roll, rotate promptly and defend the post.
He'd be a beast on the boards, always ready to block out after a rotation and leap for tip-backs. He'd also be someone who loves nothing more than to get his uniform dirty scrapping for those 50-50 balls that can swing playoff games.
Offensively, he would always know where he's most useful on the floor at a given moment. As the supporting player on the court with four creators, he must be able to hit a 16-foot jumper as the release valve when the defense commits to his teammates. Though he might not be the most skiller on the floor, his instincts allow him to make the occasional play and he knows the playbook backwards and forwards.
Finally, he'd be the emotional barometer of the squad, a player whose body language and hustle inspire his teammates and boost the collective confidence of the unit.
In short, you'd design Haslem in that lab and throw him out there on the floor when it matters most.