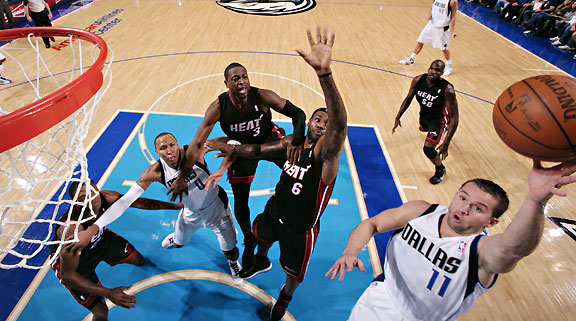 Glenn James/NBAE/Getty Images
J.J. Barea has gotten the full attention of the Heat's coaching staff and defensive game plan.
MIAMI -- Forget about all the talk about which Miami Heat player will defend Dirk Nowitzki. Who is going to defend J.J. Barea?
Believe it or not, at times it'll be the Heat's best defensive player, LeBron James.
How much does the Dallas Mavericks' shifty little guard concern the Heat? They're actually putting him in the same sentences as the league's Most Valuable Player. With a straight face.
"If you don't treat him with the same type of respect as we did with Derrick Rose, he can really come in and have an impact on the game," Heat coach Erik Spoelstra said. "I'm sure there will be some possessions where LeBron will be on him."
OK, so James will also be guarding Nowitzki, likely in the fourth quarters. And Barea plays only about 18 minutes a game.
While there is so much attention being paid to who can put a dent in the Nowitzki Express, there's a reason why Barea is getting a prominent position in Miami's scouting report. It isn't just what he does, but what happens to the Mavericks' offense when he's in the game. One of coach Rick Carlisle's most effective weapons during the playoffs has been his shooting/spread offense with Barea playing the equivalent role of Chris Paul.
After the Mavericks' starting lineup, the group that has been most effective includes Barea, Nowitzki, Jason Terry, Peja Stojakovic and Brendan Haywood. This unit has been devastating to the opposition during the playoffs because it is stocked with shooters and Barea has been a bear to deal with in pick-and-roll situations.
Many of those 3-pointers the Mavericks hit against the Los Angeles Lakers and all those Barea easy drives to the basket came with this unit in the game. At times, the Oklahoma City Thunder couldn't get a stop in six or seven consecutive possessions against it.
This postseason, that five-man lineup is shooting an incredible 57 percent on 3-pointers. When Tyson Chandler, a more dangerous pick-and-roll threat, is in at center instead of Haywood, the number jumps to 63 percent.
It's why the Mavericks are shooting 39 percent overall from 3-point range in the playoffs and averaging nearly nine 3s per game. It's a powerful portion of their offense that has been, at times, as impressive as all of Nowitzki's amazing isolation shot-making.
With the floor spread with 3-point shooters and Barea's quickness, the Mavericks can make it impossible for defenses to bring help without leaving Barea with an open man. And whether it's Terry, Nowitzki or Stojakovic, all of them can shoot the 3 and all have been shooting it very well. All are shooing 40 percent or better -- Nowitzki's at 52 percent -- from long range in the playoffs.
Barea often makes it possible because of his ability to break down the defense off the dribble and force defenders to choose between leaving their men open or giving up a layup. It can be frustrating to deal with, as Andrew Bynum can attest.
The Heat, meanwhile, play a style of defense designed around bringing help to the middle and leaving long-range shooters open. While the Mavericks were the Western Conference's best 3-point shooting team, the Heat were the second-worst in the Eastern Conference playoffs in allowing 3-point shooting in the playoffs by giving up 39 percent.
So now you see why this is something the Heat are putting some thought into, and why James is going to draw some assignments on Barea. As he showed guarding Rose, James is hard to get around on the perimeter with his size and quickness -- even for a fast point guard.
Otherwise, though, the Heat plan to stick to their defensive style even if it means risking giving up those dangerous 3-pointers.
"We're an attacking, aggressive, physical defensive team and that will not change in this series," Spoelstra said. "You can't invent anything new at this point. We've got to be athletic and cover ground and use speed and we've got to be consistent and true to who we are."
That is how the Heat overcome their strategy of collapsing to the middle and then recovering to open shooters. With tall and long-armed wing players, they can impact shots as they close out to shooters.
It worked against the Chicago Bulls when the Heat started using their "big" perimeter lineup of James, Dwyane Wade and Mike Miller without a true point guard on the floor. After giving up 46 percent on 3-pointers to the Boston Celtics in the conference semifinals, the Heat increased Miller's playing time and also were able to get the athletic and long-armed Udonis Haslem into the mix. As a result, the Bulls struggled from 3-point range and shot just 30 percent as a team.
They're hoping that by game-planning for the Barea impact that their defense can hold against the most extreme test yet.
"Our defense is our defense," Miller said. "We're going to stick to the same way and I think we'll be all right."