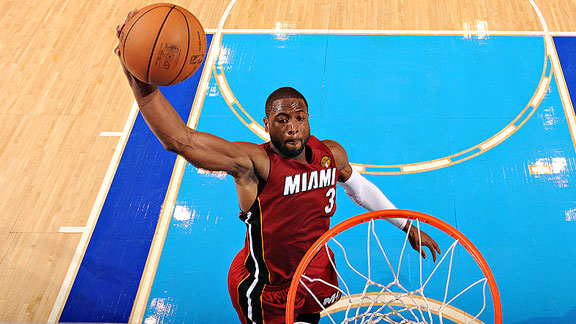 Andrew D. Bernstein/Getty Images
Dwyane Wade made eight of 11 shots inside of five feet in Game 3.
DALLAS -- This was not a time for ceremonial titles and locker-room speeches. Dwyane Wade acted like a captain under heavy pressure on Sunday night. Because of that leadership, the Miami Heat have retaken control of The NBA Finals.
Knowing the enormous implications of Game 3 of the tied series, Wade started to set an example at practice on Saturday. He carried it right on through another taut fourth quarter in a whirl of energy, aggression and spirit.
There were several different reasons the Heat struck back for a 88-86 victory over the Dallas Mavericks to take a 2-1 series lead, not the least of which was another great player missed a shot when Dirk Nowitzki was just off at the buzzer. But there was no bigger difference-maker than Wade, who played like a man both immersed in and unafraid of the moment.
"I took it upon myself as a leader to lead my guys by example," Wade said. "I've been here before."
Indeed he has, and it showed. Wade is now 6-0 over his career in Game 3s when a series is tied 1-1, and none of them were grander than this one. He demonstrated his confidence with 29 points and 11 rebounds, plus some high-level motivation that started a day earlier. He grabbed the attention of his teammates by practicing like he was the 15th man on the last day before cuts, being as aggressive on an off day as they'd seen him all season.
The Heat couldn't afford to lose Game 3 and Wade knew it, not just because of what history said about falling behind 2-1 without home-court advantage. He and the Heat rolled their eyes at the number that was repeated over and over for three days. Eleven times in the past 25 years the Finals have been tied 1-1 and the winner of Game 3 is a perfect 11-0 in winning the title.
No, after personally experiencing what happened in 2006 when the Heat stole a game they probably shouldn't have won against the Mavs, he knew so well how fragile momentum is in a best-of-seven series. Dallas blew a huge lead and never recovered. Of course, he could say this and his teammates could listen. Obviously, they knew it already. Wade did say it, too. He had film review sessions and private meetings with LeBron James to discuss how they were compelled to show up in Dallas with a response that would put the Mavs on their heels in their home building.
Wade then communicated that with actions more than any words could've. It showed throughout Game 3, from his charging drives to the basket from the first minutes of the game right through the soaring rebounds he pulled down in traffic during the fourth quarter.
"My teammates saw it," Wade said. "They can tell I wanted this game."
Just a week or so ago it looked like Wade's legs had expired for this season. He was failing to get his usual lift on dunks. He was missing layups. He was sweating profusely early in games like it was training camp. He was taking more possessions easy than anyone was used to. The Heat, it appeared, might have to win with a diminished version of their leader.
Now, it seems as though he was just lying in wait to spring forth when the stakes were highest. No one jumped higher than Wade on Sunday. He now has seven dunks in the past two games and in Game 3 made more baskets inside five feet -- eight of them -- than the Mavs (seven) did as a team. He also led the Heat in rebounds on a night when they were struggling so badly to get loose balls that they were constantly getting whistled for fouls as they chased.
"First and foremost, he pushed himself," said Chris Bosh, who made the game-winning shot, otherwise Wade probably would've done that, too. "We rode the wave for a while. He set the tone for us. When a guy like that is really getting on you and demanding more, that's what team is all about."
At times, Wade barked at Bosh and even at James, his co-star who, up until recently, had performed so much of the heavy lifting. At halftime, Wade was in James' ear. James hasn't been doing that in this series thus far. On Sunday he had a respectable 17 points and nine assists, four of them coming in the fourth quarter. But James, and the rest of the Heat, have badly needed Wade to return to form and he has.
"As a competitor, you love when guys challenge you," James said. "I respect that."
As strongly as Nowitzki has played over the three games -- he had 34 points in Game 3, the most the Heat have allowed to an opponent in the postseason -- Wade has been able to best him. And that has meant the Heat have been able to edge the Mavs thus far as well.
"It's understanding the moment," Wade said. "You remember how tough it was to win here and what it takes to win games like these."
He got the feeling when the team bus arrived Saturday. He's been to the American Airlines Center numerous times since 2006 but this brought back the memories and the emotions. The NBA Finals logos were everywhere. The black curtains were up, creating makeshift rooms. Over there was where he and Shaquille O'Neal posed with the Larry O'Brien Trophy. Down this hall was where he accepted his Finals MVP trophy. Then there was the tiny locker room, where the champagne flowed that June night five years ago.
His teammates may have helped the Heat get this far and most likely if there's another one of those trophies headed to Miami, more will be needed from them. But right now Wade is pulling them along and getting them over the hump. In a series that has been defined by narrow margins and extreme competitiveness, Wade's all-around Game 3 performance might turn out to be a defining moment.
"I'm just trying to lead," Wade said. "My guys did a great job of following that lead."