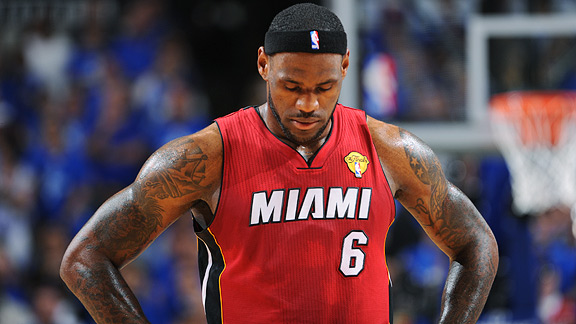 Jesse D. Garrabrant/NBAE/Getty Images
Game 4 was the first time in LeBron James' postseason career he scored in single-digits.
DALLAS -- That hollow, faraway look was back in LeBron James' eyes.
It hadn't been seen for a while. In fact it had nearly disappeared for good. James himself had tried to bury it, some said he'd even run from it. Now, though, it has attached itself like a stain to his permanent record. Again, like before, he's probably going to have to live with it for some time. James has certainly played some bad games during his career, bad big games, too. But this was different. This was an evil outlier.
If James and the Miami Heat don't end up winning these NBA Finals -- the series is tied 2-2 after the Dallas Mavericks' struck back with a 86-83 win -- what happened on Tuesday night will be attached to him with a simple moniker: "Game 4."
It will be talked about for years to come. Fair or not, because of both James' polarizing persona and the gravity of this season, what happened has the potential to ultimately define James' entire playoff run that until recently had been superb.
He'd spent the past 13 months trying to eliminate the stigma of the other game that dogs him, what they just call "Game 5" in Cleveland, in reference to last season's series with the Boston Celtics. That one had special circumstances that, to this day, are debated in James' home state. But that dark night for James and this one shared the same DNA, which made it all the more chilling. James' performance -- if you can call it that -- Tuesday was as unexpected and hard to explain as what happened to him a year ago.
Let's get the fairness qualifier out of the way: Every player is entitled to and even expected to have a dreadful game at some point. This game happened to be James' 99th of the season and it was certainly like no other. In fact, it was like no game for him in more than four years. That was the last time he scored in single digits as he did on Tuesday night with his eight points on 3-of-11 shooting. These things happen, even to prolific scorers. Earlier this season Dwyane Wade had a three-point game when he shot 1-of-13. Chris Bosh had a game in which he shot 1-of-18.
But for James, Game 4 enters a new realm because of the way it happened. He lapsed into detachment, which seems like a severe sin for a game of this magnitude. It was eerily like a year ago in that game against the Celtics, an emotion that appeared so out of character that rational people started doing and saying irrational things to try to explain and justify it.
It wasn't that James didn't deliver in a clutch moment. That is excusable. It was that he looked like he didn't even want to be in the moment. For a player of his stature without an injury, that is highly uncharacteristic.
James seemed to want to be away from the ball at times in the fourth quarter. He took one shot in those final 12 minutes. With the Heat desperately trying to hang on to a lead that was slipping away, James didn't even touch the ball on almost half of the team's possessions in the quarter.
Often he stood in the corner as if the game was still in a television timeout. When Dirk Nowizki drove to the lane to score what turned out to be the biggest basket of the game, James stood a few feet away and watched with that same empty expression. Yes, he was supposed to guard Jason Terry on the play and was supposed to stay within reasonable distance to close out. But James didn't even move, as though he was frozen in a daze.
This strange zone James played in did not take inside information to see. It was plainly clear to the millions of people across the world who watched the game. It was clear to his team, too.
"He struggled," Bosh said. "Point blank, period."
"Well, we'll have to look at film," Heat coach Erik Spolestra said. "Obviously, we would like to get him involved."
The film is not going to acquit James well. In fact it might make it worse. He did have nine rebounds, seven assists and made some plays. The Mavs were double teaming him -- as has nearly every opponent he's dealt with since early in the 2004-05 season -- and he was making some passes out of them to set up teammates. But in that vital fourth quarter, with the Larry O'Brien Trophy and an insurmountable 3-1 lead starting to appear over the horizon as the Heat took a nine-point lead, James' face took on that glaze.
"Definitely didn't play great offensively," James said. "I've got to do a better job of being more assertive."
There are some concrete reasons to help explain why James isn't having the series everyone, especially him and even the most optimistic Mavs fans, expected. Shawn Marion is proving to be an effective primary defender on him and the Mavs' schemes that involve zone defense and jamming him on pick-and-rolls are working.
If you include the regular-season games, these teams have now played six times. Even before his 3-of-11 shooting night on Tuesday, James was 34-of-86 against the Mavs. Add it together and that's less than 40 percent shooting for a player having the best shooting season of his career. The sample size is significant, and it can be said that the Mavs give James some problems offensively.
But going back to that fourth quarter, Marion played all of 12 seconds. James defenders were DeShawn Stevenson, whom James has a long history of showing up, and Jason Kidd. For a few possessions it was even the outsized Jason Terry. All are smaller defenders James has the weaponry to attack in numerous ways. Yet there he was, deferring and standing as far from the ball as he could.
This is why James might go into a media blackout until Game 5, because these things are so hard to explain. With these stakes and with what was taking place in the game -- the Mavs closing on a 21-9 run -- that is what put this particular effort into the mystifying territory.
"They haven't changed their coverages on me," James said. "I still got to make plays for my team, but also make plays for myself."
It's also possible James just got tired. He's hasn't had a break in the second half of games for weeks now and it is about to become the longest season James has ever played. With Dallas coach Rick Carlisle changing his rotation to give Marion a rest and get fresh bodies on James, there is the possibility that James could have been out of energy. But this is denied.
"No, he's physically fine," Spoelstra said. "I just have to do a better job of making sure he's in positions where he can be aggressive."
For a 48-hour period, James is going to be debated in every corner where they discuss professional basketball. Some of it is because the Heat lost and the series is in jeopardy and James is one of the biggest lightning rods in the league's history. But that's not all -- there's more than just hype here.
Last summer when James had to contemplate what went wrong in a season during which he was sure he was getting his first title, he had to face the facts of that Game 5 nightmare. Then he fairly could say his teammates weren't able to pick him up, they'd "died down in the moment" as James said two weeks ago. On Tuesday, Wade and Bosh combined to score 56 points. The Heat's defense held Dallas to less than 40 percent shooting and just 41 points in the second half. The Heat lost because James died down in this moment in the same strange way he did a year ago.
For now, he's going to get encouraging texts from friends and mentors. Pat Riley, the king of the motivational speech, will surely be lightly rapping on James' door. James has a support system and it's served him before.
Ultimately, the Heat are probably going to need the real James to step forward in this series. They couldn't get here without him. Last season when James went into that shell there was no recovery time to get out. The series is new again now, a best-of-three. But James is going to have to look in the mirror and decipher what demons returned in Game 4. There's no more room for it to happen again.
"I'm confident in my ability," James said. "I'll come back in Game 5 and do the things that need to be done."