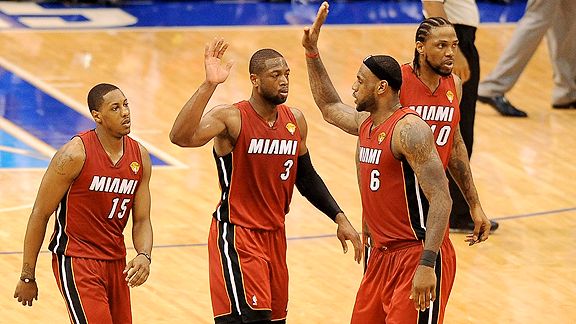 Noah Graham/NBAE via Getty Images
According to a study, the Heat trail the Mavericks in a very important ingredient to winning: high fives.
The Wall Street Journal apparently knows the key to my heart.
There, in the middle of an article on their NBA page, is a chart titled "The Touchy-Feely Index" which breaks down how many times players made contact with each other during the NBA Finals -- hugs, high-fives, chest bumps, you name it. Yes, researchers from WSJ watched the film from Games 1-3 and broke it all down. Analytics!
There's a reason they did this. According to a study by three researchers at University of California, Berkeley, teams whose players touched each other often during games tended to win more games. They watched all the games from the 2008-09 season and during that time, the Celtics and Lakers players dapped and slapped each other the most, and wouldn't you know it -- they were pretty darn good.
It's science.
So the Wall Street Journal tracked all three of the Finals broadcasts and charted the results. Are the Mavericks more touchy-feely than the Heat? And who hands out the most high-fives on the Heat? (Hint: it's not Mike Bibby). WSJ:
The Mavericks, with 250 slaps, hugs, taps or bumps, are almost twice as touchy-feely as the Heat, who had only 134 instances of televised contact. In those three games, the Mavericks were 82% more likely to high five.

...

No player over the three games collected more high fives than Mavs forward Tyson Chandler (90). He was followed closely by teammates Nowitzki (88), Shawn Marion (69) and Jason Kidd (69). "It's all about positive reinforcement," Mavs reserve Brian Cardinal said. "And we've got a bunch of guys who really get along."

James led the Heat with a mere 41 high fives. But the touchiest Miami player might be veteran forward Juwan Howard, who averaged 38 high fives per 48 minutes, good for the highest rate on the Heat.
High fives per 48 minutes! Welcome to the new frontier, folks.
So Howard, the former Fab Five member, loves to high-five. He has 11 high fives in 14 minutes, giving him a 38 high fives per 48 minutes ratio. And Mike Bibby? He's played 71 minutes in the Finals and has dished out only nine high fives. Somewhere Steve Nash scoffs in Bibby's direction.
Interestingly enough, the Heat's camaraderie has fallen off as the series has progressed. The Heat only made 34 high fives in Game 3 after tallying a whopping 58 in Game 1. Where's the love, Miami?