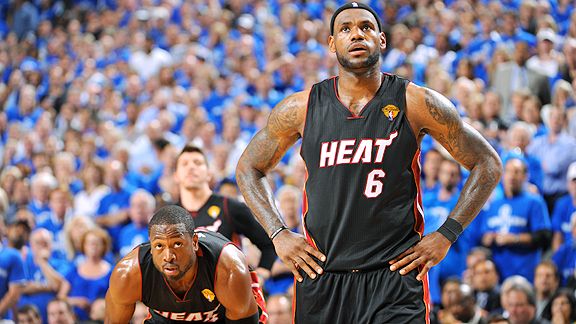 Jesse D. Garrabrant/NBAE/Getty Images
The Heat will look back on their trip to Dallas with a laundry list of regrets.
DALLAS -- The Miami Heat are wading deeper into a pool of regret, one that now threatens to drown them.
Ironically, not much of it will come from what happened in Game 5 as the Dallas Mavericks took their first lead of these NBA Finals with an impressive 112-103 win Thursday night. The Mavs flat-out beat the Heat in this game regardless of LeBron James' triple-double, marginalized due to another weak fourth quarter, or even Dwyane Wade's bum hip.
No, the Heat are not going back to Miami on the brink of elimination because Jason Terry backed up his trash talk like a champion prize fighter, J.J. Barea rediscovered his little-man mojo and Dirk Nowitzki conquered the flu.
No, not because Dallas made 13 of 19 3-pointers, because of Brian Cardinal's timely hip check on Wade and because of the most important charge Tyson Chandler has taken in his life.
The Heat aren't down 3-2 because a great offensive and home team finally put together a great offensive game on its home floor. The Heat aren't facing a summer of sheer misery and a lifetime of avoiding the 2011 Finals on ESPN Classic because of anything that happened in what was a wonderful-to-watch Game 5.
The Heat are in trouble because of all the woulda, coulda and shouldas that defined Games 2 and 4. The Heat gave away -- or some would say the Mavs expertly stole -- those two games. It is said that a seven-game series is long, but it's not long enough to afford such missteps.
Could've won that Game 2 had James not outrageously air-balled an uncontested layup chance in the fourth quarter that seemed to trigger a bizarre and so far unshakeable slump. Then James wouldn't be facing a crisis of his legacy he's so keenly aware of that he freely hopped into a boiling pressure cooker by declaring Thursday's game to be the "biggest of his life."
Would've been a good idea to have Udonis Haslem guard Nowitzki instead of Chris Bosh in the final moments of that Game 2 loss. The potential Finals MVP shook Bosh like folding chair in what might prove to be the biggest basket of the series. Then Bosh's game winner in Game 3 isn't redemptive but instead currently holds the title of "biggest hoop" in a Heat 3-2 lead going home to clinch.
Should've maybe waited to celebrate or, more fairly, waited to let their guard down with a 15-point lead in the fourth quarter of Game 2 against a team that already was one of the best late-game comeback teams in playoff history. Then Terry wouldn't have so thoroughly enjoyed extending his arms and flying back to the Mavs' bench after a deep dagger 3-pointer over James in Game 5.
"Well, only time will tell," Wade said that night when asked whether the Heat would regret that collapse. Time is telling.
Could've taken advantage of the Mavs' shooting just 39 percent overall and only 31 percent in the fourth quarter of Game 4. At one point, Dallas missed eight straight shots down the stretch, begging the Heat to take another game from the Mavs on their home floor, which probably would've ended much of the suspense. Then when the Mavs couldn't miss for the better part of two hours in Game 5, it would've been seen as the law of averages, which it was, and not the Heat's defense coming apart at the seams.
Would've been so valuable for James to bring the kind of energy to Game 4 that he did in Game 5 when he posted up strongly, drew defenders aggressively to free teammates for easy baskets and wanted the ball late when his team needed points. If James had perhaps gotten even one more rebound, assist and basket two nights before, the balance of the series would be so much different.
Instead, even as he filled all three statistical categories with more production Thursday night, his triple-double wouldn't seem so negligible. His play as a late-game point guard would be more at the forefront than the two misses and untimely charge in the fourth quarter that will be added to his heap of failures in these Finals. Nowitzki's 52-11 edge on James in fourth-quarter points would be an intriguing but not defining factoid at this point because James' position about not caring about the stats would feel more meaningful.
Should've made Wade's 32-point masterpiece in Game 4 hold up, especially that second half when he had 19 points on 8-of-10 shooting. Wasting it by failing to close in the fourth quarter was just as foolhardy as not taking advantage of his amazing 36 points in Game 2. The Heat don't just usually win when Wade plays this way; they have to win.
Then his hip injury in Game 5, which took the teeth out of his attack and taxed the rest of the team's role players, wouldn't have been such a potential turning point in the series. And the Heat would be headed back to South Florida with a cushion instead of Wade's needing one as he limped to the bus with a stim machine strapped to his leg and questions about what he'll have for Game 6.
"Against very good competition, you've got to be better," Heat coach Erik Spoelstra said, summing up a week of missed opportunities. "Even while we've had a lot of success during the playoffs up until this point, we have to close."
The Mavs deserve to be where they are; there's no questioning that. But back in their mirrors in Miami, the Heat players will look at themselves and know that they could have already won the title had they just done what was within their grasp. There are no leaps of faith required, because there are so many different reasons they could claim to have been the better team for the majority of the first four games.
But now self-inflicted wounds, unexplainable performances and ill-timed decisions have reversed matters. The Mavs have never stopped believing they were going to win this series, and the Heat have helped them along, so often giving them an out. Now, Dallas looks like the more confident team even as it will have to overcome the Heat's last resort -- home-court advantage in the final two games of the series.
When Game 6 and then maybe Game 7 are close at the end, the Mavs will have no problem believing they can pull it off. They did in Games 2 and 4, and those achievements made Game 5 felt like a haymaker.
"We just got to push through it," James said. "At this point we have no choice, honestly."