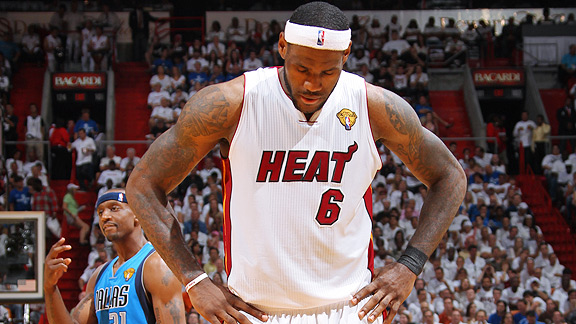 Nathaniel S. Butler/NBAE/Getty Images
LeBron James found a change of scenery, but finished the season with the same result.
MIAMI -- The screams and laughs wafted into the interview room from the nearby Dallas Mavericks locker room, and LeBron James and Dwyane Wade couldn't avoid having it wash over them. All around them were the sounds of celebration in their own building, salt in their wounds as similar cheers were raging across the country.
Space, time, irony and remorse; these realities and emotions were crashing down on the Miami Heat. Everyone had a part in it. This defeat had many fathers. But no one felt the weight more than James.
In this same space -- a couple feet away in fact -- where they were feeling their lowest, Wade, James and Chris Bosh had once boarded a hydraulic lift to announce their arrival in Miami to the world. A world that was so turned off by it that they stayed up late and had parties and jammed Facebook and Twitter with glee at the Mavs' 105-95 vanquishing of the Heat in Game 6 of the NBA Finals on Sunday night.
"Sometimes you got it, sometimes you don't," James told the media. "The Greater Man upstairs know [sic] when it's my time. Right now isn't the time," James told his Twitter followers a few minutes later.
That time. Yes, time is now all James has and it's going to be hard time, too. With the start of next season in doubt because of labor issues and no free agency to distract the basketball world he lives in from another late-season personal collapse, there's no redemption on the horizon.
Then there's the irony. The Heat lost to the Mavs, whose owner Mark Cuban was so enraged that James, then a free agent, wouldn't even grant his franchise a meeting last summer that he called for an investigation into how James, Wade and Chris Bosh all came to the decision to shift the NBA's balance of power. Now the same man was carrying the Larry O'Brien Trophy right out of their building.
"I could care less about the Heat, that's their problem," Cuban said with the bravado of a man who was tasting revenge and vindication in the same moment. "They did their thing, we did ours."
On to the remorse. This will be the toughest one because it's a burden James, and his teammates too, will have to endure alone. The grisly statistics will dog him forever, even if he's able to enjoy supreme success in the future. The film will chase his legacy too, the unexplainable possessions in which he looked lost and unsure of his talents. The whole quarters when his usually fantastic play was inexplicably missing.
In Game 6, James scored nine points in the first few minutes, looking to all like he was finally showing some mettle before it was too late. Then he went 36 minutes while scoring just five more points, throwing odd passes, deferring and looking passive all over again.
By the fourth quarter it was too late. He'd actually made a few baskets -- scoring seven points -- which qualified for his best fourth quarter of a series in which he had vanished so glaringly that people were asking about injuries and making up rumors to make their minds fit what their eyes were seeing.
Just like last season in Cleveland where James' performance in the clutch was the polar opposite of what his talent and history called for. Just like when the top-seeded Cavs got behind the Celtics, as soon as the Mavs turned the tables on the Heat midway through this series James' swagger and game left him. When the Heat were beating the Boston Celtics and Chicago Bulls, series they took control of early, James was a brilliant frontrunner. At his best, really, finishing those teams off.
It was now when he was expected to rediscover that dominance with anger and motivation from the Mavs and the masses. Everyone around him thought so, too. They talked to him about it, they encouraged him, they expected it. Even his biggest detractors and critics knew it could happen. They qualified and tempered their lashings over the past two weeks expecting James to answer at some point.
But as he went through another puzzling game Sunday -- dishing repeatedly to Juwan Howard at the rim instead of taking the ball to the basket himself, passing up wide-open shots when the ball came his way, standing and watching on defense like it was a summer camp drill at times -- it got more and more clear.
James couldn't do it.
So fitting was the moment in the fourth quarter when the Heat were trying to cobble together a comeback and Mario Chalmers and James found themselves on a break together. James called for the ball. Chalmers saw him but kept it, trying to beat two Mavs players by himself. It was a brash play by a headstrong and fearless player that was wrong, but it was also a glaring indication of where James' teammates apparently thought he was by then. Chalmers felt like he could do it better by himself.
James finished with 21 points, the most on the Heat, on what looks like a wonderful 9-of-15 shooting performance. It was, in fact, a better game than Wade's; he shot 6-of-16 and had just 17 points. But Wade's game had so much more will and passion. He was blazing across the floor trying to carry the Heat through it.
In the coming weeks, Wade's heartache will be as intense as his teammates'. But while it'll be fair to cry over his execution, his drive was unquestioned and he goes to sleep every night knowing he's still a champion. His mistakes, and there were plenty, came from aggression and the desire not to lose.
So were Chalmers', who had 18 points, seven assists and three steals. And Udonis Haslem's, who had 11 points and nine rebounds on a foot that still isn't totally healed. Bosh, too. He didn't rise to the level of counterpart Dirk Nowitzki, true. No one could. But Bosh acquitted himself better in these playoffs than perhaps anyone on the Heat team. He finished Game 6 with 19 points and eight rebounds.
All of them played like their playoff lives were on the line Sunday night. James, again, played much of it like he was stuck in a bad dream.
After James' Game 4, when he scored eight points in a game that truly turned the tide in the series after he was unable to impact the outcome when the Heat were just a big play or two away from grabbing a 3-1 series lead, the demand for James to respond was immense. A marginal improvement would not do. He needed to roar back because of his talent and those fresh memories from the past two rounds.
Of course, he did not. More chilling, it looked like he could not.
For those who cursed him when he signed with the Heat last summer -- be it fans of the teams he spurned or those turned off by the nature of his announcement -- it was like Christmas. Even buried in the bubble of friends and family he's crafted over the years to protect him, he knew it and heard it as clearly as those Mavs players, coaches and officials cracking open Budweisers down the hall.
Left threadbare, all James could do was deploy his defense mechanisms.
"All the people that were rooting me on to fail, at the end of the day they have to wake up tomorrow and have the same life they had before," James said. "They have the same personal problems they had today. I'm going to continue to live the way I want to live and continue to do the things that I want with me and my family and be happy with that."
Yes, James could leave in his Bentley or Rolls Royce or Maybach or whatever vehicle he chose to drive. He could, indeed, go home to his mansion where his personal chef might have a five-star meal waiting. Then off to his plush bed with 1,500-thread-count sheets. In a few days, it'll be off on a private jet for a needed vacation.
The vast majority of those who toasted his defeat will wake up and go to work on Monday morning.
James is a multimillionaire now and he'll still be a multimillionaire after the coming lockout ends. As a two-time MVP, he's earned it. All these things will provide him plenty of comfort while his performance is eviscerated nationally.
"They can get a few days or a few months or whatever the case may be on being happy that not only myself, but the Miami Heat not accomplishing their goal," James said. "But they'll have to get back to the real world at some point."
And there's the rub. So, too, will James. Eight years in, James is walking away from another season with no ring. In the past he could -- and did -- with his head high while quietly blame others. Last year, he got away with a series in which he failed to deliver.
Now, in the real world, there's nowhere to hide.