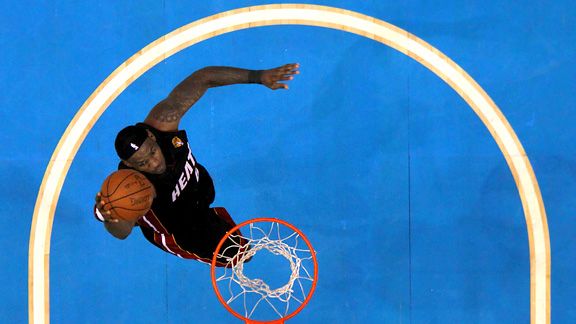 Ronald Martinez/Getty Images
Producing more dunks like this for LeBron James may top the Heat's to-do list. Easier said than done.
How do the Heat plan on improving next season?
They could invest in the free agent market. However, we won't know how much money they have to spend until the new CBA is hashed out, but with nearly $70 million locked in for 2011-12, it won't be much.
They could make a big trade. This avenue has its obstacles as well. Outside of LeBron James, Dwyane Wade and Chris Bosh, the Heat are short on tradeable assets. The organization has insisted it will keep the Big Three intact, so the tastiest carrot the Heat could dangle on the market is ... Udonis Haslem? Mike Miller? Joel Anthony? Better look elsewhere.
They could tinker with their system. A stylistic makeover remains the most likely path, given how little flexibility they'll have with personnel.
Even though they filled the highlight reels, the Heat were a grind 'em out, defensively focused squad that ranked among the slowest teams in the NBA.
And over the weekend, Pat Riley lent us a peek into his offseason game plan. Would Erik Spoelstra and the Heat make it a priority to speed things up next season?
"That's going to be up to Erik and I think he will try to generate more of a running game next year than we had this year," Riley said. "We do want to get some quick players."
Generating a running game seems pretty simple, right? Acquire some super athletic players, tell them to fly all over the court, cause some turnovers, and fast breaks will become the norm. Boom, you have a running game!
If only it were that easy.
When we imagined the Heat in their embryonic stages, we saw fireworks. Not just because of the pyrotechnics at the preseason celebration, but because they featured James and Wade, two guys who terrify opponents in the open court. They're fast. They're strong. They're relentless.
But in reality, the Heat were more like lightning bugs last season, buzzing around slowly and electrifying the stage only once in a while. The Heat posted the 21st slowest pace factor in the NBA in 2010-11, averaging 93.2 possessions per 48 minutes.
How is that possible?
There are many explanations for this sluggish pace, but first, we'll start with the offense. The Heat had a tendency to methodically break down the opposing defense and milk possessions to the last few seconds on the shot clock. Sometimes a last-second shot came out of desperation. Sometimes it was all part of the plan.
In fact, the Heat watched their shot clock wind down from 3 ... 2 ... 1 ... more often than all but two teams in the league last season, according to 82 games.com. We find that the 19 percent of the Heat's possessions lasted 21 seconds or longer, a percentage eclipsed only by the Atlanta Hawks and the Detroit Pistons -- two of the most dysfunctional offenses in the league. Mind you, the Heat boast James, Wade and Bosh.
Of course, you don't want to start taking shots early in the shot clock just for the sake of it. But on the other hand, you also don't want to force shots with time running out, which is what the Heat resorted to doing all too often last season. With that kind of offensive firepower, the Heat should be able to find a happy medium.
There's another way to generate shots earlier in the shot clock: jump out in transition. Thanks to the forces of James and Wade, the Heat were the best transition team in the league, if we're measuring by the barometer of points per play. Synergy Sports tells us that the Heat scored 122.3 points per 100 transition plays last season, which led the NBA.
No other team came close.
But here's the thing: Despite being nearly unstoppable in transition, the Heat didn't get out in transition all that much. Synergy also informs us that only 13.1 percent of the Heat's plays came in transition, a rate that placed them 13th in the NBA. For a team that deploys James and Wade in the open court, it seems like the Heat are leaving something on the table, no?
So the Heat just need to get out in transition more. Well, that's easier said than done. Every fast break needs a trigger. NBA teams are too athletic and smart to just let any team push the ball on an outlet pass and get a look at the basket. You need to catch them off guard. You need to cause turnovers.
You need to steal the ball.
When people say a good offense is a good defense, this is what they're talking about. Sure, the Heat wielded a suffocating defense last season, but they swarmed shots, not passing lanes. With incredible rotations and length, the Heat were able to contest shots that other teams couldn't. Heat opponents had a miserable time converting shots last season, posting the third-worst effective field goal percentage (with extra weighting for 3-pointers) in the NBA. Only Boston and Chicago forced opposing offenses to struggle more to make shots.
But causing turnovers? The Heat woefully lacked in that department. In fact, the Heat's opponent turnover rate ranked 26th in the league, just above the Nets, Hawks, Spurs and Rockets. Now, some of their ranking is all part of the plan. Spoelstra has orchestrated a top-notch defense which relies on beating opponents to the spot rather than cheating into passing lanes and gambling on steals.
Let's rewind back to Riley's quote:
"That's going to be up to Erik and I think he will try to generate more of a running game next year than we had this year."
To generate more of a running game, the Heat need those triggers. They need to push off rebounds more often. They need to keep blocked shots inbounds. They need to find ways to keep the opposing defense on its heels.
The Heat will have to do better than 26th in opponent turnover rate. To this end, they will have to do better than distributing 20 minutes per game to Mike Bibby or Carlos Arroyo, two players who looked like they were running through water last season. Among point guards who averaged 20 minutes per game last season, Arroyo posted the lowest steal per 40 minutes rate (0.6) during his time in Miami before being released. Bibby? He was fifth-lowest according to Hoopdata.com. If Bibby leaves, consider it addition by subtraction.
Teams primarily get their steals from their point guards. By drafting point guard Norris Cole in the first round in this year's draft, the Heat are banking on athleticism at the 1, rather than stacking up on experience like they did with Arroyo and Bibby. As a senior last year for Cleveland State, Cole led the Horizon League in steals and won the conference's defensive player of the year award. For perspective, Cole averaged 2.2 steals per game last season and Bibby tallied at least two steals in a game just six times in his 42-game stint in a Heat uniform.
If the Heat can bring back Mario Chalmers, who was one of the top turnover-inducing guards last season, they should have a much more athletic and potent defensive attack at the point guard position. More turnovers mean more transition opportunities. And more transition opportunities means a higher-octane Heat squad.
With Cole in and Bibby out, the Heat will instantly become more athletic. But judging from Riley's words, we may see some slight tinkering from Spoelstra and his defensive system. He'll have to be careful to avoid reckless gambling. There's a fine line between aggressiveness in the passing lanes and gambling everything away. Fortunately for the Heat, no team is better equipped to handle quick recoveries after jumping in passing lanes. With Wade, James, Haslem and Anthony, the Heat employ some of the best mistake-erasers in the game.
The Heat were two wins away from a title. They likely won't have the cash to land a big fish in free agency. But if they can get Wade and James in the open court more often, they may not even need to reel in a big fish to achieve their goal.