Dr. Louis Rosenberg was apprehensive when he tuned in to watch last year's Kentucky Derby.
It was the first horse race he had ever placed a bet on, but his $20 superfecta ticket was the least of his worries.
The reputation of his swarm artificial intelligence platform known as UNU was in play.
Rosenberg had been reluctant to take a challenge from the media to predict the Kentucky Derby. He didn't know anything about horse racing, other than it can very unpredictable. No one at his tech startup Unanimous A.I. did either.
"Honestly, I just hoped we wouldn't embarrass ourselves," said Rosenberg, a 47-year-old California inventor with a Ph.D. from Stanford. Rosenberg watched as the horses came together down the stretch. One by one, they crossed the finish line: Nyquist, Exaggerator, Gun Runner and Mohaymen. UNU nailed them all, a 540-1 superfecta. His first bet had turned into $10,080. His artificial intelligence had earned respect and attention.
"When I saw the horses cross the line, I knew I was witnessing a milestone in the predictive abilities of A.I., as well as a harbinger to future changes in how the world views sports gambling," Rosenberg told Newsweek last May.
Now, this wasn't a card full of long shots by any means. In fact, last year's 142nd running of the Kentucky Derby was the first in which the top four wagering choices finished in order. Overall, 15,680 superfectas hit on last year's Derby, among the most ever.
"It's always impressive to pick around a 600-to-1 shot," said Ed DeRosa, the marketing director for online horse wagering site Twinspires.com. "But the swarm basically provided the same insight as the wagering public."
On UNU, a swarm is a collection of participants who are fed tailored algorithms and work together to come up with predictions on various events. For example, the Kentucky Derby swarm consisted of 20 horse racing enthusiasts, not necessarily grizzled handicappers.
UNU aims to amplify the wisdom of such a swarm by measuring its conviction. The technology asks the swarm real-time questions, and individual participants then attempt to guide the entire group toward their preferred answer by pushing and pulling on an image of their computer screen. It's a 60-second event that has been shown to produce more accurate results than traditional polls.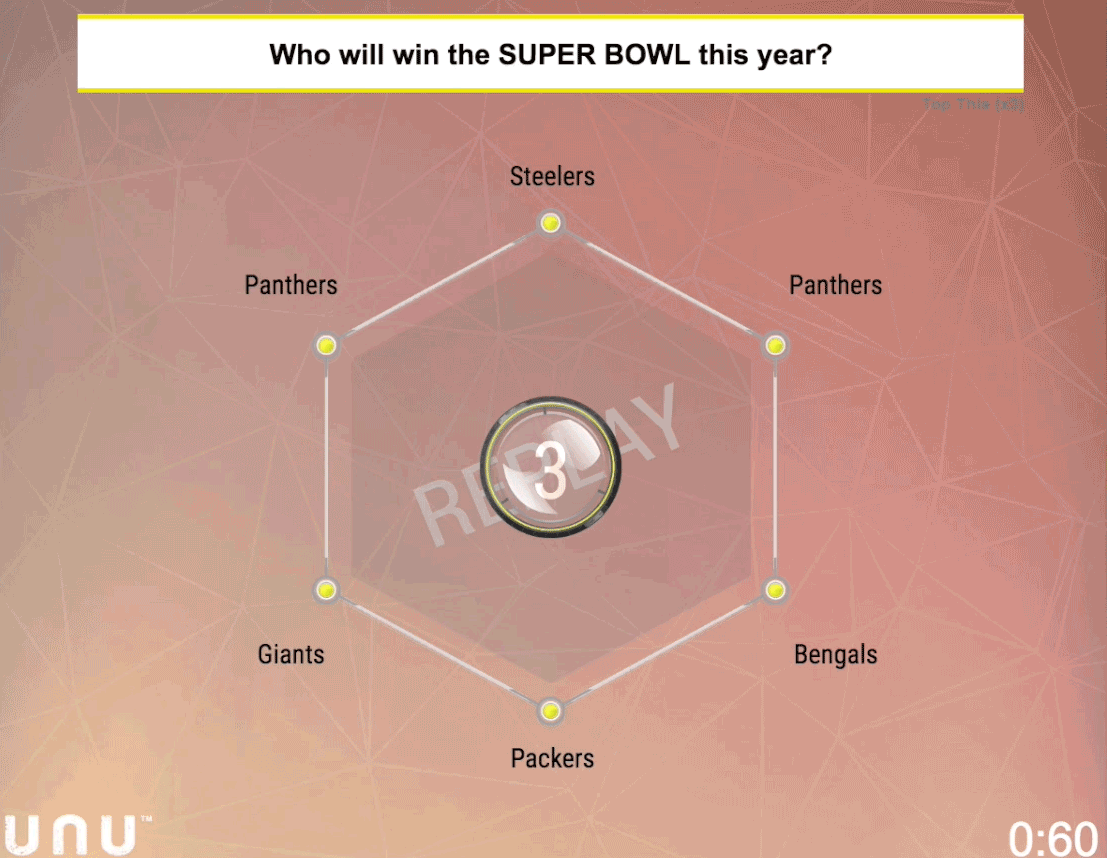 "They're converging not on the most popular answer but the answer they can best agree upon," Rosenberg said. "They're actually converging on the answer that maximizes their collective satisfaction."
In August, a UNU swarm of 50 participants who identified themselves as football fans picked the Green Bay Packers to win this season's Super Bowl. "For a while there, we thought the [Packers] swarm may just be off," Rosenberg said, alluding to Green Bay's four-game midseason losing streak. "But they seem to be playing well at the right time."
UNU swarms have had their missteps. A swarm hit the trifecta in last year's Preakness, predicting the top three finishers, but whiffed on the Belmont Stakes when 10-1 shot Creator won. The swarm was also slightly off last summer when it picked the Chicago Cubs to beat the Cleveland Indians in a six-game World Series ... instead of seven.
UNU swarms bested film experts in predicting last year's Oscars, and, according to a published study by Oxford University, had a strong showing on proposition bets on last year's Super Bowl.
The credit for the success, Rosenberg says, belongs to the birds and the bees.
"How does nature amplify the intelligence of groups?" Rosenberg said. "It forms swarms. The reason that fish form schools, birds form flocks and bees form swarms is that they are smarter together than they would be apart. They don't take a vote, they don't take a poll; they form a system. They are all interactive and make a decision together in real time."
Rosenberg says swarms can help with anything from business decisions and sales forecasts to sports predictions. At least one gambling operation has approached Unanimous A.I. about a partnership. The company said details on the project were not yet available to the public. "They're also using the swarm method in financial markets," said Hope Reese, a Louisville-based writer for TechRepublic, who requested the Kentucky Derby swarm from Rosenberg for a story. She cashed in on it as well.
Reese placed a $1 boxed superfecta on the swarm's pick and collected $540, by far the biggest score of her fledgling handicapping career.
"I don't think any of us expected this to do well, because, I mean, horse racing is difficult," Reese said.
"When I first started to look at this," she added, "I got really excited and thought this could totally change gambling, make people a lot of money."
The Packers are 4.5-point underdogs at the Dallas Cowboys on Sunday and are currently 10-1 at Westgate to win Super Bowl LI.
More bets were placed on Green Bay to win the Super Bowl than any other team at multiple Las Vegas sportsbooks this season.