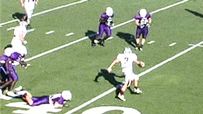 Trinity University's lateral-fest was one of the most exciting games of the year.
It's been a crazy year in college football, with teams getting knocked off their perches left and right. We've seen some great games and some even greater plays. Now, it's time fo you to choose the greatest play of the season.
Is it the seemingly endless series of laterals that propelled D-III Trinity over Millsaps? Appalachian State's game-winning block of Michigan's fourth-quarter field goal? Stanford QB Tavita Pritchard's touchdown pass to upset USC?
We've assembled a list of the best plays from college football's 2007 season. Which one do you think stands above the rest? We'll be broadcasting the plays through the next few weeks, and we'll give you the final tally on Monday, January 7, at 7 PM ET on ESPN. Cast your vote now!
Appalachian State Shocks the World
Date: September 1
Game: Appalachian State at Michigan
Situation: :06 left in the fourth quarter, Appalachain State leading 34-32
Jason Gingell's 37-yard game-winning field goal attempt was blocked, resulting in a massive 34-32 upset. The win was the first time a ranked Division I team had lost to a Division II team.
Fake Statue of Liberty
Date: September 8
Game: Oregon at Michigan
Situation: 3:47 left in the second quarter, Oregon leading 18-7
On first and five, Oregon QB Dennis Dixon fakes the Statue of Liberty and takes it in for the TD. The win drops Michigan, already reeling from an upset at the hands of Appalachian State, to 0-2.
Williams Takes It To The House
Date: September 8
Game: Notre Dame at Penn State
Situation: 1:14 left in the first quarter, Notre Dame up 7-0
Penn State punt returner Derrick Williams takes a punt 78 yards for a touchdown, setting up a 31-10 win. The play came on the heels of a Notre Dame interception return for a touchdown, and was a huge boost to the Nittany Lions on the road.
Harvin's Reverse
Date: September 15
Game: Tennessee at Florida
Situation: 15:00 left in the fourth quarter, Florida up 35-20
Florida WR Percy Harvin takes a sweet reverse handoff in for a 19-yard touchdown. Harvin's TD was one of four fourth-quarter scores in Florida's 59-20 rout of Tennessee.
LSU's Fake Field Goal
Game:September 22
Game: South Carolina at LSU
Situation: 1:18 left in the second quarter, LSU leading 14-7
On a 32-yard field goal attempt, LSU's holder throws the snap over his head to kicker Colt David, who rushed right for a touchdown. The fake put LSU ahead 21-7, ending any real hope of a South Carolina comeback.
Jackson Walks The Tightrope
Date: September 29
Game: California at Oregon
Situation: 12:01 left in the fourth quarter, tied at 17
Cal wide receiver DeSean Jackson takes a 31-yard pass from Nate Longshore and tiptoes his way into the endzone. Jackson finished with 161 yards and two touchdowns on 11 receptions.
Upset in California
Date: October 7
Game: Stanford at USC
Situation: :54 left in the fourth quarter, USC leading 23-17
On fourth and goal, Stanford QB Tavita Pritchard hits Mark Bradford for the game-winning TD. Stanford were 41-point underdogs, making the upset the largest ever in Division-I history.
Ryan Leads The Comeback
Date: October 25
Game: Boston College at Virginia Tech
Situation :16 left in the fourth quarter, Virginia Tech leading 10-7
On third and 20, Boston College QB Matt Ryan hits WR Andre Callender for the TD. Ryan scrambled left, away from several tacklers, and delivered a pinpoint strike, keeping Boston College undefeated.
Georgia Celebrates
Date: October 27
Game: Georgia vs. Florida
Situation: 6:07 left in the first quarter, no score
UGA running back Knowshon Moreno runs it in for a short TD, and is followed by the entire Georgia team rushing on the field to celebrate. Florida players called the celebration "disrespectful", but couldn't answer it, losing 42-30.
Laterals Galore
Date: October 27
Game: Division III: Trinity vs. Millsaps
Situation: Final kickoff
Trinity has a 15-lateral play to win the game at the end of regulation. Several Millsaps defenders stopped on the play's final lateral, thinking the game was over, but the 61-yard (overall) stood. The play took more than a minute to complete, leaving researchers wondering if it was the longest in college football history.


McFadden's Long Run
Date: November 3
Game: South Carolina at Arkansas
Situation: 8:06 left in the fourth quarter, Arkansas leading 42-36
Razorback running back Darren McFadden takes the rock 80 yards for a touchdown. McFadden's TD took the wind out of the sails of a hard-charging South Carolina team looking to make a comeback.
Zenon Keeps LSU Alive
Date: December 1
Game: LSU vs. Tennessee (SEC Championship)
Situation: 9:55 left in the fourth quarter, UT up 14-13
Tennessee QB Erik Ainge is picked off by Jonathan Zenon, who returns it 19 yards for a touchdown. The play gave LSU its second lead of the day, and eventually, the SEC championship itself.