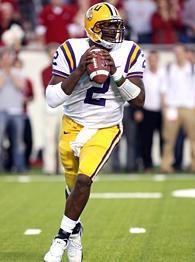 Will JaMarcus Russell live up to the pre-draft hype?
Some experts claim that it can take up to four years to evaluate a team's draft. We cannot wait that long. So with all 255 picks of the 2007 NFL draft in the books, it is time to evaluate the winners and losers from around the league by assigning grades!
Sure, plenty of players in this year's draft seem like sure things, but, as we have seen over the years, for every Peyton Manning there is a Ryan Leaf. With that in mind, what do you think of your team's draft after day one? Which teams had things fall their way? And which teams botched things up?
Simply click on the team logos below to see the players each team selected. Then, click on the link below the logo to give out your grade. Vote now and see how your opinion stacks up with the rest of SportsNation.
MORE: Best picks? | Potential busts?
Click here for ESPN.com's complete NFL draft coverage.