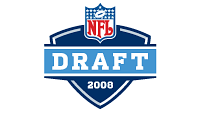 April 26-27 at Radio City Music Hall.
Football fans must go from February to September without the NFL on the field. From the final horn at the Super Bowl until training camp opens toward the end of summer, there is a huge void to be filled on Sundays. Fortunately, for two days in April, NFL fans around the world are given the gift of the draft. Once again, the NFL shines in the spotlight.
And with the draft comes the intense studying, scouting, performances at the combine, everything to give fans the ammunition for their equally intense debates on which player their favorite team should take. Will it be a future Hall of Famer or a draft bust?
As the 2008 draft draws even closer, we've hosted several chats with big names from the experts' big boards. Take a closer look at what they had to say because you might be rooting for one of these guys very soon -- or booing his selection mercilessly come draft day!
Vote: Team Needs | Vote: Best Prospects By Position
Click here for ESPN.com's complete NFL draft coverage.
Prospects
Xavier Adibi
Donnie Avery
Davone Bess
John David Booty
Alvin Bowen
Zach Bowman
Duane Brown
Andre Caldwell
Calais Campbell
Tashard Choice
Bruce Davis
Thomas DeCoud
Johnny Dingle
Dennis Dixon
Marcus Dixon
Brandon Flowers
Justin Forsett
Vernon Gholston
Charles Godfrey
Tavares Gooden
Quentin Groves
Chris Harrington
Derrick Harvey
Lavelle Hawkins
Jacob Hester
Paul Hubbard
Lawrence Jackson
Steve Justice
Bryan Kehl
Chris Long
Jake Long
Jerod Mayo
Darren McFadden
DaJuan Morgan
Jordy Nelson
Frank Okam
Xavier Omon
Mike Pollak
Ray Rice
David Roach
Darrell Robertson
Martin Rucker
Matt Ryan
Bryan Smith
Jonathan Stewart
Limas Sweed
Terrell Thomas
Justin Tryon
Mario Urrutia
David Vobora
Marcus Walker
Jack Williams
Eric Young