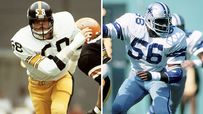 The '74 Steelers are in the final, but the '75 Cowboys are not.
ESPN Stats & Information has ranked every NFL team's best draft class based on player performance. Now, with SportsNation's help, we will determine the best NFL draft class since 1967.
Will the top-seeded '74 Steelers steamroll the competition as they did on the field, or can a more recent band of overachievers seize the day?
The 1985 Buffalo Bills' draft class exacted some form of revenge for two Super Bowl loses to the Cowboys in the 90s by taking out their highly touted 1975 draft class in the semifinals of the Insider Draft Tournament. Will the Bills take out the top-seeded 1975 Steelers and be crowned the people's best NFL draft class? You vote, you decide!
NFL draft database: Find every pick since 1967
Click on each team for detailed Insider information on its top draft class.