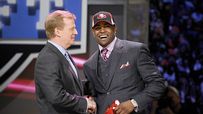 The 49ers got a nice surprise when Michael Crabtree slipped to No. 10.
Some experts claim it takes at least four years to evaluate any team's draft. We know you can't wait that long. We want to know what you think about the 2009 NFL draft. That's right: It's time to hand out grades!
Yes, plenty of players in this year's draft seem like sure things now, but as we have seen over the years, for every Peyton Manning, there is a Ryan Leaf. With that in mind, what are your thoughts about how the draft played out? Which teams had things fall their way? Which teams botched their picks?
To see which players each team selected, click on the logo. Then, when you're ready to grade, click on the link below the logo to vote on the appropriate mark for each team.


More:
Complete NFL draft coverage | Bust Ballot | Vote on first round