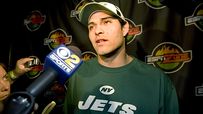 Did the Jets pass or fail by taking Mark Sanchez?
When it comes to the NFL draft, the names of the players might change from year to year, but the second-guessing remains the same. Consider this football's version of parent-teacher conferences.
Matthew Stafford and the Detroit Lions came to terms before the start of this year's draft, but a foregone conclusion at the top of the proceedings didn't diminish the drama. From the Jets trading all the way up to No. 5 to select quarterback Mark Sanchez to the Raiders surprising many with their picks, this year's selection process had plenty of intrigue and debate ammunition.
And with all the picks in the books, it's time to see how experts from across the sporting spectrum graded the proceedings. Below are the grades handed out by nine different outlets, followed by the consensus grade point average (GPA) based a 4.0 scale.
2009 Valedictorian: Eagles (3.56 GPA)
2009 Weak Link: Raiders (0.59 GPA)
Consensus GPA
1.67
3.30
3.56
2.15
CBSSportsline.com's
Pete Prisco
D+
B-
A+
C
FoxSports.com's
John Czarnecki
C
B
A
C
D
B
B-
C+
NBCSports.com's
Gregg Rosenthal
Evan Silva
D
A+
B
B
B
A
A-
C
C
B
A-
B
SportingNews.com's
Clifton Brown
D
B-
A
D-
D+
A
A
C
C+
B
B-
C+
Consensus GPA
3.04
3.19
3.33
2.59
CBSSportsline.com's
Pete Prisco
A
A
B
B-
FoxSports.com's
John Czarnecki
B-
A
C
C
B
B-
A
C+
NBCSports.com's
Gregg Rosenthal
Evan Silva
B+
C
B-
A-
C+
B
A-
C+
C+
B+
A-
B
SportingNews.com's
Clifton Brown
A
A
A-
B
B-
C+
B+
C+
B
B+
A
C
Consensus GPA
2.96
2.41
2.30
2.00
CBSSportsline.com's
Pete Prisco
B+
C+
C
C-
FoxSports.com's
John Czarnecki
B+
B-
C
D
B
C
C
B
NBCSports.com's
Gregg Rosenthal
Evan Silva
C-
D+
C-
C+
B+
A-
B+
C+
B+
B-
B+
C
SportingNews.com's
Clifton Brown
B
C-
D-
C
B
C
C-
D+
B+
C
B
C-
Consensus GPA
3.07
2.74
2.33
2.67
CBSSportsline.com's
Pete Prisco
B-
B-
C-
B-
FoxSports.com's
John Czarnecki
B
B
B-
B-
B+
C
B+
B
NBCSports.com's
Gregg Rosenthal
Evan Silva
B
C
C
C-
B+
B
C
C+
B+
B+
A
A-
SportingNews.com's
Clifton Brown
B-
A-
D
C
B
C
C-
B
B+
B
B-
B
Consensus GPA
2.59
2.37
3.44
3.33
CBSSportsline.com's
Pete Prisco
B-
B-
B+
B+
FoxSports.com's
John Czarnecki
B
B-
B+
A
B+
C-
B+
A-
NBCSports.com's
Gregg Rosenthal
Evan Silva
C
B
A-
A-
C
B-
A-
B
B
B
B
B+
SportingNews.com's
Clifton Brown
C
C-
B
B-
A-
C
A-
B-
C-
C
A
A-
Consensus GPA
3.04
3.19
2.74
2.48
CBSSportsline.com's
Pete Prisco
B
B+
C
B
FoxSports.com's
John Czarnecki
B-
A
C
C
B
B
B-
B
NBCSports.com's
Gregg Rosenthal
Evan Silva
A-
B-
A-
B+
A-
B-
B-
B+
B
B+
B-
B-
SportingNews.com's
Clifton Brown
C-
A
A-
F
B-
B
B
B-
A
B-
C+
C+
Consensus Grade
3.11
2.67
3.04
2.67
CBSSportsline.com's
Pete Prisco
B
B+
B
B
FoxSports.com's
John Czarnecki
A
B-
B+
C
B+
C+
C+
C+
NBCSports.com's
Gregg Rosenthal
Evan Silva
C+
A-
A-
B-
B+
B
A-
B
B+
B+
B+
B
SportingNews.com's
Clifton Brown
B
D
C
C-
C+
C-
C+
B
B+
B
A-
B
Consensus GPA
2.41
2.41
0.59
2.22
CBSSportsline.com's
Pete Prisco
C-
C
D
C-
FoxSports.com's
John Czarnecki
B
B-
C-
B-
C
C-
D
C+
NBCSports.com's
Gregg Rosenthal
Evan Silva
B+
B+
D
B+
C+
D
F
B
C
B-
F
C+
SportingNews.com's
Clifton Brown
A-
B-
D-
F
B-
C
F
C-
D
A-
F
B