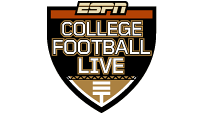 It's summer, and that means it's the perfect time for College Football Live to hit the road for an old-fashioned summer road trip!
The gang will be putting tires to asphalt in all 50 states to celebrate the game that unites fans from between the hedges in Georgia to the Coliseum in Los Angeles. We're going in search of the best players, best coaches, best games and more from every state in the union.
Check out the schedule below to see when the show is coming to your state and vote on the biggest questions and conundrums the gridiron has to offer.
College Football Live airs daily, Monday-Friday at 3:30 p.m. ET on ESPN.
UPCOMING TOUR STOPS ...
August 6-7: Florida

Vote on the Sunshine state.
PREVIOUS TOUR STOPS ...

North Carolina - 8/5
SportsNation said: L.T. is the best player from the state of North Carolina.
---
More Tour Stops
8/5 - North Carolina
8/4 - Kentucky
8/3 - Illinois
7/29 - Missouri
7/28 - Alaska/NM/WY
7/27 - Georgia
7/24 - Washington
7/23 - West Virginia
7/22 - Hawaii/Idaho
7/20-21 - Texas
7/17 - South Carolina
7/16 - Nevada/Utah
7/15 - Nebraska
7/14 - Massachusetts
7/13 - Indiana
7/9 - CT/RI
7/8 - Wisconsin
7/7 - Minnesota
7/7 - Kansas
7/6 - Louisiana
7/3 - New York
7/2 - Colorado
7/1 - DC/Maryland
6/30 - California: Part 2
6/29 - California: Part 1
6/23-26 - Pennsylvania
6/22 - Virginia
6/22 - Arkansas
6/19 - MT/ND/SD
6/17-18 - Ohio
6/16 - Mississippi
6/12 - Iowa
6/11 - Arizona
6/10 - ME/NH/VT
6/8-6/9 - Alabama
6/5 - Oklahoma
6/4 - Oregon
6/3 - Delaware/New Jersey
6/2 - Tennessee
6/1 - Michigan