More from Super Bowl XLII
Buzzmaster: Hello from Arizona!
Who wins the game?
Head-to-head matchups?
Which fans support which team?
SportsNation XLII Map
Super Bowl XLII Conversation!
Can we proposition you?
Buzzmaster: Live from Media Day
The Pulse of Super Bowl XLII
When did undefeated talk start?
Quiz: 42 Super Bowl questions
Super Bowl or Super Tuesday?
Rank: Greatest QBs
Quiz: Greatest QBs
Vote: Future QB greatness
Rank: Super Bowl performances
Rank: Super Bowl coaches
Rank: Super Bowl careers
Rank: Super Bowl games
Rank: Super Bowl teams
Buzz with oddsmaker Damon Durante
Buzz with Matt Hasselbeck
Buzz with Gregg Easterbrook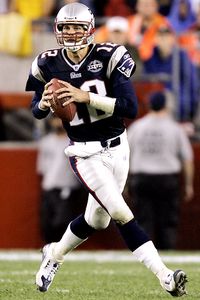 Tom Brady has his New England Patriots back in the Super Bowl.
The saying goes that "hindsight is 20/20." It is easy to look back and say you knew something was going to happen after the fact.
Which team will win the 2007 World Series? Easy, the Red Sox. Will the 49ers win back-to-back Super Bowls in the mid-80s? Yes, of course. Both easy questions. And, now with the benefit of the regular season being over, we can assuredly say that the 2007 Patriots will go undefeated.
However, did anyone see the Patriots going undefeated? When did the undefeated talk start?
We went back into the chat vaults and looked at some of our NFL chatters -- Scouts Inc.'s Jeremy Green, Gary Horton, Matt Williamson and Keith Kidd, along with Matt Mosley and Chris Mortensen -- to see what they said throughout the season.
While they all doubted a 16-0 season at first, eventually they came around. The first one to emphatically state we were going to see perfection was Williamson in Week 9. But as the season wore on, they all started to think the Patriots were going to make history. Read below to see how and when they all started to change their minds.


Preseason: Will the Patriots get back to the Super Bowl?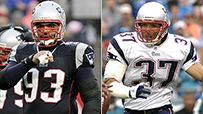 Starting without Richard Seymour and Rodney Harrison gave Mort concern.
Chris (Massachusetts): Do the Patriots have any holes? I think they may be unstoppable.
Matt Williamson: They are great and have been my Super Bowl pick now since the day after free agency opened. Obviously a huge injury would change things, but you can say that about any team in the league. The coaching and front office are really unbelievable. The DL is superb. Oh yeah, the Brady character isn't too shabby either. Might go 6-0 in their division.
Ram (New York): Can the New England Patriots live up to the expectation of all the hype given the injuries on their defensive line and the suspension of Harrison?
Gary Horton: I think those are tough things to overcome because Harrison and Seymour are key components to their defense. But Belichick always finds a way. Luckily for them, they are playing in a very weak division, so they will have plenty of time to get healthy and get on a roll. I think at the end of the season, they will be an elite team and ready for a Super Bowl run. We will get a better feel for them in Week 2 when the Chargers come to town.
Ed (New York): Some experts are jumping off the Patriots bandwagon just because of Harrison and Seymour being out early. Do you still see them as the team to beat?
Chris Mortensen: I'm still picking the Patriots, but the status of Seymour especially should concern everyone in New England. There's a mystery there about how serious his knee injury/recovery is. Harrison is a loss but they will manage until he's back. He's a great player, leader and, regardless of what happened with his use of HGH, I know Rodney is a great person, too.
Zain (Atlanta): Your Super Bowl prediction?
Jeremy Green: New England over Chicago.
Week 1: Spygate puts a cloud over the season

Cheating allegations hit the Pats after Week 1.
Ed (New York): Could the Patriots go 16-0? I am just asking because they don't seem weak in any area and Bill Belichick may go out of his way to show that a camera means nothing to him.
Chris Mortensen: It wouldn't surprise me. They have great players. They have a great coach. They have a mission ... and that was before this incident.
Week 2: Patriots roll to 2-0 with win over Chargers
Anthony (Washington): Do you think the Pats' dominance over a supposedly elite team last night had a lot to do with their latest "us versus them" mentality, or are they really that good?
Keith Kidd: They are that good. Even though it will be an Us vs. Them mentality for the rest of the year, this team is very very talented. There was a huge advantage for Belichick over Norv Turner. I just don't see Turner getting (the Chargers) back to a conference championship. I have not been impressed with Philip Rivers this season. He has to play better if this team wants to make a deep run.
Week 3: Patriots score 38 points in third straight week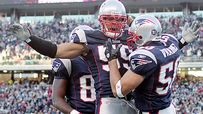 The Patriots defense was a big key throughout the quest for 16-0.
Matt (Anchorage, AK): With Rodney Harrison and Richard Seymour back healthy, can the Pats go undefeated?
Matt Mosley: Hello Alaska! I think you should show up at a Pats news conference and ask Bill that question. He loves talking about it. This team will lose two games.
Josh (Rittman, OH): New England vs Dallas Super Bowl?
Matt Williamson: Sure looks that way. I picked New Englad/Philly and am not off the Eagles' bandwagon just yet. New Orleans is out. Chicago doesn't have a QB and are fighting a lot of injuries.
Adam (Indianapolis): Show the Colts some love. What do you think the chances are of us knocking off the Pats (again) and going back to the Super Bowl?
Chris Mortensen: The Colts are the only team I see right now as a legit threat to the Pats. But the Pats' offense loaded up with new weapons (Randy Moss, Wes Welker, Donte Stallworth) just to ensure that if it's ever a scoring match with the Colts, it's a level playing field. I liked the Patriots before the season and nothing's changed my mind but I definitely give the Colts a shot.
Week 4: Undefeated talk brushed aside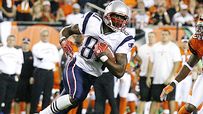 Randy Moss helped New England race out to a 3-0 record.
Richard (Bowie, MD): JG, start talking about those Pats, will ya! They're the best team in the NFL right now.
Jeremy Green: I see two games that are huge for the Pats ... Week 6 at Dallas and I think it is 11/4 at Indy. The Pats are a great team, but I do not see them running the table.
Jeff (Syracuse, NY): Mort, do you think the Pats go undefeated? If not, who do you see beating them?
Chris Mortensen: I don't want to talk about the Patriots going undefeated until they beat the Colts in Indy. If, that is, they beat the Colts and they are unbeaten at the time. They're really good. I picked 'em to win the Super Bowl but let 'em play.
Chauncey (Teaneck, NJ): Can the Pats go undefeated?
Matt Williamson: They can. I don't think it will happen, but it could. Do you think they are a favorite in Indy if the game were played this week? I do. Not a huge favorite, but I would think they are favored ... which would make them the favorite in every game this year if they stay healthy. Someone will get them though. Bad bounces. Turnovers. 14-2.
Week 5: New England blows out Cleveland 34-17
Chris (Michigan): Are the Pats this good or has their competition been that bad? They are making winning look real easy, it is almost laughable at how much better they are than anyone else right now.
Keith Kidd: I agree, Chris. This offense can attack inside, outside, anywhere. Yesterday, the defense, with the zone blitzes, created a lot of turnovers and could have made this game really ugly if they had been more consistent about finishing drives. I'm anxious to see how this team does when it faces a high powered offensive attack. A team that can do what the Pats offense can do. This team has also been basically injury-free which helps.
Josh (Asheville, NC): Could the Steelers end their winning streak like they did a few years ago during the season Pittsburgh finished 15-1?
Matt Williamson: I agree. Pittsburgh should be in that conversation as well. I bet New England wins two of those three [against Indianapolis, Dallas and Pittsburgh] which is very impressive. 16-0 is just too tough.
Week 6: A big win against the Cowboys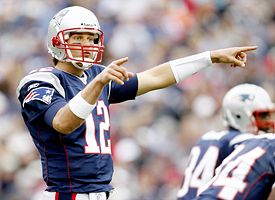 Tom Brady totaled his 16th TD pass of the season against Cleveland in Week 5.
Ed (Pennsylvania): When will the Pats lose?
Matt Williamson: First off, they will lose and will not go 16-0. However, there is not one game on the schedule that I would predict them to lose right now. Indy obviously looms VERY large for the streak -- but I am not telling you anything that you don't already know.
Patrick (Cheyenne): 16-0, 19-0, is it really going to happen? Can they really do it? Do you think the Patriots will go undefeated?
Chris Mortensen: I'm only willing to have that discussion if they beat the Colts and are unbeaten at that time.
Tom (Massachusetts): KK, if the Pats get by the Colts, I think the only thing between them and 16-0 is the Steelers game. You agree?
Keith Kidd: In all reality, I really don't see anybody going 16-0. It is so hard to win in this league on a week to week basis.
Ryan (Buckhead, GA): Speaking of going 16-0, why does everybody assume the Pats are going to beat the Colts? If anybody is going 16-0, I think the Colts are!
Keith Kidd: Great point. I'll say it again, I just don't see anybody going 16-0 in this league. But if you are going to talk about it, the Colts should be right there in the discussion with the Pats.
Week 8: Greatest team ever questions start
James (Raleigh): Is this Pats team the greatest team ever assembled?
Matt Williamson: Way too early to talk that way, but they are amazing. Amazing.
Week 9: Pats defeat Colts; undefeated questions start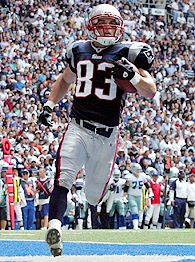 Wes Welker's breakout season helped open Matt Williamson's eyes to a possible 16-0 sesaon.
Josh (Asheville, NC): Is there any team that can beat the Patriots?
Matt Williamson: The Pats will not be stopped. Perfect season. Yup, I think so.
Joe (Sagamore Hills, OH): Mort, I think that the Eagles and Ravens are going to put some serious pain on the Pats. They might bring the alligator out in Moss and make Brady less effective. Both thoses games come before the Steelers game. What do you think of the cumulative effect?
Chris Mortensen: I think you're dreaming. I only think the Steelers have a shot and that game is in New England. And I don't think the Patriots will be intimidated by anybody.
John (Boston): Assuming the Patriots continue their vendetta on the rest of the league, at what point would you expect a team to "release the hounds" on Brady and try to pound on him?
Gary Horton: I think the biggest concern I would have is what you just mentioned. Eventually, somebody is liable to take a cheap shot at Brady out of frustration, and if they continue to embarass teams, some guy may try to hit him low or take a late hit, and that would concern me. But that's football, and you would like to think that players wouldn't do that, but that's unrealistic. If this run continues, I would get him out of the game when the outcome is decided, but I don't know if that's their style.
Week 10: Patriots hit the bye week at 9-0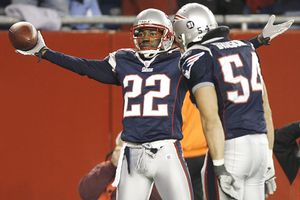 Asante Samuel led the New England defense with 6 INTs.
Kevin (NH): When do you think the Patriots will recieve their first loss?
Jeremy Green: Right now, I would say they're not going to receive their first loss. I think they run the table. Bill Belichick has three rings that are important, but I think going undefeated is important. They have a couple of chances to lose. Pittsburgh and the last game of the season.
Mark (Texas): Who has a better chance -- Miami not winning a game, or the Pats winning them all?
Matt Mosley: Pats winning them all. Not even close. Dolphins will stumble into a win. Pats don't stumble into losses.
Brad (Cleveland): A lot of analysts are saying the Patriots are the best team ever, but all the past teams never ran up the score. Don't you think if the great 49ers and Cowboys teams wanted to, they could have beaten their opponents by 25 points?
Chris Mortensen: I have laughed at this question. I do not believe this Patriots team could beat any of the Steelers' teams, the '72 Dolphins, the '85 Bears, the '89 49ers, the '92-93 Cowboys, the '94 49ers. The other thing is, the rules have changed dramatically to allow receivers to run unchecked through a defense, so it's tough to compare. That being said, the Patriots' passing game is unbelievable to watch.
Week 13: A second straight close game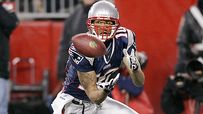 Jabar Gaffney's late TD catch keeps New England perfect at 12-0.
Carl (Boston): It is sad to see the Ravens crying about the calls that went against them. They had many chances to win that game and could not get it done. What do you think?
Matt Williamson: I understand that Baltimore is angry, but it looked like a classless move to me. As for New England, I think they go 19-0. Honestly. Pittsburgh will test them this week and they will not blow everyone out in the playoffs, but I think they win them all.
Week 14: Pats go 3-0 through toughest stretch
Lane (Kukuihaele, HI): Are the Patriots feeling the pressure? All the talk of the undefeated season and Brady on pace to break Manning's TD record. Their opponents thinking it's the Super Bowl when thy play. Do you think it's getting to them?
Gary Horton: I think the grind of any NFL season wears on players in December. Probably there's some pressure that you're getting everybody's best game each week, and it's a circus atmosphere whenever they play, with mostly prime time night games. It upsets the routine of players. But this is also a very mature group. They take things in stride, and I just think they're tired. If they get through this week vs. Pittsburgh, they'll sail through the rest of the season. Three of their last four games are at home, and even a trip to the Meadowlands in week 16 is a short hop.
Week 16: Another easy win over the Dolphins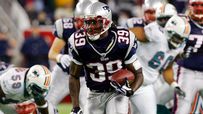 RB Laurence Maroney saved his best for last, posting a season-high 156 yards in a Week 16 win over Miami.
Richard (Huntington, WV): Do you personally think the Patriots will go 19-0?
Keith Kidd: If they don't, it will have been a very disappointing season in New England. Because the goal every year is to win the world championship. By not accomplishing that, it will have been a poor season, even though history was made in the regular season. Let's face it, you'd love to win every game, but would you sacrifice losing 3-4 games every year to win a championship? Absolutely.
Ben (Annapolis, MD): A quick Super Bowl prediction please? Mine is Dallas 31, New England 28.
Matt Williamson: I picked the Pats a few days after free agency opened and I am sticking with them. I do think they are beatable, but they are the best team with the best quarterback, the best coach and home field advantage.