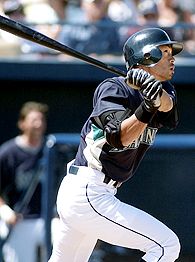 Ichiro received the highest percentage of votes, with 97 percent of fans naming him the Face of the Mariners.
Who is the Face of your favorite franchise? That's the question we posed to writers, bloggers and more than 1 million fans over the course of this week. We took into consideration skill, popularity, historical and future impact and a host of intangibles to determine which current player, manager, executive, mascot or symbol best represented each of Major League Baseball's 30 franchises.


With more than 650,000 votes in the first day alone, it was clear that fans had strong opinions on the Face of their favorite franchise. Many fans disagreed with the choices put forward by our panel of experts; others were chagrined at the omission of their preferred representative. While many of the eventual winners held comfortable leads over their opposition, fans debated heavily when choosing their runners-up.


So, what did the fans come up with? We've compiled a list of some of the more interesting trends below.


Click here to see the full results for each team.


Prime Time Of Your Life

Zimmerman
Twenty-five out of the 30 Faces chosen were players, with a good mix of both veterans and youngsters. Barry Bonds, at 43 years old, was the oldest player chosen, while 22-year-old Ryan Zimmerman was the youngest. The average age of the 25 players was 30.56 years, right in the middle of a player's traditional prime years. Fans may have been influenced to pick players performing at the peak of their abilities. 11 players were in their 20s, 12 were in their 30s, and two in their 40s. Obviously, no players were under 20 or over 50, although newly minted Brave Julio Franco has a chance to become the first over-50 Face of some lucky franchise late in 2008.
Positional Battles

Willis
Starting pitchers were the most commonly selected Faces, with five starters getting the nod. Shortstops (typically the most exciting players) and first basemen (typically the heaviest hitters) tied for second place with four apiece. Three left fielders won, while right fielders, center fielders and designated hitters tied with two apiece. One second baseman (Craig Biggio), third baseman (Ryan Zimmerman) and relief pitcher (Trevor Hoffman) won as well. No catcher was able to capture the fan vote, although young star Joe Mauer was chosen by three out of four panelists. Red Sox fans in the comments were clamoring to vote for Jason Varitek, although most admitted that eventual winner David Ortiz was the Face of the Red Sox.

Building Consensus

Sizemore
Three players were complete consensus picks; they won the votes of every single panelist, plus the fan vote. Center fielder Grady Sizemore beat out an Indians field littered with potential candidates, while Dontrelle Willis retained his place in the nation's consciousness as the face of the Marlins, despite a mediocre season. Barry Bonds, the rather obvious choice for Face of the Giants, was also a consensus pick. Vladimir Guerrero and Ichiro Suzuki were chosen by three out of their four respective panelists. Each won the fan vote by a huge margin; Vlad had over 92 percent of the vote, while Ichiro was the MLB leader with over 97 percent.


Agree To Disagree

Sweeney
Two teams had no consensus from our panelists on the Face of the Franchise. Pittsburgh Pirates fans were offered up Jason Bay, Jack Wilson, announcer Lanny Frattare and PNC Park as choices. Kansas City Royals supporters had GM Dayton Moore, Billy Butler, Mike Sweeney and Alex Gordon to choose from. Ultimately, fans went in for the veterans, choosing Bay for the Pirates and Sweeney for the Royals. In two cases, players not selected by the panel but included on the poll won out: Johan Santana of the Twins and Derek Jeter of the Yankees.
From The Dugout . . . And The Booth
Beane
Five non-players received the honor of being voted the Face of their franchise. Trendsetting GM Billy Beane took home that honor for the A's, as did managers Bobby Cox, Jim Leyland and Ozzie Guillen. Voice of the Dodgers Vin Scully can now add Face of the Dodgers to his accomplishments as he was the only non-player, non-executive, non-manager to be recognized. Scully has been broadcasting Dodger games for longer than many fans have been alive. GM John Schuerholz of the Braves was nominated, as were Pirates broadcaster Lanny Frattare, Royals GM Dayton Moore, Mets manager Willie Randolph, Nationals president Stan Kasten, Orioles owner Peter Angelos, Cubs manager Lou Piniella, Brewers broadcaster Bob Uecker, Cardinals manager Tony La Russa, Rockies manager Clint Hurdle, Angels owner Arte Moreno, Rangers owner Tom Hicks and the Boss himself, George Steinbrenner.
Oddities And Blemishes

Phanatic
Recognize this handsome gentleman? It's the Phillie Phanatic, nominated by two of our panelists for the Phillies. While unable to overcome Ryan Howard, the Phanatic did receive more than 10,000 votes. Other odd nominees: PNC Park for Pittsburgh, the Green Monster for Boston, utility infielder Juan Castro for Cincinnati and the Sausage Races for Milwaukee. For Castro, blogger JD Arney of RedReporter.com explained that "there is little redeeming about Castro as a player, just as there is little redeeming about a Reds franchise that seems adrift these days, with no clear plan of how to pull themselves out of the mess that has been the past seven years."