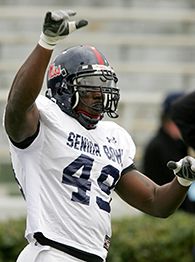 SportsNation sent Patrick Willis to the Jets at pick No. 25, but will fans in the Big Apple be so lucky in real life?
Click here to go to the draft board
Defense may win championships, but it was a distinct underdog in the second annual SportsNation Mock Draft. Just ask Patrick Willis.
While ESPN.com voters were in sync with most draft analysts in predicting offense would rule the first five picks, few experts are predicting nine of the first 12 picks to be spent on offensive players, as unfolded in the interactive mock draft.
No player better represented, or suffered more from, SportsNation's love for offense than Mississippi linebacker Patrick Willis. Rated as the 12th-best prospect by Mel Kiper and projected by Todd McShay to come off the board at No. 12 to the Buffalo Bills, Willis slipped to the New York Jets at No. 25 when SportsNation ran the show.
"I think SportsNation is way off on Patrick Willis," Scouts, Inc.'s Jeremy Green said. "I don't even see him getting outside of the top 15. The 49ers at No. 11 coached him at the Senior Bowl and love him. The Bills at No. 12 and Carolina at No. 14 have huge holes to fill at the linebacker position. Patrick Willis based on character and production will not fall out of the top 15 in this draft."
Scouts, Inc.'s Matt Williamson was even more blunt in his assessment.
"There is no reason in the world that [Willis] should or will fall to the 25th pick in the draft," Williamson said. "He is by far the best inside linebacker prospect in this draft, and several teams like San Francisco, Buffalo and Carolina would love to get their hands on him in the first half of the draft. SportsNation, you screwed this one up."
With defensive players like Willis, Amobi Okoye (No. 13 to the Rams), Alan Branch (No. 18 to the Bengals) and Adam Carriker (not selected) slipping down the board, several skill position players found their stock soaring among fans.
After voters sent defensive end Gaines Adams to Washington with the sixth pick, breaking a string of offense that included the Raiders taking JaMarcus Russell and Calvin Johnson falling to Tampa Bay with the fourth pick, receiver-returner Ted Ginn Jr. was selected for the Vikings with the seventh pick. Despite the former Ohio State star's explosive return skills, his selection was met with skepticism.
"This is way to high for Ginn Jr. who is actually one of the coldest of the receivers that could go in the first round," Green said. "He is small and the durability is an issue. Robert Meachem and Dwayne Bowe could go ahead of him at this point, as they are moving up draft boards. Ginn has special return ability, but he is a better return man then receiver and the Vikes need receiver help. This is a reach for need if they make this pick. They would be far better going with [LaRon] Landry, who is the most complete defensive player in the draft."
Even those who like Ginn's pro potential were puzzled that fans selected him ahead of Landry, a standout safety for LSU who Kiper rates as the sixth-best player in the draft.
"I like Ginn more than most, but taking him above Landry is crazy," Williamson said. "Landry might be the safest pick in this entire draft -- including Calvin Johnson. The guy does it all. As for Ginn over [Jamaal] Anderson and [Leon] Hall, I don't agree with it, but I do understand where SportsNation was coming from there. Ginn should have a Devin Hester like impact in his rookie season as he refines his wide receiver skills and that should not be overlooked."
But for all the criticism of top defensive prospects slipping too far, SportsNation's picks may also reveal a fundamental truth about the composition of this draft class. Offense sells tickets, but there may have been something more than a fondness for touchdowns that led voters to include seven wide receivers among the first 32 selections.
"I would not fault the 'Nation for having too many skill players in the first round. This is a good skill player draft. There is a lack of offensive linemen -- three that should go in the first round. There are only a few true defensive ends in the first round. The receivers are the strongest position in the first round without question, and I think the Nation's selection shows that."
For the second year in a row, more than a million votes were cast during the mock draft.
Click here for ESPN.com's complete NFL draft coverage.