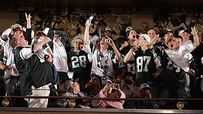 Fans in New York never miss an opportunity to boo.
Mock Draft Complete.
Click here to go to the draft board
Teams might be emphasizing the offensive line more than ever, but SportsNation only had eyes for the skill positions in the third annual SportsNation Mock Draft.
While highly touted tackles such as Ryan Clady and Chris Williams fell farther and farther down the board, SportsNation kept taking wide receivers. Vanderbilt's Williams in particular suffered the brunt of SportsNation's disdain for big men. Projected to go in the top 15 by many experts, Williams fell to the Seahawks at No. 25.
"There are two that slid too far, and they are both offensive tackles," said Jeremy Green of Scouts Inc. "Ryan Clady and Chris Williams got no respect from the Nation. What happened to the theory that you win in the trenches? Clady and Williams suffered from the Nation watching too many highlights on TV."
Scouts Inc.'s Matt Williamson was particularly astounded by the rush of wide receivers chosen in the first round. In order, SportsNation drafted Malcolm Kelly, Limas Sweed, DeSean Jackson, James Hardy, Mario Manningham, Devin Thomas and Early Doucet.
"Some would argue that this year's draft does not have a wide receiver worthy of a first-round selection," Williamson said, "yet SportsNation selected a whopping seven wideouts in the first frame. SportsNation is obviously more familiar with skill players and have routinely seen highlights of these players on 'SportsCenter.' Offensive linemen like Branden Albert and Chris Williams obviously are not household names and, thusly, were vastly devalued. While I give SportsNation a pass on this to some extent, I can't completely let it slide. If free agency taught us anything, linemen are at an extreme premium.
SportsNation's skill position bias also showed in the first overall pick. Although many mocks had Virginia DE Chris Long or Michigan OT Jake Long going to the Dolphins in the No. 1 spot, SportsNation went with Boston College QB Matt Ryan. A few mock drafts did have Ryan going first, but Green felt the pick was not the best use of the Dolphins' resources.
"The Nation got off to a rough start and never really could recover," Green said. "Once they picked Ryan at No. 1, the draft selection process was thrown out of whack. Not only would I question the selection of Ryan (who has been buoyed by the lack of star power at the QB position), they then give the Rams OT Jake Long."
For the third year in a row, more than a million votes were cast during the mock draft.
Click here for ESPN.com's complete NFL draft coverage.
Be sure to read ESPN The Magazine's NFL draft preview issue, which hits newsstands Thursday, April 10. Your mock draft results will be featured alongside the experts' picks!