More from Super Bowl XLII
Buzzmaster: Hello from Arizona!
Who wins the game?
Head-to-head matchups?
Which fans support which team?
SportsNation XLII Map
Super Bowl XLII Conversation!
Can we proposition you?
Buzzmaster: Live from Media Day
The Pulse of Super Bowl XLII
When did undefeated talk start?
Quiz: 42 Super Bowl questions
Super Bowl or Super Tuesday?
Rank: Greatest QBs
Quiz: Greatest QBs
Vote: Future QB greatness
Rank: Super Bowl performances
Rank: Super Bowl coaches
Rank: Super Bowl careers
Rank: Super Bowl games
Rank: Super Bowl teams
Buzz with oddsmaker Damon Durante
Buzz with Matt Hasselbeck
Buzz with Gregg Easterbrook
Super Bowl XLII may have set a new record for pre-game analysis. Wish you knew a bit more about the status of Tom Brady's ankle? We've got you covered. Care for a breakdown of Eli Manning's formerly fragile psyche? You've come to the right place. Actually, want to know who's going to win the game? That's certainly doable. Here's a sampling of what the experts, writers, and SportsNation itself have been saying about the game in the past two weeks.
Playing the Percentages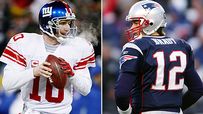 Tom Brady is the prohibitive favorite, but has Eli Manning re-invented himself?Far removed from their previous image as lovable underdogs, the Patriots have established themselves as a juggernaut for the ages. They bring an 18-0 record into Super Bowl XLII and have a shot at making history as the first 19-0 team ever. Consequently, they've inspired conflicting emotions in SportsNation. The majority of fans have weighed in against the Patriots, preferring to root for the resurgent Giants. However, a similar percentage admitted that New England has the advantage. Only four states ended up picking the Giants - New York, New Jersey, Mississippi (likely Ole Miss loyalists) and Indiana (perhaps disgruntled Colts fans?).
Which team will win Super Bowl XLII?
62% Patriots
38% Giants
Which team are you rooting for in Super Bowl XLII?
59% Giants
41% Patriots
What would best describe your Super Bowl prediction?
41% Patriots win by 10 or more points
33% Giants win by fewer than 10 points
22% Patriots win by fewer than 10 points
4% Giants win by 10 or more points
Which team benefits most from the two-week layoff before the game?
56% Patriots
44% Giants
As for the relative strength of each individual squad, the Patriots again have the advantage, although the Giants excel in a few key areas.
Which team has the edge at quarterback?
90% Patriots: Tom Brady
10% Giants: Eli Manning
Which team has the edge at running back?
68% Giants: Ahmad Bradshaw, Brandon Jacobs
32% Patriots: Laurence Maroney, Heath Evans
Which team has the better overall offense?
89% Patriots
11% Giants
Which team has the edge on the defensive line?
78% Giants: Michael Strahan, Barry Cofield, Fred Robbins, Osi Umenyiora
22% Patriots: Ty Warren, Vince Wilfork, Richard Seymour
Which team has the edge at linebacker?
75% Patriots: Mike Vrabel, Junior Seau, Tedy Bruschi, Adalius Thomas
25% Giants: Reggie Torbor, Antonio Pierce, Kawika Mitchell
Which team has the better overall defense?
53% Giants
47% Patriots
Which team has the edge at head coach?
87% Patriots: Bill Belichick
13% Giants: Tom Coughlin
Coach Approvals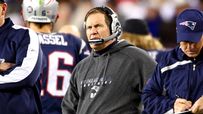 Going 16-0 wasn't enough for SportsNation to give Bill Belichick a perfect rating.All season long, we asked SportsNation to rate the performance of each head coach from week to week. The rating trends of Bill Belichick and Tom Coughlin both ended up on the positive side of the ledger, but the way their seasons played out was completely different.
Both coaches started off their seasons on the low end of the approval rating spectrum, but for different reasons. Belichick's dominant win over the Jets in Week 1 was tainted by accusations of spying, and the subsequent mess resulted in SportsNation only granting him a 52 percent approval rating.
Coughlin, on the other hand, spent the first three weeks moldering in the doldrums, never rising above thirty percent, as a 1-2 record seemingly convinced fans to write off the Giants.
Belichick's approval rating stayed relatively constant, never dipping below 72 percent after the second week. Coughlin climbed steadily through the middle of the season, then suffered a schizophrenic series of rises and falls as the Giants either won against tough opponents or squandered what should have been winnable games.
Do you approve of the job Bill Belichick did as head coach of the New England Patriots this season?
Week 1: 52%
Week 5: 77%
Week 9: 77%
Week 13: 76%
Week 17: 85%
Overall: 78%
Do you approve of the job Tom Coughlin did as head coach of the New York Giants this season?
Week 1: 22%
Week 5: 62%
Week 9: 69%
Week 12: 32%
Week 14: 72%
Week 15: 26%
Week 17: 75%
Overall: 58%
Expert Opinions
Jeremy Green thinks the Giants need to put pressure on Tom Brady to win the Super Bowl.Our football experts were chatting all week as the hype around the game became more and more intense. Some of our experts were on the ground in Glendale and got a good look at the two teams in person, while others sequestered themselves in screening rooms, reviewing game tape and breaking down the two teams. What did they have to say?
From Matt Williamson's Media Day chat
Denny (Visalia): What is your No. 1 key to this game? Mine is if the Giants defensive line can get to Brady, they have a real chance to win this game.
Matt Williamson: That is huge no doubt, but I expect New England to use a lot of three-step drops and a short passing game to help nullify that great outside pass rush. I think it is Maroney. I am expecting a very big day from Maroney against New York's nickel and dime packages with Justin Tuck at DT as well. Many keys to this one though. Belichick vs. Eli is huge as well. Don't discount that.
Jeff (Michigan): If you were Tom Coughlin, how would you stop the Patriots defense?
Matt Williamson: Outside of a few excellent players, NE's defense isn't very impressive. Those ILBs certainly can be exposed, as can the secondary minus Samuel. I just am not excited about the other pass catchers for New York outside of Burress who is terrific. They can't become one dimensional if they get down on the scoreboard. The Giants must run and run. O'Hara needs to control Wilfork. Easier said than done.
From Jeremy Green's Super Bowl chat
Mike Gilbert (Missouri): If Osi and Michael put pressure on Tom Brady, the game is over. If not, expect the spread to be upheld.
Jeremy Green: Pressure will be key for the Giants defense. They did not get any in the first meeting and look how Brady picked them apart. I think the Giants will play much more aggressive on the outside though as they have all postseason.
Joe (Southaven, Mississippi): Who is the corner that will be assigned to guard Moss and what defensive formation do you think the Giants will be in for most of the game?
Jeremy Green: I think Madison. I think they will play him in an man outside technique and funnel Moss inside where he will trail but run him into LB and inside safety help. They can't let Moss get an outside release. If they do, Brady will take them over the top. They have to funnel him inside where he does not want to go. The Giants will play a lot of man coverage with blitz pressure. If they don't, they will have no chance because Brady is too good and will pick them apart.
From Gary Horton's Super Bowl chat
Matt (Wynnewood, PA): What do you think of Eli's performance in this postseason? Will it continue into next season?
Gary Horton: When a guy plays this well for four games in a row now, all in pressure situations, it leads me to believe that the light has come on, and now all of a sudden, aloof Eli becomes cool and calm Eli. I think he has a great grasp of his offense, he's very comfortable, and I see nothing that would lead me to believe that this kind of performance won't continue.
Vincent (Chicago): When Baltimore pulled off an overload blitz from the left, it was surprising that Brady didn't recognize it pre-snap and audible to a roll-out pass. He took a sack in the middle of the pocket. I assume the Giants will try this and see if he recognizes it. What do you think?
Gary Horton: I watched that this week, and Baltimore is great at it. The Giants do that sometimes themselves. They do occasionally send corners from the edge and drop their DEs into coverage, or bring a CB and LB from the same side. But they really seem to like to attack inside. What I noticed in the blitz package is that because their DEs are so good rushing off the edge, opposing OLs overslide their protection outside, and that makes them vulnerable for a LB to come up from the inside. I think we could see that this week. The Giants' blitz packages are very creative, and though people get conservative when they play the Pats, I don't think the Giants will be like that. They know they need to roll the dice.
Media Day Follies
Media Day is serious business.Buzzmaster was doing his thing down in sunny Arizona: braving Media Day, munching on free food, lounging by the pool, and even fitting in some time for a chat or two. Media Day is always an entertaining time, and Buzz was there with SportsNation to chronicle all of it.
JD (MA): As a player, one should never make a prediction, it just makes the other team more focused.
Buzzmaster: Well, if a team needs something to make it more focused for the Super Bowl then they have problems. With that said, the Pats have loved it when other teams have tried to trash talk them.
Sean (Philly): You are the guy with the laptop, not many people are walking around with one of those.
Buzzmaster: I've been asking a few players, "When was the last time Bill Belichick did something or said something funny?" LeKevin Smith said, ''Well, do you mean something we think is funny or something he thinks is funny? I think every day he says something that he thinks is funny. He'll get on you sometimes for mistakes, but he'll do it in a funny way. But if you're the guy who made the mistake, it's probably not that funny. He's good for about 1-2 jokes a day.''
Eric Alexander said, ''He does funny stuff every day. He's really dry with the national media, but in our team meetings, he's a really funny guy.''
Our boy Wes Welker said, ''We always have some good laughs. He has a dry sense of humor most of the time, but sometimes you'll see a smirk on his face. He's actually a pretty funny guy.''
Jack (NB Canada): Belichick likes chips and pretzels!
Buzzmaster: Yes, I just saw that on the Hashmarks blog. Bill also doesn't speak any Spanish.
Tom Brady on Bill Belichick serving him humble pie - ''As far as the team goes, the humble pie talk by Belichick started in Week 3. We didn't practice well all week and we came in the next day at 8 a.m. and he had pulled 20 plays that didn't go well in the '04 game against the Bills and made us watch them. Belichick said to us, to me, 'yeah, throw it into the dirt like that Tom, that really works.' ''
That's gold right there! Gold!