Larry Quinn, managing partner of the Buffalo Sabres, knows owner Tom Golisano doesn't like him to talk about other clubs' fans, but he just can't help himself. Anytime the Sabres host archrival Toronto, Quinn enjoys watching the thousands of crazies who make the 101-mile trek to cheer their Leafs.
"Jersey-wearing, face-painted, wig-wearing types, not the kind you see at the Air Canada Centre," says Quinn. "It's ironic that Buffalo has become the place where true Toronto fans can express themselves."


Actually, it makes perfect sense. Because when you ignite fans the Sabres way, you're going to spark passion in your opponents as well as in your own faithful. In this fifth edition of our Ultimate Standings, Buffalo ranks No. 1 among all Big Four pro franchises in giving fans the most back for the emotion, money and time they invest in their teams.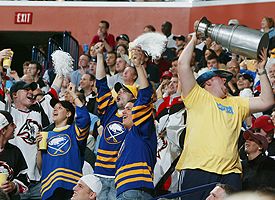 Fans of the Sabres have had plenty to cheer about.
The Sabres weren't always the template. In January 2003, the team went Chapter 11 months after the feds led former owner John Rigas away in chains. (He's appealing a 15-year prison sentence for accounting fraud.) But three months later, Golisano, a billionaire and three-time independent candidate for New York governor, bought the Sabres for $92 million, essentially acquiring the club and HSBC Arena in exchange for paying their debt. Ever since, being a Sabres fan has been found gold for Nickel City residents.


After Golisano and Quinn took over, the Sabres rewarded their staunchest fans by slashing season-ticket prices by 15 percent to 25 percent. But they've also pioneered variable ticket pricing in the NHL, making sure that eight to 11 home games per season feature even lower prices. Result: The average cost of attending a Sabres game is $46.40, 25 percent below the NHL average.


Meanwhile, the Sabres made sure the on-ice product would keep those seats filled, employing a fan-friendly high-speed shoot-and-skate attack. In the midst of a seven-game losing streak in December 2003, Golisano told the team, "I'd rather lose games 6-5 than 3-1," and Quinn and GM Darcy Regier have backed him up, through trades (co-captains Chris Drury and Daniel Briere) and the draft (Ales Kotalik and Jason Pominville). Beloved former captain Lindy Ruff, the longest-tenured head coach in the NHL, keeps all the parts moving at breakneck speed. It works: Since 2002, Buffalo has moved from 24th to first in the league in scoring -- while posting a higher winning percentage every year.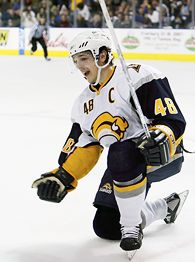 Daniel Briere helped the Sabres to the conference finals last season.
It's all good in the Land of Wings: Season ticket sales have rocketed from 5,800 to 14,815 since the 2002-03 season, while local TV ratings have tripled. In February the seven best-selling jerseys at NHL.com belonged to Sidney Crosby and six Sabres, part of a jump of more than 1,000 percent in sales of Sabres swag over the past year. The team is now worth $149 million, and after losing $46 million over the first half of the decade, it turned close to almost a $4.6 million profit in 2005-06, according to Forbes.


And while financial analysts and media types have been carping about the NHL's lousy national TV deal, four hockey franchises landed in our top 10 this year by keeping local fans happy: Buffalo, Anaheim, Nashville and Carolina. These clubs are models for other teams trying to regain footing in the postlockout era. They're big winners on the ice -- last year's Cup winner plus three current division leaders. All four also rank among the league's 10 lowest in fan costs and are in the top 10 of all big league teams in Fan Relations, according to our research. Throw in players and owners who act professionally, make themselves accessible and show their appreciation to fans, and the mix is unbeatable. These franchises also stand as a counterpoint to teams such as the Red Sox and Redskins -- and the Leafs -- who shove ticket and concessions prices as high as their wealthiest customers will allow.
"We don't have that luxury in Buffalo," says Quinn.


As it turns out, the Sabres don't need it. They're luring a broad new generation of fans to one small corner of the NHL: 12 percent of Buffalo's season-ticket holders are from Canada, which means those single-game Leafs (or Sens or Habs) crazies better already have a ticket.


As for the 121 other big league franchises, you'll see them ranked on the following pages according to how well they rated in eight categories. We surveyed more than 80,000 fans on ESPN.com about their favorite teams to get scores in seven areas: Affordability (including ticket prices, parking and concessions); Coaching; Fan Relations (access to players, coaches and management); Ownership (honesty and loyalty); Players (effort and likability); Stadium Experience; and Title Track (prospects for winning a championship). For the final category, Bang for the Buck, we examined how efficiently teams convert dollars from fans into on-field wins (see our methodology). The result is the only ranking that combines the fan's perspective with an objective measure of how efficiently teams use fan money.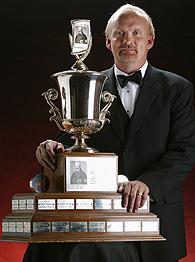 It's no coincidence the No. 1 team has an award-winning coach in Lindy Ruff.
Some teams have plunged in this year's rankings without doing anything worse. It's just that this year's list is 31 clubs longer -- the lockout prevented us from including NHL franchises last time around and the NBA expansion Charlotte Bobcats are rated for the first time. But in the numbers that follow, you'll find evidence of busted covenants. Some clubs (Royals, Pirates) sell tickets on the cheap in futile attempts to compensate for too few W's. Other teams (Cowboys, Falcons) have hiked prices expecting to compete for titles, and then fallen short, leaving fans twice burned. A few (Nets, Kings) are either moving or have talked so much about relocating that their hometown loyalists feel abandoned. Quite a few more (Bengals, Pacers) have been crushed by a heightened demand for players who act professionally off as well as on the field.


But you'll also find a batch of teams that are perennial powers in our Standings. The Angels, Colts, Pistons, Steelers and Spurs have ranked in our top 10 in each of the past three years. What do they have in common? First, homegrown and hardworking players. Second, committed owners and smart GMs who don't mind spending money but who don't stretch their budgets so far that average fans can't afford to support their spending. And third -- well, what do you know! -- they're financially successful. The value of these five franchises climbed an average of 13.4 percent last year, and they made a collective $81.4 million in profits.


These teams all have learned well the lesson you can see in action every time the Sabres take the ice: invest in fans, and we'll pay you back.


Financial analysis by The Warsaw Sports Marketing Center at the University of Oregon: Melynda Stein, Brian McHugh, David Hobbie, Professor Dennis Howard, Kimberley Saunders, Jennifer Wagner, Jared Schoening, Kevin Snyder and Brett Lentz. Polling by Markitecture, Inc. Team rankings by Morty Ain, Jason Catania, Andy Kamenetzky, Brian Kamenetzky, Molly Knight and Eddie Matz.


Click here to return to the Ultimate Standings.