MESA, Ariz. -- The Cubs' new spring home has just about everything a player could want, but it is missing one thing from Billy Williams' days as a young prospect: large barracks underneath the grandstand where 125 or so minor league players could sleep, snore and break wind each night.
"It was really something," Williams said this week at the new Cubs' facility. "I think for them to accommodate the housing for everyone, they had to bring in 100 or 200 army cots and they put them in the barracks. I remember Buck O'Neil would wake up at about 5 in the morning and he would say, 'All right, let's go shake those sheets and play some baseball!'
"So to see this and see how far facilities have come -- and not just here, but all over -- they're better than the stadiums where we played during the regular season in the 1950s and '60s. ... It's just amazing to see this kind of facility. I came over to take a few pictures of the park back in October. And when you look at this place, it opens your eyes."
Times certainly have changed at spring training, where clubs no longer truck in army cots for players but instead load up on spring training games to sell tickets that run as high as $40. And that's not even for actual seats -- that's to sit on the lawn beyond the outfield fence for select Giants games in Scottsdale.
Until the Giants' recent World Series run, the Cubs often led the majors in spring attendance when playing at Mesa's HoHoKam Park. Chicago fans not only want to see their team, they want to escape their city's arctic cold -- and now they have even larger capacity at the Cubs Park facility the city built for them on the northern edge of town. There is plenty of seating, whether you prefer working on your tan in the sun or avoiding skin cancer in the shade.
The outfield grass seating berm is so expansive that Ray Kinsella could plant several acres of corn and still have enough room to play catch with Shoeless Joe and the 1919 White Sox. That helps the Cubs sell so many tickets that Wednesday's game not only set the Cactus League single-game attendance record (14,840), it was more fans than the Cubs averaged at Wrigley Field during the 1981 regular season, or the Marlins averaged in 2006.
Very convenient to get to, the new facility also has so many playing fields and batting cages that Williams said he needed a road map just to find his way around. The clubhouse is state of the art and the weight room is so large with so much equipment that I think Mesa thought the Bears would be training here, as well.
"It's a definite upgrade from the facilities we had in the past. It gives us the ability to get ready for the season," Chicago's Darwin Barney said. "There is a lot of space to get your work done. Like having a swimming pool -- so if you don't want to run and put a strain on your legs, we can go swim and get your cardio work in. There are a lot of batting cages so you can go in and get your work in, where in the past we were limited to four cages."
Cubs president Crane Kenney said that the team wanted Cubs Park to give fans the feel of Wrigley Field, but they didn't want a Disney-like version. There is a replica of the red Wrigley Field marquee where you can post a personal message ("Could you please reach the World Series once before my grandfather, my father or I die?") and pose for photos. There is a low brick wall behind home plate and a Wrigley-style clock on the scoreboard. The outfield grass berm seating rises toward center and has enough fans crowding the space that it gives you a feel of the Wrigley bleachers.
"It would be really cool if they could have gotten the ivy, too," said Rod Smith, a fan enjoying the game Tuesday.
Well, so would a World Series pennant that isn't almost 70 years old, but Cubs fans know you can't have everything.
Like at Wrigley, there isn't a wide variety of concessions, but there are four food trucks beyond the outfield, which is a nice touch. The beer selection is high priced ($11 and $10 for some) and rather limited, with so few varieties available at the "Beers of the World" stand that Smith said it should really be named "Beers of St. Louis and Mexico."
One drawback is that the scoreboard is too small and poorly placed. The metal benches in the upper deck behind the berm are a long way from the field. Another minus is that the players aren't as accessible to fans as they were in the old days. Batting practice is generally held at the next-door practice field, not the main ballpark, and I saw only two small spots where fans can connect with players for autographs while they make their way from the clubhouse to the main park.
Such distancing is the way of the sports world, though, and the way of spring training.
I still much prefer the old spring training atmosphere at Phoenix Municipal Stadium, where the Athletics are training for the final spring this year. Of the newer facilities, I would place Cubs Park several games behind the Rockies and Diamondbacks' gorgeous and picturesque Talking Stick complex, leaving it fighting for a wild-card spot with the White Sox and Dodgers' Camelback Ranch site in Glendale.
Still, Cubs Park is nice and in a better location than HoHoKam. Not only is it closer to the freeway, there is no graveyard directly across the street. Although that also means there now is nobody nearby who was alive when the Cubs last won the World Series.
We'll see whether the improved facilities help the Cubs win a World Series before another century elapses. In the meantime, I just fear what the ticket and beer prices will be when Cubs Park and Talking Stick are considered dumps that need replacing.
CSI: Box Score
Each week I provide a fragment from an old box score and challenge you to determine what game it is from and why it's significant. I give it a difficulty rating of 5.0. Answer below:
Baseball Card of the Week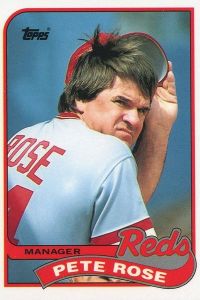 This card (1989 Topps, No. 505) is from Rose's last season as an active manager or player, and from his expression, it appears he either just lost a bet on the Reds or that someone has already started asking him about his gambling problem.
This season marks 25 years since Rose was banned from the game, which seems like an awful long time. Players who doped are allowed back in the game, so perhaps it's time that Bud Selig and Rose got together to see whether there is a good solution to get Pete back, as well. Don't get me wrong, betting on baseball is a serious thing -- it can easily lead to someone fixing the outcome of a game -- but a quarter century is also a very long sentence.
Yeah, Well, That's Like, Just Your Opinion, Man
Insert Easy Performance-Enhancing Drug Punchline Here: One reason Barry Bonds is looking trim at age 49 is that he has become an avid cyclist, riding 30-50 miles at a time. He says he has ridden with Tour de France podium finisher and Olympic bronze medalist Levi Leipheimer in Sonoma. "I love it," Bonds said. "It's given me something to be competitive at. I like to be competing. I've had a trillion knees surgeries, a back surgery, a hip surgery. And cycling has allowed me to stay in shape and not beat my body up on the ground as much." Bonds says he doesn't race competitively against others, but with himself. He says he's slow going up hills "because I have a big body. So I get dropped [by other riders]. But I catch up on the downhill."
Now, I know some of you are already making wisecracks about Bonds going from one sport with frequently mentioned PED use to another, but please keep in mind that the biggest reason we see so many athletes caught doping in baseball and cycling is because those two sports, along with track and field, are among the few that actually try to catch cheaters and have extensive programs in place to do so (especially cycling and track). In this day and age, if a sport doesn't draw headlines for doping, it's probably because no one is really testing very well. ...
It's Even Better If You Read It While Eating Gelato: Author Joe McGinniss died of prostate cancer this week at age 71. McGinniss is most famous for his first book, on the 1968 election, "The Selling of the President," as well as his later book on Jeffrey MacDonald, "Fatal Vision." But my favorite book of his is "The Miracle of Castel di Sangro," his late-'90s work about spending a season with a minor league Italian soccer team that rises up the ranks. The book is part Italian travelogue, part sports inspirational tale, part Godfather crime saga, part tragedy, and supposedly all true (though I wonder how McGinnniss, who begins the book not knowing how to speak Italian, is able to hold a nuanced conversation about game-fixing with an Italian player at the end). But mostly, it is one damn entertaining read. Pick it up, lose yourself in the story and think of Joe. ...
CSI: Box Score Answer
The biggest clue was the name Bonds and that he hit his 28th home run this game. If you recalled that Barry Bonds hit 28 home runs his final season, that should have been all you needed to guess this box score fragment was from the last game he ever homered, back on Sept. 5, 2007.
Bonds returned to uniform this week for the first time since that 2007 season as a roving instructor for the Giants. Whether this week will lead to anything down the line depends on how well he does and how much he enjoys it. "I enjoy baseball," he said. "That's why I'm doing it."