ESPN'S TAKE
Speed. Ohio State just had too much of it for Notre Dame. Troy Smith, Santonio Holmes and Ted Ginn Jr. were too much for the Irish to handle. The Buckeyes sprinted to 617 yards of total offense. Smith converted third down after third down to prevent Notre Dame from coming back. Notre Dame's other big problem was protecting QB Brady Quinn.
-- Rod Gilmore


Fantasy
Here's your chance to be the expert and pick the Bowl winners. Create your FREE entry and compete for a chance to win a home theater system.
College Bowl Mania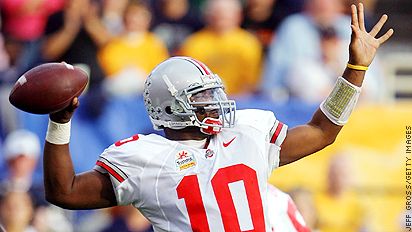 Perfect 10
Troy Smith's performance in Ohio State's 34-20 Fiesta Bowl win over Notre Dame resembled a breakout showing by another No. 10 last year, and that bodes well for the Buckeyes, writes Pat Forde.
Story
FIESTA BOWL OVERVIEW
It was over when ....
---
Antonio Pittman raced 60 yards for a touchdown with 1:46 left after the Irish had rallied to within a touchdown of the Buckeyes.

Game ball goes to ...

---
Troy Smith. The OSU quarterback passed for 2 touchdowns and a career-high 342 yards. Smith also ran for 60 yards and helped the Buckeyes convert 8 of 12 third downs.

Stat of the game...

---
85. Smith hooked up with Santonio Holmes on an Fiesta Bowl-record 85-yard TD pass.