ESPN'S TAKE
This game was good for college football. It was well-played and there was tremendous execution by both teams. In the end, Vince Young was the difference. There's no way you can describe how much pressure he puts on a defense. He was very effective in moving around in the pocket and finding the open guy. He made every play. -- Jim Donnan

• Schad blog: After the Rose
| GameDay wrap

• Feldman blog: I was so wrong
Fantasy
Here's your chance to be the expert and pick the Bowl winners. Create your FREE entry and compete for a chance to win a home theater system.
College Bowl Mania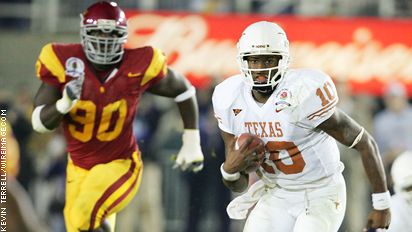 Off The Hook
For Texas to beat USC, Vince Young had to be good. He was. Actually, he was beyond good. VY almost single-handedly danced the Horns past USC 41-38 to clinch a national title. In the process, he became a Texas legend, writes Ivan Maisel.
Story
ROSE BOWL OVERVIEW
It was over when ....
---
Matt Leinart's pass attempt to Dwayne Jarrett fell incomplete as time expired with USC driving for a field goal to try and tie the game.

Game ball goes to ...

---
Vince Young. May have been the greatest championship game performance ever. The Texas QB threw for 267 yards, ran for 200 more and scored three TDs -- including the game-winner with 0:19 left.

Stat of the game...

---
839. Young has played in two Rose Bowl games and he has rolled up 839 total yards in wins over Michigan and USC. Not to mention one national title.