ESPN'S TAKE
Considering who WVU beat and where, the Mountaineers pulled off one of the biggest upsets in BCS history. WVU did a good job of attacking Georgia with the pass between the safties and corners early in the game, which opened up the running game for poised freshmen Steve Slaton and QB Pat White. Two early turnovers put the Dawgs behind and forced them to throw too much. D.J. Shockley almost brought UGa back, but WVU's well-executed fake punt late in the game sealed it for the Mountaineers.
-- Jim Donnan


Fantasy
Here's your chance to be the expert and pick the Bowl winners. Create your FREE entry and compete for a chance to win a home theater system.
College Bowl Mania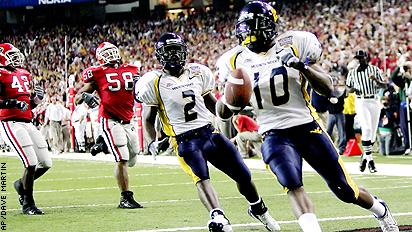 Sugar Shock
Georgia entered the Sugar Bowl with the reputation and the home-field advantage. West Virginia didn't have much of a chance. Right. Steve Slaton's legs and a gutsy fake punt late in the fourth quarter helped the Mountaineers shock Georgia 38-35 on Monday.
Story
•
Albright: WVU strikes a blow for the Big East
|
Highlights

SUGAR BOWL OVERVIEW
It was over when ....
---
WVU punter Phil Brady converted a fourth-and-six play on a 10-yard run with 1:38 left to seal the upset.

Game ball goes to ...

---
Steve Slaton. The Mountaineers' sensational freshman rushed for 204 yards and three touchdowns, including two 52-yard TD romps.

Stat of the game...

---
1,003. The Mountaineers and Bulldogs combined for 1,003 yards of total offense.