FLORIDA vs. OHIO STATE
ESPN'S TAKE
What a start to a game with the kickoff return for a touchdown, but from that point on, Florida took over. It was a tremendous job by quarterback Chris Leak in the first half, not only hitting his receivers, but with third-down conversions. The Gators defense was overpowering with their pass rush. They were just relentless the way they attacked with their defense. I had no idea they'd be able to rush Ohio State QB Troy Smith like they did. What was very evident was the game planning by Florida defensive coordinator Charlie Strong. Florida really created a lot confusion at the point of attack with its different rushes. The Gators never allowed Ohio State to get anything going.

In the second half, Florida was content to play field position and run the clock on offense. On defense, the Gators did a good job of keeping the same kind of pressure on Smith. Florida also was able to capitalize on scoring opportunities. Florida freshman Tim Tebow continued to impress me with his ability to feel the soft spot of a defense and then do the power running. Just total domination by the Gators.
-- Jim Donnan


BOWL TRAVEL GUIDE
Plan a trip to your favorite team's big game with ESPN SportsTravel's Bowl Travel Guide.

Fantasy
Here's your chance to be the expert and pick the Bowl winners. Create your FREE entry and compete for a chance to win a home theater system.
College Bowl Mania

Official Web site
For more information on the Tostitos BCS National Championship Game please visit the official bowl Web site.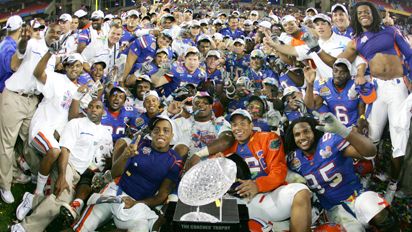 (Jason Parkhurst/US PRESSWIRE)
Swamp Ring
Please, don't refer to Florida as Cinderella. But make no mistake: Monday's thrashing of Ohio State was the best performance by a collegiate underdog since the '85 Villanova hoops team.
Pat Forde
•
Gators rout OSU
|
Maisel:
OSUgly night
Florida's future bright
•
Woj: Good call
|
Schad: Emotional win
|
Gators top final polls
•

Motion
:
College GameDay
|
Forde on Florida
|
Maisel on OSU
•
Postgame
:
Urban Meyer

|
Jim Tressel

|
Photo gallery
BCS CHAMPIONSHIP GAME OVERVIEW
It was over when ...
---
Ohio State QB Troy Smith was sacked and fumbled with just under 90 seconds left in the first half. Florida's Derrick Harvey recovered, giving the Gators the ball at the 5-yard line. Three plays later, Tim Tebow found Andre Caldwell in the end zone for a TD, putting the Gators up 34-14.

Game ball goes to ...

---
Chris Leak. Maligned for much of his Florida career, the senior quarterback was nearly flawless in the first half as the Gators built a 34-14 halftime lead. Leak finished the game completing 25 of 36 passes for 213 yards and a touchdown.

Stat of the game ...

---
1. Florida becomes the first school to ever hold both the basketball and football national championships at the same time.


SIMULATIONS FROM ACCUSCORE
Click here for individual projected statistics.