BOISE STATE vs. OKLAHOMA
ESPN'S TAKE
Chris Peterson is now the hottest coach in college football. Just check out the plays he called with the game on the line: Down 42-35 in OT and he calls a fourth-down halfback option pass that goes for a TD. After that, he goes for the win, hitting a two-point conversion on a Statute of Liberty play with Ian Johnson taking it in for the win. And can you believe the game-tying play at the end of regulation of this game? It reminded me of the hook and ladder in the Miami-San Diego playoff game several years ago. On fourth-and-18 with time running out, Peterson dialed up this phenomenal play to get a tying TD to force overtime. Boise State QB Jared Zabransky completed the pass to Drisan James who pitched the ball to Jerard Rabb who sprinted for a 35-yard TD. Until then, it looked like Zabransky would be the goat after his ill advised sideline throw was picked off by OU's Marcus Walker and returned for a TD to give the Sooners a 35-28 lead with less than two minutes remaining.

With this win, Boise State made a lot of noise for the little guys. For almost 60 minutes in regulation, Boise State outplayed OU in every way. The Broncos defense shut down Adrian Petersen until the overtime and dared QB Paul Thompson to beat them. Thompson threw three picks, including a pick six in the third quarter that put the Broncos up 28-10. However, Thompson almost avoided being the goat by leading the Sooners on a 66-yard TD drive in the last minutes of the fourth quarter. He completed 5-of-5 passes and tossed a game-tying two-point conversion to Juaquin Iglesias.

After a rough start in the first quarter, the OU defense really shut out the Boise State offense in the second half until the hook and lateral play and overtime. OU was able to withstand all of the Broncos' formations and personnel packages and all of the blunders (four turnovers) by the Sooners offense.

This game was an instant classic. The Broncos proved that the best non-BCS schools can play with the top BCS teams. Boise State was the aggressor in the game on both sides of the ball. OU might have the more decorated players, but Boise State was the better team and had the better coaching on Monday night.
-- Rod Gilmore


BOWL TRAVEL GUIDE
Plan a trip to your favorite team's big game with ESPN SportsTravel's Bowl Travel Guide.

Fantasy
Here's your chance to be the expert and pick the Bowl winners. Create your FREE entry and compete for a chance to win a home theater system.
College Bowl Mania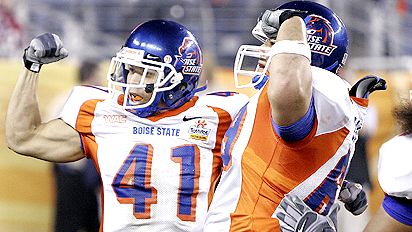 (AP Photo/Charles Krupa)
Give Me Liberty
Cinderella joined forces with Lady Liberty during Boise State's 43-42 overtime win over Oklahoma in the Fiesta Bowl. The result was part fairy tale, part American Dream come true.
Pat Forde
FIESTA BOWL OVERVIEW
It was over when ...
---
the Fiesta Bowl crowd could finally exhale when Boise State's Ian Johnson ran in a two-point conversion on a Statue of Liberty play to give the Broncos a thrilling upset win in overtime.

Game ball goes to ...

---
Boise State. The Broncos outplayed the Sooners during most of regulation and didn't give up when they fell behind. The coaching staff made some gutsy calls and the players executed.

Stat of the game ...

---
43-42. The final score doesn't say it all, but it presents a pretty accurate picture. The Broncos and Sooners put on a thrilling bowl performance that will be remembered for a long, long time.


SIMULATIONS FROM ACCUSCORE
Click here for individual projected statistics.