USC vs. MICHIGAN
ESPN'S TAKE
Pressure defense made all the difference in this game. USC pressured Michigan QB Chad Henne so much (5 sacks and several hurries) that the Michigan offense was ineffective almost the entire game. USC used a variety of blitzes, primarily on first down, to put Michigan in second-and-long and third-and-long situations. The blitzes also caused two big second half turnovers (a Henne interception and fumble). The pressure defense made RB Mike Hart ineffective because USC's blitzes attacked the gaps Michigan likes to use in its zone running game. USC LB Brian Cushing was particularly effective with three sacks.

On the other hand, when Michigan's defense used blitzes, USC QB John Booty and WR Dwayne Jarrett made them pay. USC moved the pocket to keep Booty away from pressure and had him throw short passes in the flat to his tight ends and running backs until he got the single coverage he wanted with Jarrett. Jarrett had a big second half (2 TDs and almost 200 receiving yards) in what was likely his last game before heading to the NFL. Surprisingly, Michigan didn't match star CB Leon Hall against Jarrett very often, which probably hurt Michigan.

It's hard to pick a player of the game because Cushing, Booty and Jarrett were all outstanding. But one thing is clear: USC will open the 2007 season as the number one team in the land. -- Rod Gilmore


BOWL TRAVEL GUIDE
Plan a trip to your favorite team's big game with ESPN SportsTravel's Bowl Travel Guide.

Fantasy
Here's your chance to be the expert and pick the Bowl winners. Create your FREE entry and compete for a chance to win a home theater system.
College Bowl Mania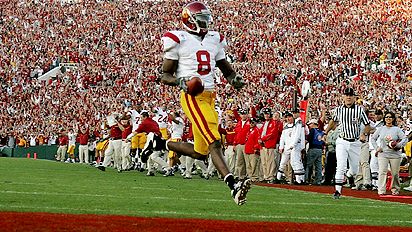 (Stephen Dunn/Getty Images)
Dwayne's World
In what might have been his final game in a USC jersey, Dwayne Jarrett gave Trojan fans a few highlight-reel worthy plays -- and a 32-18 Rose Bowl win against No. 3 Michigan.
Ivan Maisel
ROSE BOWL OVERVIEW
It was over when ...
---
John David Booty found Dwayne Jarrett in the end zone for the Trojans' second TD of the night. The score put USC up 16-3, effectively ending Michigan's Rose Bowl chances.

Game ball goes to ...

---
Jarrett. The Trojans' junior receiver put on a show, catching 11 passes for 203 yards and two TDs. Booty also deserves praise for his 391-yard, four-touchdown bonanza.

Stat of the game ...

---
14. Perhaps USC greatest accomplishment was keeping Michigan's star running back Mike Hart from making an impact on the field. The Wolverines were held to 14 yards rushing.


SIMULATIONS FROM ACCUSCORE
Click here for individual projected statistics.