Putting A Bow On Spring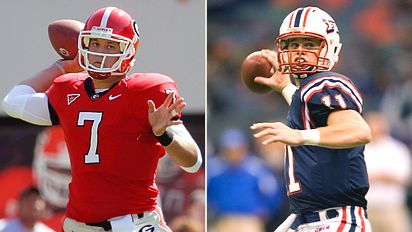 AP Photo/John Bazemore/Marvin Gentry/US Presswire
Matt Stafford and Rusty Smith lead the way for UGA and FAU.
Georgia and Florida Atlantic return most of their starters while Arkansas and North Texas rebuild. The SEC and Sun Belt wrap up the spring.
•
SEC reports:
East
|
West
|
Maisel/Schlabach: What to watch this fall
•
Sun Belt
:
Team reports
|
Maisel/Schlabach: What to watch this fall
•
Wrap: Chris Low

|
Podcast: Ivan and Beano

Must Read
Headlines
2008-09 TV Schedule

Tennessee will host Stanford on ESPN2 on Dec. 21 in a rematch of the 2008 national championship.
Including all 63 games of the NCAA tournament, ESPN, ESPN2, ESPNU and ESPN360.com will air 148 games this season.
Schedule
Travel: Spring's Got Game

From Gainesville to L.A., universities all over the country are using spring games as the perfect interlude between bowl games and fall practice to feed the appetites of ravenous fans.
Story
Recruiting

Signing day marks the end of the recruiting process for one class of prospects, but the chase for the next group of Saturday stars continues. Check out the latest recruiting information from Scouts.
•
Briefing room
|
ESPN 150
|
Recruit tracker
Blogs

BRUCE FELDMAN
Ranking most irreplaceable players
Updated: 8/31/11