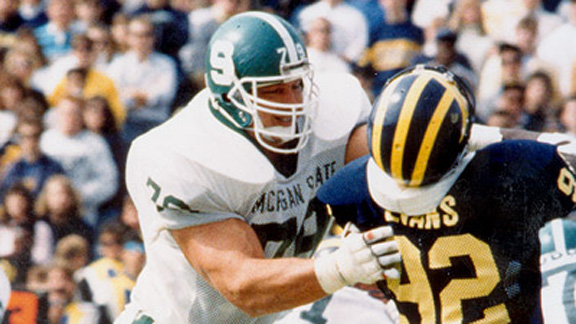 Courtesy Michigan State
20. Tony Mandarich
Offensive tackle | Michigan State
When compiling a list of the greatest busts in NFL history, his name inevitably comes up. Mandarich was a physical colossus, with unbelievable measurables leading up to the 1989 draft: 304 pounds; a 4.65-second 40-yard dash; and the ability to bench 225 pounds 39 times.
It was, in retrospect, truly inhuman: nearly 20 years later, Mandarich admitted to being a steroid user.
His inglorious pro career looks even worse in comparison to his fellow top-five picks in 1989: Troy Aikman, Barry Sanders, Derrick Thomas and Deion Sanders. Mandarich is the only one not in the Pro Football Hall of Fame.
-- Pat Forde