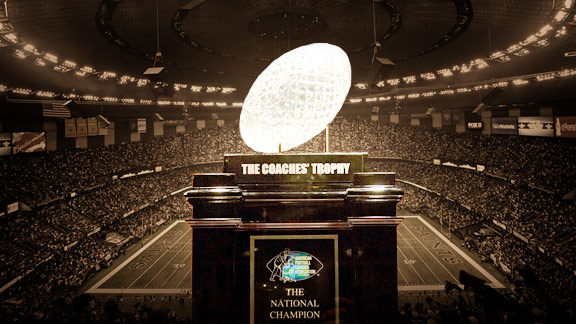 ESPN.com Illustration
A League Of Their Own
Is any team strong enough to end the SEC's stranglehold on the BCS national championship?
A handful of SEC teams begin the 2011 college football season trying to win the league's sixth consecutive national championship, and half of the conference's 12 teams are included in the preseason ESPN.com Power Rankings.
Surprisingly, defending BCS national champion Auburn isn't included in the preseason Power Rankings, which represent voting by 25 of ESPN's college football analysts, columnists and reporters.
A silver lining for the Tigers: they were No. 22 in last season's preseason ESPN.com Power Rankings. -- Mark Schlabach, ESPN.com columnist
Editor's note: The rankings will be revealed throughout the week.