Weeks: Preseason | 1 | 2 | 3 | 4 | 5 | 6
The Bottom 10 inspirational thought of the week: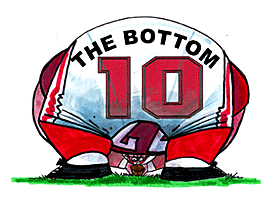 yeah, yeah
yeah, yeah
yeah
you were smiling by my table
had to call up everyone that day
a beautiful mind and body
what a happy ending i see
my mind had been enabled
in a memory you overflowed
want to be your superhero
even if i tumble fall
-- Jane's Addiction, "SuperHero" ("Entourage" theme song)
Fame … it's even better with your friends.
Whether it's Turtle, Drama, Eric and Vince on "Entourage" or Buffalo, Temple, UCF and Duke in the Bottom 10, the above holds true. So it's only fitting if the gang from "Entourage" guides us through the latest edition of the Bottom 10.
But while Ari and Co. ended their second season last week with "The Abyss" episode, Florida International, Ball State and Co. are at the beginning stage of their season-long descent into the bottomless depths.
Buffalo, winless and outscored 69-0 through two games, holds on to No. 1 this week, but Temple, Louisiana-Monroe and Louisiana-Lafayette are making a charge. However, the stunning change this week is in the highly coveted No. 5 spot. Much like Vince experiencing the high of reuniting with Mandy Moore only to get sent packing, TCU has been trapped in the Bottom 10 whirlwind. One week after relegating Oklahoma to No. 5, the Horned Frogs are delivered there by Bottom 10 regular SMU.
Note: As the Oklahoma fans must have forgotten, the No. 5 spot is reserved each week for a big-time program that did not fare well. Don't you feel better now?
The Pillow Fight of the Week heads to the Pacific Northwest this week, where winless Idaho travels to Seattle to take on winless Washington. If the Huskies win this one, a WAC title isn't out of the question. Oh, wait, the "Dub" is still in the Pac-10 … for now.
And remember, the Bottom 10 kids because it loves. So "let's hug it out, bitch."
ESPN.com users had plenty to say about the Sept. 13 Bottom 10.
With apologies to Steve Harvey, here's this week's Bottom 10.
Waiting list: Army (0-1), Florida Atlantic (0-2), Hawaii (0-2), Idaho (0-2), New Mexico State (0-2), San Diego State (0-2), Wake Forest (0-2), Washington (0-2), Western Michigan (0-2) and -- back by popular demand -- Wyoming's band uniforms.
Dropped out: Arkansas State, Oklahoma and Tulsa.
David Duffey is a college sports editor at ESPN.com.