Name: Cody Hawkins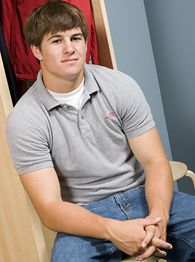 Position: QB
School: Colorado
Hometown: Boise, Idaho
Measurements:: 5-11, 175
Meet Cody Hawkins
Achievements
• Led Bishop Kelly High School to back-to-back undefeated state championships
• Two-time Idaho Statesman All-Idaho Football Team Player of the Year
• 2005 Gatorade Idaho Player of the Year
• EA Sports Elite 11 Quarterback Camp Participant
2005 stats: Threw for 42 touchdowns and 2,783 yards and only 5 interceptions.
Fun fact: Hawkins was active in the Boise community working with Big Brothers, Big Sisters; Natural Helpers (a peer mediation group) and the Fellowship of Christian Athletes.
Quote: "Being thrown into a house where you don't know what's going on around you everyday and the only guys around you are your coaches and other teammates, it really forces you to rely on one another and trust each other."
Spielman's take: "He is outgoing, awesome personality and a natural leader. He is a kid that is on a very even keel. He doesn't get too high and he doesn't get too low. I picture Cody Hawkins as being a two-time All-Big 12 QB and a great college coach some day."

Scouts Inc.'s take:
Hawkins is the son of Colorado coach Dan Hawkins and he is very much in the mold of some of his dad's former QB's at Boise State(Dan Hawkins former job). He is an undersized rhythm and timing passer that is very accurate. He has a quick release, but is a bit of a pusher at times. He shows nice drop speed and sets up quickly in the pocket. He has decent feet, shows good pocket presence and rarely holds onto the ball. He does not take sacks or put his team in many negative situations. He is not a runner by any means, but he can buy second passing chances with his feet and throws very well on the move. However, Hawkins lacks size and ideal arm strength. He will struggle to find passing lanes at the next level and is not going to be able to fit the ball into tight spots downfield. He is at his best in the short-to-intermediate passing game as he lacks the strength to be an effective vertical passer at the next level. Hawkins is a tough kid with savvy and he is very accurate, but will always have some physical limitations.