Weeks: Preseason | 1 | 2 | 3 | 4 | 5 | 6 | 7 | 8 | 9 | 10 | Bye | 12 | Final
The Bottom 10 inspirational thought of the week: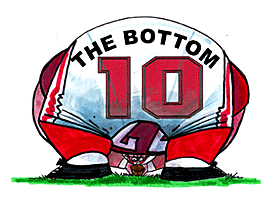 I come from a land down under
Where beer does flow and men chunder
Can't you hear, can't you hear the thunder?
You better run, you better take cover.
-- Men At Work, "Down Under"
The Bottom 10 was saddened to hear about the untimely death of Steve Irwin. The "Crocodile Hunter" had an enthusiasm and passion for animals that was unmatched. He will be missed.
We have a similar enthusiasm and passion here at The Bottom 10, but it's for the teams that exist in college football's remote outback. We'll remember Irwin by using his programs and catch phrases to guide us through this week's Bottom 10.
The loser of the epic Temple-Buffalo pillow fight was expected to be a lock for No. 1 this week. But we had a surprise. Three Division I-A teams lost to Div. I-AA squads on Saturday. So despite losing to the Bulls, the Owls dropped to No. 4. Duke, Colorado and New Mexico claimed the top three spots. Since the Blue Devils failed to even score against Richmond, No. 1 was an easy call.
While Colorado looked like a surefire bet for the coveted No. 5 spot after its loss to Montana State, the Buffs deserved less. So pencil in CU at No. 2. The Bottom 10 is calling the Hogs into the No. 5 spot instead. Sure, USC is good, but the Razorbacks were sliced up 50-14 at home by the Trojans.
Buffalo, New Mexico State and Louisiana-Monroe all won to earn their Bottom 10 exit. Rice and Idaho lost, but played their way out of the this week's ranking.
Pillow fight of the week: Kent State at Army.
So, with apologies to Steve Harvey and remembering Steve Irwin, here's this week's Bottom 10:
Waiting list: Army (0-1), Eastern Michigan (0-1), Florida State's running game, Idaho (0-1), Kentucky (0-1), Louisiana-Lafayette (0-1), Miami's running game, Mississippi State's offense, premature touchdown celebrations, Rice (0-1) and Stanford (0-1).
David Duffey is the college football editor at ESPN.com.