Weeks: Preseason | 1 | 2 | 3 | 4 | 5 | 6 | 7 | 8 | 9 | 10 | Bye | 12 | Final
The Bottom 10 inspirational thought of the week: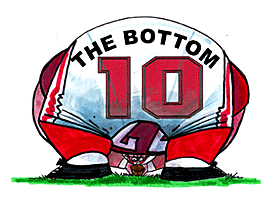 I don't wanna walk around with you
I don't wanna walk around with you
I don't wanna walk around with you
So why you wanna walk around with me?
I don't wanna walk around with you

-- Ramones, "I Don't Wanna Walk Around With You"
CBGB & OMFUG closed its doors for the final time early Monday morning. The legendary club in Manhattan's Lower East Side is considered the birthplace of punk. If only there was a way to incorporate punk into a Bottom 10 theme. Actually, since the Miami-Florida International brawl is a no-brainer for the coveted No. 5 spot, it's not that difficult at all.
CBGB & OMFUG, which stands for Country Bluegrass Blues and Other Music for Uplifting Gormandizers, helped launch the career of Patti Smith, Blondie, Talking Heads and The Ramones. So in tribute to CBGB, the fighting Canes and punks everywhere, the Bottom 10 will use song titles from The Ramones to guide us through the bottom of the college football barrel.
While the No. 5 spot is always one of the driving beats of the Bottom 10, it takes center stage this week. The helmet-swinging, cleat-stomping, body-slamming fiasco in the Orange Bowl deserves the coveted position more than any of the previous occupants.
Temple holds down the top spot for the sixth straight week. The low-flying Owls are followed by winless Duke, Stanford and San Diego State.
Miami (Ohio) and Colorado picked up their first wins of the year to earn the week off. Winless FIU shares No. 5 with Miami, so two Bottom 10 spots opened up. Memphis and North Carolina joined the Bottom 10's band.
The pillow fight of the week: Utah State at Louisiana Tech.
So, with apologies to Steve Harvey and help from The Ramones, here's this week's Bottom 10:
Waiting list: Buffalo (1-5), Louisiana-Monroe (1-5), Marshall (1-5), UNLV (1-5) and Utah State (1-6).
David Duffey is the college football editor at ESPN.com.