Weeks: Preseason | 1 | 2 | 3 | 4 | 5 | 6 | 7 | 8 | 9 | 10 | Bye | 12 | Final
The Bottom 10 inspirational thought of the week: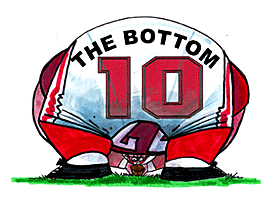 "Love, love, love.
Love, love, love.
Love, love, love.
There's nothing you can do that can't be done.
Nothing you can sing that can't be sung.
Nothing you can say but you can learn how to play the game.
It's easy."

-- The Beatles, "All You Need Is Love"
The Bottom 10 is back off its bye week, feeling relaxed, refreshed and ready to spread the love. Since the "new" Beatles "Love" disc hit the shelves Tuesday, we'll let the music of John, Paul, Ringo and George serve as our guide for the week.
"Love" is also the title of a Cirque du Soleil show featuring The Beatles' music that's been running in Las Vegas since June. Maybe the boys at UNLV, who hit the Bottom 10 charts at No. 3 this week, can pop over and catch the show. If not, the Rebels have to love the fact that they are not one of the nation's two winless teams. No. 1 Duke and No. 2 Florida International share that distinction.
Miami lost to Virginia last Saturday, dropping the 'Canes to 5-6 and into the coveted No. 5 spot. If the "U" doesn't beat Boston College on Thanksgiving night (ESPN, 7:30 ET), it will not be bowl eligible this season.
The pillow fight of the week: New Mexico State at Utah State.
So, with apologies to Steve Harvey and help from The Beatles, here's this week's Bottom 10:
Waiting list: Buffalo (2-9), Colorado (2-9), Illinois (2-10), Louisiana-Monroe (2-8), NC State (3-8), San Diego State (2-8).
David Duffey is the college football editor at ESPN.com.