Weeks: Preseason | 1 | 2 | 3 | 4 | 5 | 6 | 7 | 8 | 9 | 10 | Bye | 12 | Final
The Bottom 10 inspirational thought of the week: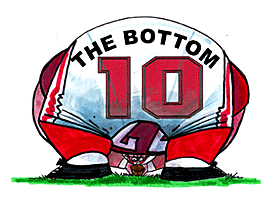 Nine to five
What a way to make a livin'
Barely gettin' by
It's all takin' and no givin'
They just use you mind
And they never give you credit
It's enough to drive you
Crazy if you let it

-- Dolly Parton, "9 to 5"
Singing "9 to 5" didn't work out very well for Jessica Simpson at the 29th Annual Kennedy Center Honors last Sunday. The former Mrs. Nick Lachey reportedly flubbed some lines and stumbled through her tribute performance to Dolly Parton. The requested cue cards apparently didn't help much. "Dolly, you make me so nervous," Simpson said as she left the stage to no applause. Simpson did get a chance to re-tape her rendition after the show, which will air on Dec. 26.
Working 9-to-5 didn't work out very well for the teams in the final Bottom 10 of 2006. Unlike Ms. Simpson's performance, no do-overs are allowed in the Bottom 10. But unlike the audience at Kennedy Center Honors, we applaud the efforts of the Bottom 10 teams.
The BCS wasn't the only final standings to undergo a significant change. While Florida jumped Michigan to finish No. 2 in the BCS, Florida International moved past Duke to end the year at No. 1 in the Bottom 10. Deciding between two winless Bottom 10 teams is never easy, but the record, conference schedule, coaching change and Oct. 14 brawl with Miami moved the Golden Panthers to No. 1.
The highly coveted No. 5 spot also has that Sunshine State flavor. Disappointing 6-6 seasons at Florida State and Miami have the Seminoles and Hurricanes sharing the Bottom 10 place of honor. While Bottom 10 favorite F_U (Florida International and Florida Atlantic) is gone from the standings, FS&U is a welcome addition.
Utah State and Stanford round out the final top five. Eastern Michigan, Temple, Buffalo, Miami (Ohio) and Illinois complete the final 2006 Bottom 10 standings.
Have a comment about the Bottom 10 ranking? Send us your thoughts.
So, with apologies to Steve Harvey and help from some Jessica Simpson songs, here's this week's Bottom 10:
Waiting list: Colorado (2-10), Memphis (2-10), North Carolina (3-9), NC State (3-9), San Diego State (3-9), UAB (3-9) and UNLV (2-10).
David Duffey is the college football editor at ESPN.com.